Seasonal correlation of sporadic schizophrenia to Ixodes ticks and Lyme borreliosis
International Journal of Health Geographics
2002
1:2
Received: 9 October 2002
Accepted: 1 November 2002
Published: 1 November 2002
Abstract
Background
Being born in winter and spring is considered one of the most robust epidemiological risk factors for schizophrenia. The aetiology and exact timing of this birth excess, however, has remained elusive so far. Since during phylogeny, Borrelia DNA has led to multiple germ-line mutations within the CB1 candidate gene for schizophrenia, a meta analysis has been performed of all papers on schizophrenic birth excesses with no less than 3000 cases each. All published numerical data were then plotted against the seasonal distributions of Ixodes ticks worldwide.
Results
In the United States, Europe and Japan the birth excesses of those individuals who later in life develop schizophrenia mirror the seasonal distribution of Ixodes ticks nine months earlier at the time of conception. South of the Wallace Line, which limits the spread of Ixodes ticks and Borrelia burgdorferi into Australia, seasonal trends are less significant, and in Singapore, being non-endemic for Ixodes ticks and Lyme disease, schizophrenic birth excesses are absent.
Conclusion
At present, it cannot be excluded that prenatal infection by B. burgdorferi is harmful to the implanting human blastocyst. The epidemiological clustering of sporadic schizophrenia by season and locality rather emphasises the risk to the unborn of developing a congenital, yet preventable brain disorder later in life.
Keywords
SchizophreniaLyme DiseaseBorrelia BurgdorferiAdult TickTick Activity
Background
Microorganisms, including bacteria [1], are capable of transferring part of their genome into mammalian germ lines [2], and such exchange of foreign DNA has been suggested to be of mutual evolutionary advantage [3]. The Lyme disease spirochaete Borrelia burgdorferi, in particular, disposes of a unique molecular mechanism of penetrating into germ-line cells of its host, whose genes the intracellular pathogen exploits like a virus owing to its own incomplete genome [4]. Although countercurrent to established views, the neurotropic spirochaete has integrated parts of its genes into our germ line, these serving as putative templates for further recombination. If prenatal exposure to such phylogenic traces of foreign DNA reoccurs during ontogeny, a novel type of infectious mutation would occur within the 3' 'hotspot' for pathology of the human cannabinoid receptor gene CB1 [5–7]. The genetic expression of CB1 [8] would subsequently be affected in exactly those areas [9] that mirror the structural [10] and functional [11] brain abnormalities in schizophrenia.
Following the identification of neurosyphilis, caused by the spirochaete Treponema pallidum, that led Kraepelin [12] to recognise the distinctive pattern of dementia praecox as a disease entity, Bleuler [13] coined the term 'schizophrenia'. Although this 'break' between reality and 'thought' is characterised by a multiplicity of signs and symptoms, the highly prevalent illness is recognised throughout the world, and there is now international agreement on its classification. Apart from known infectious diseases, no other affliction exhibits an equally marked seasonal distribution, thus nurturing the hope that schizophrenia could ultimately be preventable.
Although Hippocrates (460 BC) recognised the importance of "the seasons of the year and the effects they produce ... being common to all countries as well as peculiar to each locality", psychiatrists have been slow to accept this idea. Systematic research into the season of psychiatric birth effects began only with the studies by Tramer [14] and Lang [15] after the turn of the last century. Despite methodological problems, including some cases of neurosyphilis within the ill-defined Swiss cohort, their findings could be widely replicated. Being born during winter and spring is nowadays considered one of the most robust epidemiological risk factors for sporadic schizophrenia. The cause and exact timing of this birth excess, however, has remained elusive so far [16].
Clinically, syphilis, which has long been associated with devastating congenital outcomes, resembles Lyme disease. Like in humans [17], however, overt chronic infection of the unborn by Borrelia burgdorferi is rare in mice, as placental transmission of this spirochaete is restricted to an exclusively narrow time window at conception [18]. The present study is therefore focused on the seasonal distribution of schizophrenic birth excesses relative to Ixodes tick activity worldwide – with a time lag expected to be nine months apart. Otherwise, the hypothesis of B. burgdorferi being a major aetiological factor for congenital sporadic schizophrenia would be falsified.
Methods
For statistical reasons, only publications encompassing more than 3000 cases of schizophrenic birth excesses compared to the normal population have been considered [16]. These include two studies from Denmark and Australia showing both one significant and one non-significant result each, whereas the birth excesses of the remaining studies were all statistically significant. From the comprehensive literature, significant numerical data allowing for seasonal comparison were then used in this meta analysis and plotted against the published data of B. burgdorferi transmitting Ixodes tick activity (or numbers per area) of the respective macroclimatic regions.
Results
Nine months' interval between tick activity and schizophrenic birth excesses
In the USA, Ixodes scapularis ticks exhibit a clearly defined periodicity, increasing their numbers under specific macroclimatic conditions from March to April, in June and October [19]. The seasonal distribution parallels the birth excess for schizophrenia nine months later [20], while the risk of developing schizophrenia is reduced towards a global decline in November. It is to be noted that the deficit of schizophrenic births in late autumn occurs throughout the world and correlates with the lowest number and activity of Ixodes ticks in wintertime nine months earlier.
As in Europe, the spring peak of tick activity in the USA with a first climax in March [19] correlates with the rising numbers of schizophrenic births between December and January. In the Far East, the unimodal peak of Ixodes persulcatus from April to July [21] reflects the unimodal winter-spring birth excess in Japan followed by a relative decline of schizophrenia in May [22].
Macroclimatic parameters
The distribution of schizophrenic births across Europe [14, 15, 23, 24], by contrast, mirrors the more complex seasonal concentration of tick populations, separated by a midsummer decrease in humidity [19]. In Ireland, where the maritime climatic conditions remain relatively mild throughout the year, nymphal activity continues into midsummer followed by a smaller peak in early autumn. Although this bimodal pattern remains evident, it resembles the moderating environmental effects on the life cycle of the tick Dermatocentor variabilis[19]. When the adult ticks emerge from nymphs fed in the same year, they tend to surge towards a midsummer peak from early May to August, overlapping with the older cohort of adult ticks in autumn [19]. In Ireland, this fusion into a more uniform pattern of midsummer Ixodes ricinus activity [19] might therefore account for the somewhat delayed, but pronounced schizophrenic birth excess in spring [23].
While in central Europe a few autumn-feeding I. ricinus ticks are active up to October [19], the temperature falls below zero in Finland. Like in the Alps, the minimal mean temperature of seven degrees required for tick activity [19] allows only one summer peak in northern Europe, including the Karelian border between Russia and Finland [21]. The seasonal periodicity of I. ricinus, in turn, reflects the typical unimodal schizophrenic birth excess in Finland [24] and Denmark [25]. The harsh weather conditions in the north might furthermore reflect the stochastic fluctuations [26] of ticks in Scandinavia [27] and possibly schizophrenic births in Finland [28].
Due to the central European midsummer decrease in air humidity and thus reduced tick activity [
19
], the relative decline towards a schizophrenic birth deficit in April appears earlier and more pronounced the further south we move. See Switzerland [
14
] and Germany [
15
] in figure
1
.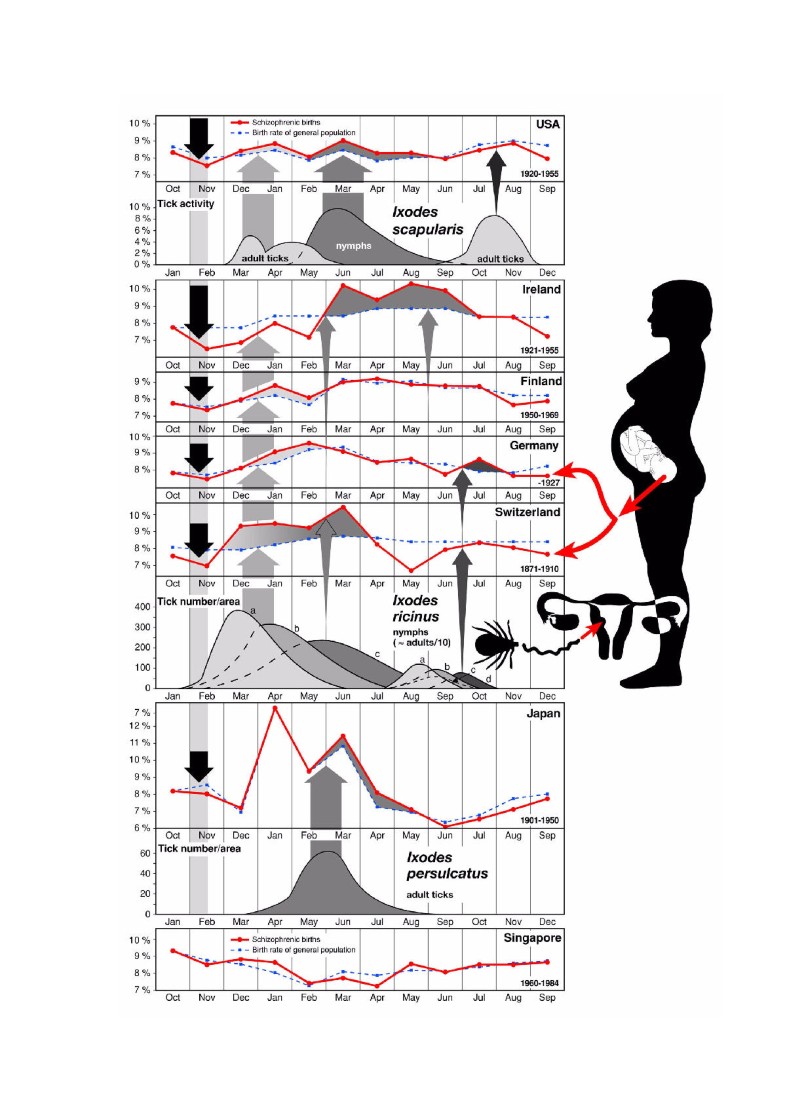 Epidemiological gradients
That exposure precedes infection is self-evident. Like other environmental causes, however, this relation is also expected to show a correlated biological gradient [29]. In maritime Ireland and the sheltered microclimatic environment at the foot of the Swiss Alps, for example, tick abundance and the transmission of three pathogenic species of B. burdorferi sensu lato[19, 30, 31] coincide with the highest rates of schizophrenic births worldwide (see figure 1). Lower tick concentrations and infection rates by B. burgdorferi sensu stricto[32] appear to score relatively lower rates of schizophrenic birth excesses in the United States [16]. Within the USA (see figure 2), however, the Pacific Coast, New England and Great Lakes states score an approximately three times higher rate of schizophrenia compared to other states [33]. Schizophrenic birth excesses, in particular, are more pronounced in New England and the Midwest than in the South [20]. This trend, which has been remarkably consistent over a long period, correlates with the highest risk of Lyme disease and the largest populations of Ixodes ticks in the USA [34–37] (see figure 2).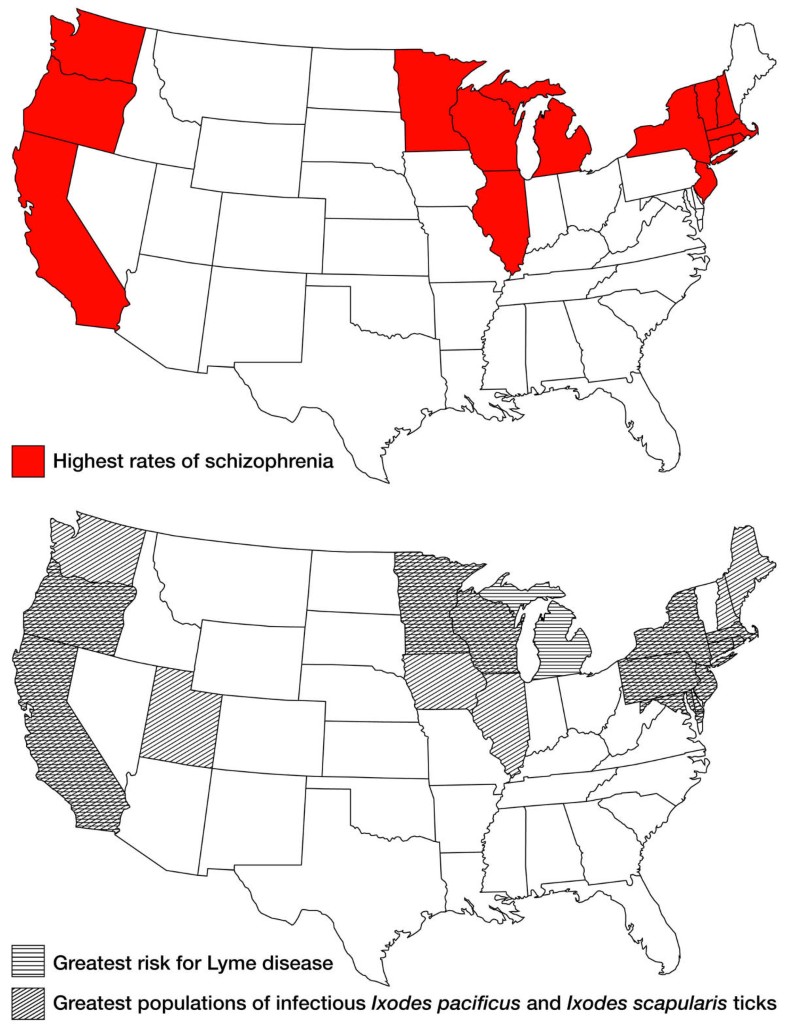 Contrary to current belief [38], neither the incidence nor the winter-spring birth excess of schizophrenia occurs at a constant, global rate. The risk of schizophrenia [16] actually reflects the uneven distribution of B. burgdorferi endemicity worldwide [19]. South of the Wallace Line, which limits the spread of Ixodes ticks by mammals into New Guinea and Australia [19], seasonal schizophrenic trends are less significant compared to the northern hemisphere [39]. In Singapore, which is still a non-endemic area for Ixodes ticks and B. burgdorferi[40], there is no significant schizophrenic birth excess [41].
Discussion
One of the greatest triumphs of epidemiology stems from the control of cholera before the responsible organism, let alone its mechanism of action, had been identified. Major progress in prevention is thus possible by focusing on those variables that are known and can be influenced. Although the concept of cause is the source of much controversy, as it is in other sciences, a correct temporal relation between exposure and effect is essential in epidemiology [29].
Conclusion
At present, it cannot be excluded that sporadic prenatal infection by B. burgdorferi poses a psychiatric hazard to the unborn. On the contrary; the epidemiological clustering by season and locality, being characteristic of an acute contagious disease [29], rather points to a causal relation between global Ixodes tick endemicity and sporadic schizophrenia.
List of abbreviations
DNA:

Desoxyribonucleicacid
CB1:

Central cannabinoid receptor gene
HLA:

Major histocompatibility complex
Declarations
Acknowledgements
For his wit, moral support and critical comments, many thanks to Fuller Torrey
Authors' Affiliations
(1)
Clinic for Internal Medicine, Adliswil, Switzerland
Copyright
© Fritzsche; licensee BioMed Central Ltd. 2002
This article is published under license to BioMed Central Ltd. This is an Open Access article: verbatim copying and redistribution of this article are permitted in all media for any purpose, provided this notice is preserved along with the article's original URL.