Geographical and seasonal correlation of multiple sclerosis to sporadic schizophrenia
International Journal of Health Geographics
2002
1:5
Received: 28 November 2002
Accepted: 20 December 2002
Published: 20 December 2002
Abstract
Background
Clusters by season and locality reveal a striking epidemiological overlap between sporadic schizophrenia and multiple sclerosis (MS). As the birth excesses of those individuals who later in life develop schizophrenia mirror the seasonal distribution of Ixodid ticks, a meta analysis has been performed between all neuropsychiatric birth excesses including MS and the epidemiology of spirochaetal infectious diseases.
Results
The prevalence of MS and schizophrenic birth excesses entirely spares the tropical belt where human treponematoses are endemic, whereas in more temperate climates infection rates of Borrelia garinii in ticks collected from seabirds match the global geographic distribution of MS. If the seasonal fluctuations of Lyme borreliosis in Europe are taken into account, the birth excesses of MS and those of schizophrenia are nine months apart, reflecting the activity of Ixodes ricinus at the time of embryonic implantation and birth. In America, this nine months' shift between MS and schizophrenic births is also reflected by the periodicity of Borrelia burgdorferi transmitting Ixodes pacificus ticks along the West Coast and the periodicity of Ixodes scapularis along the East Coast. With respect to Ixodid tick activity, amongst the neuropsychiatric birth excesses only amyotrophic lateral sclerosis (ALS) shows a similar seasonal trend.
Conclusion
It cannot be excluded at present that maternal infection by Borrelia burgdorferi poses a risk to the unborn. The seasonal and geographical overlap between schizophrenia, MS and neuroborreliosis rather emphasises a causal relation that derives from exposure to a flagellar virulence factor at conception and delivery. It is hoped that the pathogenic correlation of spirochaetal virulence to temperature and heat shock proteins (HSP) might encourage a new direction of research in molecular epidemiology.
Keywords
Multiple SclerosisSchizophreniaAmyotrophic Lateral SclerosisMultiple Sclerosis PatientLyme Disease
Background
Schizophrenia and multiple sclerosis are distinct neuropsychiatric disorders of the central nervous system (CNS). Schizophrenia is characterised by disturbances in multiple domains of brain functioning, few in vivo or postmortem studies of which find evidence for a particular structural alteration [1]. MS typically manifests as acute focal inflammatory demyelination and axonal loss involving the immune system and culminating in the chronic multifocal sclerotic plaques from which the disease gets its name [2–4]. MS and schizophrenia, nonetheless, exhibit a striking epidemiological overlap [5]. Prevailing in the colder parts of the world and affecting mainly young adults in their most productive years, both run an irregular, chronic course. Apart from acute infections [6], no other disease exhibits an equally marked epidemiological cluster by season and locality, nurturing the hope that solutions might ultimately be attainable [5].
Geographical correlations between MS and schizophrenia prevalence rates (PRs) have been reported worldwide [5, 7–9]. In the north of the USA, the states with the highest rates of schizophrenia score significantly higher rates of MS than the states with the lowest schizophrenia rates in the south [9]. Findings that immigrants from tropical low-risk areas are more likely to contract schizophrenia or MS than those who stay behind have been widely replicated and are now considered strong epidemiological risk factors (for review see [10–12]). Migration away from the hot spots reduces the probability of developing MS if the move takes place before adolescence. Regardless of the direction of the move, however, MS death rates for migrants born in one risk area and dying in another are intermediate between those of their birthplace and their final residence. These biological gradients suggest a common environmental component that could be influenced. If caused by an infectious agent [12] as presupposed by Marie in 1884 [13], what kind of transmission or virulence would lie at its root?
The earliest lesion seen in MS is a focal infiltration of lymphocytes around small blood vessels in the brain and spinal cord. This implies that inflammatory cells are reacting against an antigen located in the central nervous system (CNS) to which they have become sensitised. In MS patients, the intrathecal synthesis of immunoglobulins, the appearance of immune complexes and change in the balance of T cell populations all indicate immune activity in tissues that are normally quiet (for review see [2, 3]). The responsible antigen could be CNS tissue ('self'), in which case we are dealing with an autoimmune disease. Alternatively, it could be of microbial ('foreign') origin, or both. Analogous to streptococcal infection in relation to rheumatic fever, the environmental factor in MS may be accommodated by arguing that exposure to an infection elicits upon re-exposure an abnormal immune response against a similar antigen in the CNS.
From this epidemiological point of view, we are best advised to search for positive and negative correlation. For general immunity acquired against endemic infection is supposed to increase the resistance against MS in developing countries [14]. In the interior of New Guinea, in fact, where neither MS [15] nor schizophrenia [16] nor Lyme borreliosis [17] appears to be prevalent, the inhabitants exhibit antibodies possibly induced by endemic treponemes that cross-react with Borrelia burgdorferi antigens [17].
Since the beginning of the last century it was suggested that MS and neurosyphilis caused by the spirochaete Treponema pallidum [18] had similar clinical and histological characteristics. Extremely difficult to find, as in tabes dorsalis [18], neuropathologists documented the presence of spirochaetal structures in MS plaques suggesting that the patients were infected with a spirochaete [19, 20], most likely B. burgdorferi [21].
Congenital infection by B. burgdorferi resembles congenital syphilis as well. Like in humans [22], however, chronic prenatal infections by B. burgdorferi are rare in mice, and acute prenatal infection of the unborn is restricted to a narrow time window of transplacental transmission [23]. Henceforth the birth excess of those individuals who later in life develop sporadic schizophrenia mirrors the seasonal distribution of Ixodes ticks and Borrelia burgdorferi at the time of conception [16].
If in analogy to chronic hepatitis B infection at birth [24], MS were induced [25] or exacerbated [26] by exposure to B. burgdorferi antigens during delivery, we would expect a direct seasonal match between MS birth excesses and Ixodid tick activity worldwide. Contrasting with the possible deleterious mutagenic effect of B. burgdorferi at conception [16], a time difference of nine months is expected between MS births and the schizophrenic insult to the implanting embryo. Should general immunity acquired against treponemes [17] increase resistance against Borrelia and MS, we would furthermore expect a positive geographic correlation of MS to neuroborreliosis as well as a negative correlation of MS to endemic treponematoses. Otherwise, the present hypothesis of B. burgdorferi as a possible major aetiologic factor for both congenital sporadic schizophrenia and MS would be falsified.
Methods
The different prevalence rates of MS as recently reviewed [
15
] were compared to the global distribution of endemic treponematoses [
27
] and to all significant schizophrenic birth-excess rates [
16
] worldwide. For statistical reasons, only publications encompassing more than 3000 cases of significant schizophrenic birth excesses compared to the normal population have been considered [
28
], including two studies from Denmark and Australia showing both one significant and one non-significant result each. In a second step of the investigation, the routes of
Borrelia
carrying migratory birds were considered for the following reason. The schizophrenic birth excesses are limited to exactly those regions that are endemic for
B. burgdorferi
transmitting
Ixodes
tick vectors [
16
]. This geographical overlap, however, is less than perfect with respect to MS, particularly in southern latitudes, and the use of artificial country boundaries is of doubtful biological value, unless they are given by naturally defined geographical areas [
11
]. As the rule of MS varying with latitude is violated in central Europe including Switzerland and its neighbouring countries, areas of high relative risk were put under closer scrutiny. MS hot spots in central Europe, in fact, harbour the few remaining nesting sites of the classical passerine bird, the white stork (
Ciconia ciconia
), and migratory seabirds following the rivers and islands spread
Ixodes
ticks and
Borrelia garinii
(a subspecies of
Borrelia burgdorferi sensu lato
) worldwide [
29
] (see Figure
1
). From the comprehensive literature, the seasonal periodicity of Ixodid tick activity was then used in this meta analysis and plotted against numerical data encompassing all neuropsychiatric birth excesses [
30
] of the respective macroclimatic regions including MS (Figure
2
).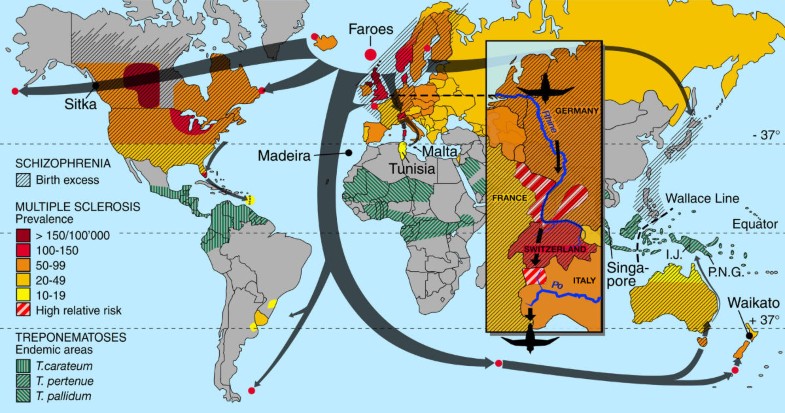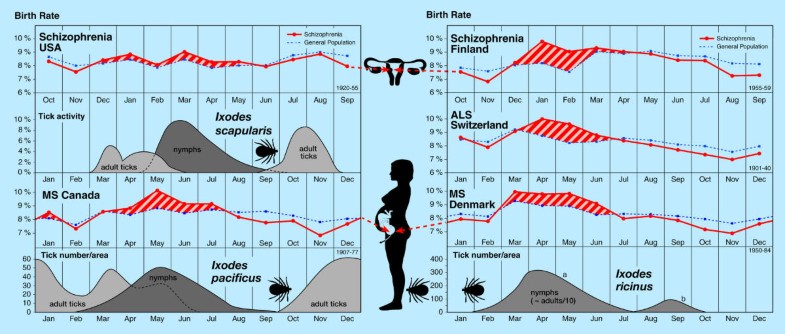 Results
Geographical correlation of MS and sporadic schizophrenia to Ixodes ticks and migratory birds
The geographical gradient of MS (Figure 1), which sharply declines at the 37° latitude [12, 15], entirely spares the tropical belt where human treponematoses caused by T. carateum, T. pertenue, and endemic T. pallidum prevail [27]. This negative correlation between areas of endemic treponematoses on the one hand and MS as well as schizophrenic birth excesses on the other is striking. With the notable exception of Florida, Australia and Tunisia (see Figure 1), subtropical areas exhibit neither a significant schizophrenic birth excess nor a prevalence rate (PR) of MS higher than 5/100'000 [15].
In central Europe, the highest relative risks for MS can be found along the breeding sites of migratory birds. These hot spots are located along the north-south axis of the Upper Rhine plain and its tributaries, the Bas Rhin, Haut Rhin, Moselle regions [31], around Basel [32], in the Swabian Alps [33], Sardinia, as well as the Aosta Valley [15], the only place in Italy where the white stork (Ciconia ciconia) still nests (see insert in Figure 1). Tunisia, which is reached by passerine European birds carrying Ixodes ticks and B. garinii [34], scores the highest rate of MS in Africa [15]. Malta, by contrast (see Figure 1), which compared to Sicily is relatively free of MS [11, 15], hosts a number of endemic lizards, and ticks lose their infectious potential for humans when feeding on these reptiles. This so-called zooprophylactic effect also applies to the low-risk areas of MS and sporadic schizophrenia [9] in the United States, where south of the 37° latitude infections by B. burgdorferi are poorly maintained in lizards [35].
Although of low prevalence, MS exists in South East Asia: in Japan and Taiwan [15, 36] down to the Philippines [12], where the Wallace Line (see Figure 1) limits the southward spread of B. burgdorferi harbouring Ixodid ticks into Austronesia [37]. In Irian Jaya (I.J.) and P.N.G. (see Figure 1), from where neither the presence of Lyme disease nor MS has been reported, schizophrenia is non-existent apart from the south-west coast which is sporadically reached by migratory birds and ticks [16]. In the southern hemisphere, MS [15]and schizophrenic birth excesses [38] are, compared to the northern hemisphere, less significant. From the area of Singapore, which is non-endemic for Ixodes ticks and B. burgdorferi but endemic for treponematoses (see Figure 1), a schizophrenic birth excess is significantly absent. This trend parallels the scarcity of MS and relatively recent upsurge of schizophrenic birth excesses in Japan, where B. garinii harbouring ticks have been sporadically introduced by migratory birds from North East Asia (for discussion see [16]). Southern Australia and New Zealand, by contrast, which can be reached by polar seabirds carrying Ixodes uriae and B. garinii via the Antarctic [39], score relatively high rates of schizophrenia [40] and MS [15].
Geographical correlation of MS to Borrelia burgdorferi sensu lato
The infection rates of B. garinii in I. uriae ticks [29] reflect not only the global distribution of MS, but also its worldwide gradient. The highest number of spirochaetes detected by microscopy were collected from seabirds in Iceland, Alaska and the Faroes (see Figure 1) all areas from where epidemics as well as very high rates of MS have been published [12, 41]. Ticks from Sweden yielded lower spirochaetal counts and on an island south of New Zealand, where MS is reportedly less prevalent compared to the northern hemisphere [15], the number of detected spirochaetes was the lowest [29]. Ticks from Cape Sizun (France) yielded negative results, and, unfortunately, the ticks collected on the Falklands and the Crozet Islands (South Africa) were dead and thus not examined by microscopy. Regardless of the geographical origin, B. garinii DNA was isolated and detected by PCR in all ticks and cultured spirochaetes, with two notable exceptions. The samples from the Atlantic coast of France and those from the Falklands - which do not appear as particularly hot spots for MS [31, 42] - were all negative [29].
Seasonal correlation of MS and sporadic schizophrenia to Ixodes tick activity
If the stochastic annual fluctuations of schizophrenic births [43] and Lyme disease [44] are taken into account, the birth excesses of MS in Denmark [8] and those of schizophrenia in Finland [45] are exactly nine months apart. In northern Europe, the seasonal patterns thereby reflect the activity of endemic Ixodes ricinus [44, 46] at the time of conception and parturition respectively. Likewise, there exists a nine months' shift between MS birth excesses in Canada near Vancouver [30, 47] and schizophrenic births in the USA [48]. The respective seasonal distribution exactly mirrors the periodicity of the adult and juvenile stages of B. burgdorferi transmitting I. pacificus ticks along the West Coast [49] and that of I. scapularis ticks along the East Coast (see [37]). Amongst all other neuropsychiatric disorders, only amyotrophic lateral sclerosis (ALS) [50] shows a similar seasonal trend [30, 51] with respect to Ixodes tick activity in Europe [37] (see Figure 2).
Discussion
The uneven distribution of MS has been noted in the medical literature for well over 100 years [52]. Although difficult to assess reliably from one geographical area to another [11], it has also become clear that the frequency of the disease varies significantly not only in different parts of the world, but even within countries. The first epidemiological study by Davenport (1922) pointed out that MS affected persons of Scandinavian and Finnish descent more than other ethnic groups, a conclusion confirmed by Bailey's study of American troops in World War I. Later propositions that MS, as well as ALS [53, 54], relate to latitude and cold climate unleashed a controversy over nature versus nurture that continues to this day (for review see [11, 12]).
Conclusion
That maternal infection by B. burgdorferi s. l. poses a risk to the neonate cannot be excluded. The global epidemiological clustering by season and locality rather emphasises a causal relation between MS and sporadic schizophrenia, which derives from both genetic and antigenic exposure to a spirochaetal virulence factor at conception and birth. The identification of flagellar Borrelia DNA on human CB1 and its relation to IL-1 receptor dysfunction reminds us of Virchow's postulate in 1849: "In searching for pathological systems one must clearly not construct nosological but only etiological ones" [136]. It is hoped that this correlation might encourage a new direction of neuropsychiatric research in molecular epidemiology.
List of abbreviations used
AIDS:

acquired immunodeficiency syndrome
ALS:

amyotrophic lateral sclerosis
BBSL:

B. burgdorferi s.l. Borrelia burgdorferi sensu lato
CB1:

central cannabinoid receptor gene
CNS:

central nervous system
DNA:

desoxyribonucleicacid
EAE:

experimental autoimmune encephalomyelitis
fbrp:

flagellar basal rod protein
HLA:

major histocompatibility complex
HSP:

heat shock protein
IL-1:

interleukin-1
IL-1ra:

interleukin-1 receptor antagonist
MS:

multiple sclerosis
PR:

prevalence rate
Declarations
Acknowledgement
To RP re-diagnosed as having a birth defect, MS, ALS, and ultimately atypical neuroborreliosis many thanks for her trust and patience.
Authors' Affiliations
(1)
Clinic for Internal Medicine, Adliswil, Switzerland
Copyright
© Fritzsche; licensee BioMed Central Ltd. 2002
This article is published under license to BioMed Central Ltd. This is an Open Access article: verbatim copying and redistribution of this article are permitted in all media for any purpose, provided this notice is preserved along with the article's original URL.