Web GIS in practice IX: a demonstration of geospatial visual analytics using Microsoft Live Labs Pivot technology and WHO mortality data
International Journal of Health Geographics
2011
10:19
Received: 4 March 2011
Accepted: 16 March 2011
Published: 16 March 2011
Abstract
The goal of visual analytics is to facilitate the discourse between the user and the data by providing dynamic displays and versatile visual interaction opportunities with the data that can support analytical reasoning and the exploration of data from multiple user-customisable aspects. This paper introduces geospatial visual analytics, a specialised subtype of visual analytics, and provides pointers to a number of learning resources about the subject, as well as some examples of human health, surveillance, emergency management and epidemiology-related geospatial visual analytics applications and examples of free software tools that readers can experiment with, such as Google Public Data Explorer. The authors also present a practical demonstration of geospatial visual analytics using partial data for 35 countries from a publicly available World Health Organization (WHO) mortality dataset and Microsoft Live Labs Pivot technology, a free, general purpose visual analytics tool that offers a fresh way to visually browse and arrange massive amounts of data and images online and also supports geographic and temporal classifications of datasets featuring geospatial and temporal components. Interested readers can download a Zip archive (included with the manuscript as an additional file) containing all files, modules and library functions used to deploy the WHO mortality data Pivot collection described in this paper.
Background
What is visual analytics?
Visual analytics is an emerging area of research and practice aimed at leveraging the excellent capabilities of humans in terms of visual information exploration. Thanks to the enormous increase in the processing power of computers and their graphics handling capabilities, we are now able to implement extremely powerful visual and interactive knowledge discovery environments [1] that can empower individual researchers or groups of researchers to make well-informed decisions in complex situations [2]. The goal of visual analytics is to make the processes of data elaboration, information gathering and knowledge generation transparent to tool users. Visual analytics is an enhancement of the information visualisation concept and can be seen as an integrated approach combining visualisation, human factors and data analysis [3].
The basic idea of visual analytics is to visually represent the information, allowing the human to directly interact with the underpinning data to gain insight, draw conclusions, and ultimately make better decisions. The synergic integration between computation, visual representation, and interactive thinking supports intensive analysis by harnessing the human visual system to support the process of sense-making, in which information is collected, organised, and analysed to generate knowledge and plan actions. The goal is not only to permit users to detect expected events, such as might be predicted by models, but also to help users discover the unexpected--the surprising anomalies, changes, patterns, and relationships that are then examined and assessed to develop new insights [4].
Visual analytics is an inherently multi-disciplinary field [5–7] that aims to combine the methods and strengths of various research areas, including human-computer interaction (HCI) and usability engineering, cognitive and perceptual science, decision science, information visualisation, scientific visualisation, geospatial visualisation, databases, data mining, statistics, knowledge discovery, data management and knowledge representation, geospatial analytics, and graphics and rendering, among others.
Visual analytics comprises several areas spanning analytical reasoning techniques (to enable users to assess, plan, and make decisions), visual representations and interaction techniques (to take advantage of the human eye's broad bandwidth pathway into the mind; to allow users to see, explore, and understand large amounts of information at once), data representations and transformations (that convert all types of conflicting and dynamic data into visual and analytical representations), and techniques to support production, presentation, and dissemination of the results.
The main advantages of visual data exploration over automatic data mining techniques that use statistics or machine learning are [
8
]:
Visual analytics can easily deal with highly heterogeneous and noisy data; it is intuitive and requires no understanding of complex mathematical or statistical algorithms or parameters by its operators and it is invaluable when little is known about the data and the exploration goals are vague; and

Visual analytics can tackle hard analytical problems where neither the machine nor the human alone can efficiently and effectively find a solution.
Geospatial visual analytics as a specialised subtype of visual analytics: resources and examples
Geospatial visual analytics is an emerging multidisciplinary area which supports spatio-temporal analytical reasoning and decision-making through interactive visual interfaces (such as maps and other visual artefacts) that are linked to computational methods [9, 10]. A good online resource and starting point to learn about geospatial visual analytics is GeoAnalytics.net [11], a portal run by the Commission on GeoVisualization of the International Cartographic Association. Gennady and Natalia Andrienko also offer a comprehensive 114-slide tutorial that can be downloaded at [12].
Some examples of human health, surveillance/emergency management and epidemiology-related geospatial visual analytics applications can be found in [
13
–
18
]. Livnat and colleagues [
16
,
17
] describe Epinome [
19
] (a portmanteau (or blending) of 'Epidemic' and 'Panorama'), a Web-based data visualisation system for infectious disease surveillance, management and control that features movable timelines, choropleth mapping, line-list querying, in addition to other tools for interactively aggregating and stratifying data. The GeoVISTA Center at Pennsylvania State University, USA, offers a number of software applications and tools that can be used in various geospatial visual analytics scenarios [
20
]. Another tool of interest, Gapminder [
21
], allows users to explore time series of development statistics for all countries. Readers interested in creating their own Gapminder-like bubble graphs can use a free Google Gadget called Motion Chart to do so [
22
]. Google also has its own powerful visualisation tool (Google Public Data Explorer [
23
]) for exploring, visualising and sharing data in a Gapminder-like manner. Many datasets from a number of data providers such as World Bank, EuroStat, OECD (Organisation for Economic Co-operation and Development) and US CDC (Centers for Disease Control and Prevention) are currently available to explore in Google Public Data Explorer, including some sets on topics that are directly human health-related, e.g., infectious disease outbreaks, sexually transmitted diseases in the US, mortality in the US, and cancer cases in the US [
24
] (Figure
1
). Moreover, users are able to upload their own datasets for visualisation and exploration in the same interactive manner, using a wide range of static and animated (to show change over time) line, bar, map and bubble charts, coupled with many user-selectable data classification and comparison options [
25
].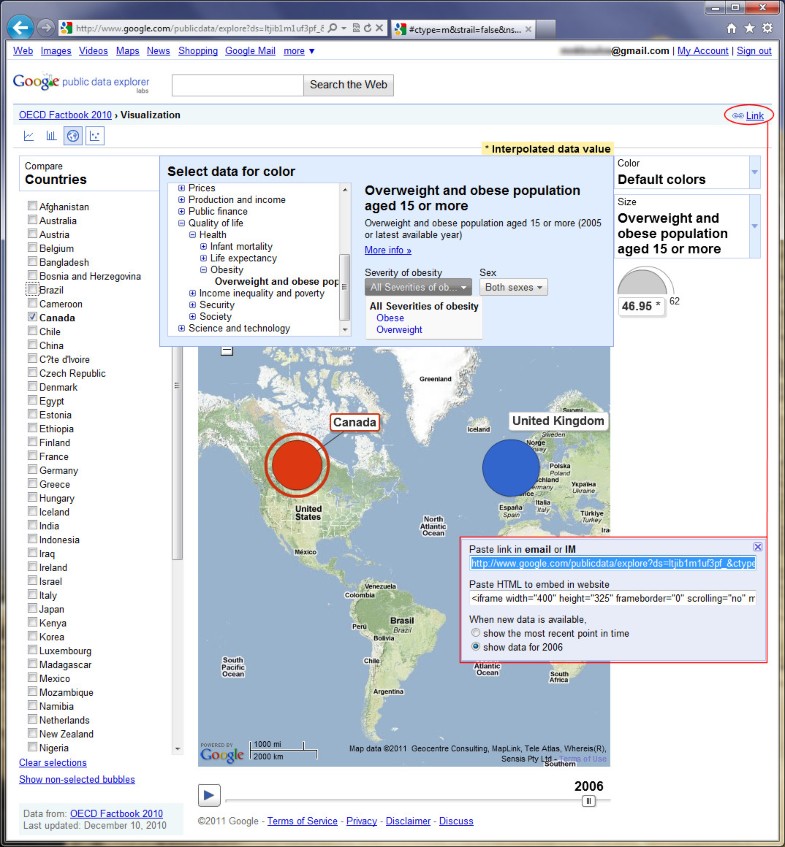 In this paper, we demonstrate a basic geospatial visual analytics exercise using Microsoft Live Labs Pivot technology [26], a free, general purpose visual analytics tool that offers a fresh way to visually browse and arrange massive amounts of data (and images, e.g., [27]) online. Microsoft Pivot enables powerful visual zooming in and out of Web databases and the discovery of new patterns and relations in them that would otherwise be invisible in standard Web browsing of large datasets [28]. It can also be used for geographic classifications, if the explored dataset includes a geospatial component, as we are going to show in this article.
Microsoft Pivot technology demonstration using a publicly available WHO mortality dataset
Microsoft Pivot is a data visualisation technology that can be used to easily interact with, analyse, filter, classify and cluster large amounts of image data [29]. Pivot builds on Silverlight [30] and Deep Zoom [31] technologies, both also by Microsoft. Pivot can be created and deployed as a standalone tool using Microsoft Windows 7, Vista, or XP [29, 32, 33]. It can also be created using Microsoft Windows and deployed in a Web-enabled environment using most Web servers such as Apache, IIS (Microsoft Internet Information Services), etc. In this tutorial we will show how to create and deploy a Pivot project (also known as Pivot collection) using Microsoft Windows and a Web-enabled environment running a Linux (CentOS 5) operating system and Apache Web server.
Pivot collection creation methods
Pivot collections can be created by either automated or manual processes. In this tutorial, we will focus on the manual process using the Excel plug-in for Pivot collections that can be freely downloaded at [
34
]. The manual process is both simple and easy to implement. Below are some notes about the automated and manual methods for creating Pivot collections:
Automated process

: In this method, a computer program is developed that automates the process of creating Pivot collection images by making use of already existing libraries and modules. Common modules and libraries include, but are not limited to:

Python Imaging Library (PIL) [35]: Version 1.1.6 or later is used in processing, creating and formatting images in various formats (JPEG--Joint Photographic Experts Group, PNG--Portable Network Graphics, etc.) for different zoom levels to produce the required visualisation; and

Python Deep Zoom Tools: Python has a Deep Zoom library, version 0.1.0 or later [36], that is used for converting and subdividing images into various zoom levels and tiles (DZI--Deep Zoom Image file format or 'tiled image pyramid' [37]) in order to produce multi-scale zoomable high-resolution images.

Manual process

: In this process, a Microsoft Excel (2007 or later) spreadsheet is used to create a Pivot collection by means of an Excel add-in for Pivot collections [

34

]. The user does not need to write a single line of code with this method, as all the required code is already written and built into the Excel add-in for Pivot collections. The Excel plug-in acts like a collection tool for Pivot technology, in which data are represented in an Excel spreadsheet-like form using all the features of Excel (Figure

2

). The data collection is then exported to a format that can be read by the PivotViewer [

26

]. Other requirements for the manual process include:

Microsoft Silverlight [30]: Used in developing and creating the Pivot platform for standalone and Web-enabled applications; and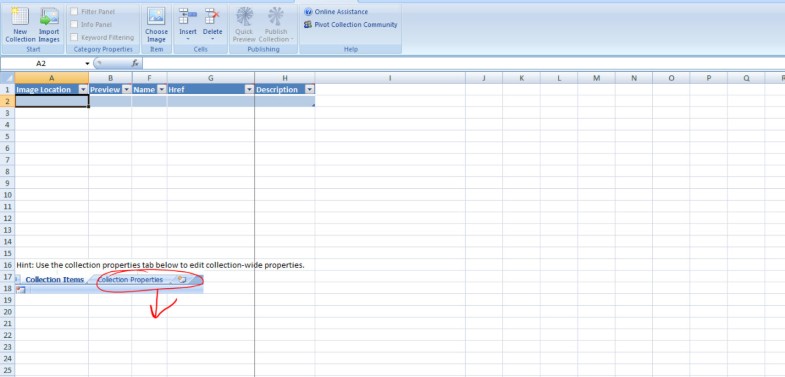 Essential components of a deployed Microsoft Pivot collection
Irrespective of the Pivot collection creation method used, there are some basic modules/libraries provided by Microsoft Live Labs Pivot that are needed to complete the creation and deployment of Pivot collections, namely:
PivotSimpleDemo.xap: This module/library is provided by Microsoft Live Labs. It is in compiled Silverlight application file format (actually a renamed .zip archive that contains all the files necessary for the application). When run in a Web browser, it produces a graphical user interface (GUI) for the Pivot collection.

Silverlight.js: This is a JavaScript that is used to create an instance of Microsoft Silverlight and enable its browser capability. It can be downloaded at [39].

Collection_files: This is a directory generated by the Pivot Collection Tool when the collection (images and data) is published using the Excel plug-in for Pivot collections. It contains the files (.cxml, .xml and .html) and images in various Deep Zoom levels necessary to launch and deploy the Pivot collection.

collection.cxml: This is a file created when the Pivot collection is published using the Excel plug-in for Pivot collections. It can be given any allowable name, but the extension must always be .cxml (Collection XML--Extensible Markup Language). It can also be created using the automated process of Pivot collection generation. It contains a set of rules that describe the data sources in the collection and also a format of displaying the collection for full visualization (Figure 3).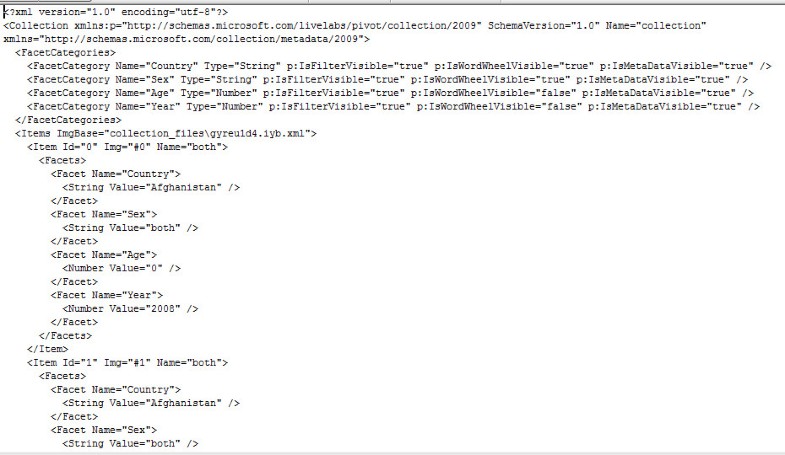 collection.xml: This file is also created automatically when Pivot collections are published using the Excel add-in tool or the automated generation method. It can have any other allowable name, but the extension must always be .xml (Extensible Markup Language). It provides unique identifications for the images in the collection at various zoom levels. It also declares their size in terms of image width and height (Figure 4).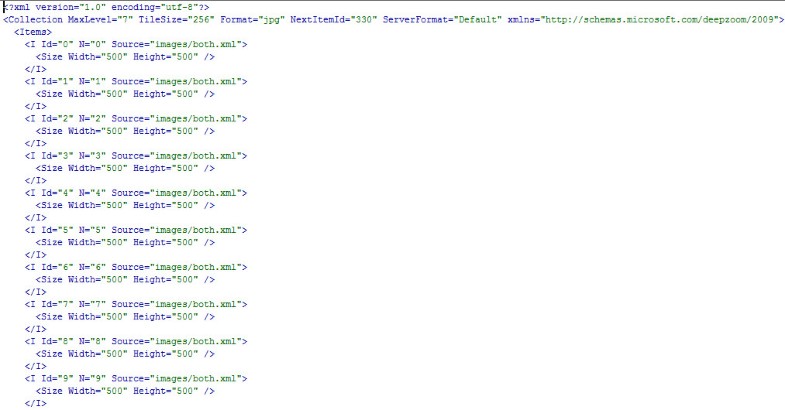 collection.html: This file is provided by Microsoft. It can assume any name but the extension is always .html (HyperText Markup Language file). It contains a reference to the Silverlight.js script, as well as the location or URL (Universal Resource Locator) of the collection.cxml file on the server used to publish the collection (marked by a red arrow in Figure 5). The collection.html file is useful when the Pivot collection is to be deployed on a Web server, as it provides the client browser capability, which Silverlight uses to display the Pivot collection in a visual form.
Deep Zoom Images: These are the images at various zoom levels created with the Excel plug-in for Pivot collections or automatically using the Python Deep Zoom Tools and Python Imaging Library. The images are in DZI format and are stored in a subfolder ([images]) of the [collection_files] directory.
Creation and deployment of a Pivot collection with the PivotViewer Collection Tool (add-in) for Microsoft Excel using a publicly available WHO mortality dataset (1990-2008)
Please note that Pivot collections are (at the time of writing) only supported in 32-bit Internet Explorer 7.0 and later or Firefox 3.6 and later; there is no support for 64-bit versions of Internet Explorer, but this might change soon, with the expected release of a 64-bit runtime of Silverlight [42].
Discussion and conclusions
The Pivot technology demonstrator [
41
] presented in this paper should not be taken as an accurate representation of any WHO country mortality data (as it is very incomplete and does not include all the data records for the above mentioned 35 countries), but is just meant to demonstrate the potential of the technology and the feasibility (proof of concept) of a full scale WHO mortality data exploration tool using Pivot, based on an idea introduced by Gary Flake in a TED (Technology, Entertainment, Design) video in 2010 [
28
] for mortality data analysis in Pivot. A full scale tool could also introduce further classifications, e.g., by country income (World Bank classification) and causes of death (
cf.
[
43
]). Moreover, PivotViewer can be extended to incorporate a Bing Maps layer [
44
] to map items that have Latitude and Longitude values [
45
,
46
] (an example of PivotViewer's Map View is available at [
47
] - Figure
12
).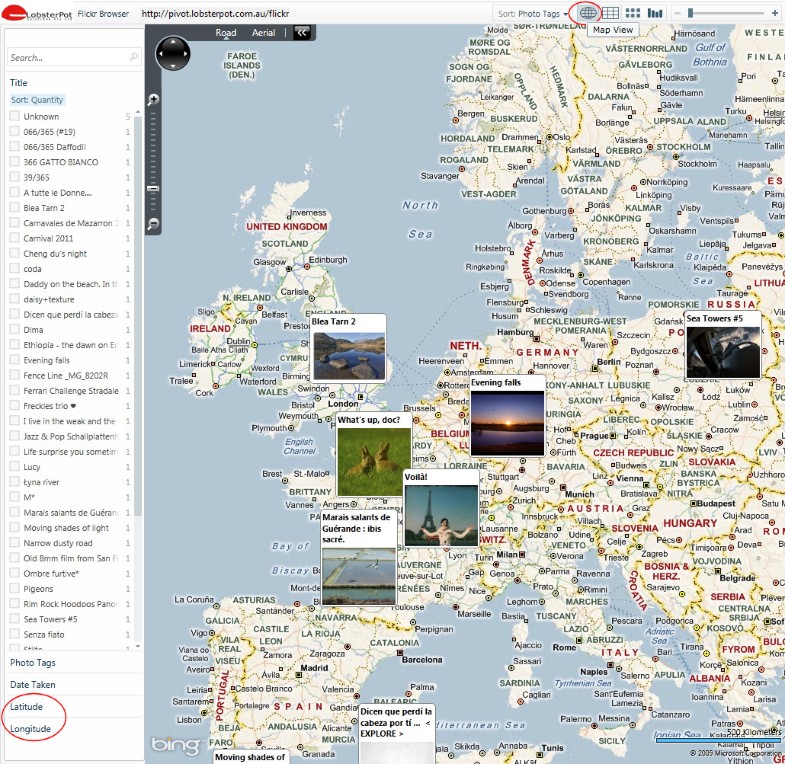 Authors' Affiliations
(1)
Faculty of Health, University of Plymouth,Drake Circus, Plymouth, UK
(2)
Clinical and Translational Science Institute, University of Tennessee Health Science Center, Memphis, USA
Copyright
© Kamel Boulos et al; licensee BioMed Central Ltd. 2011
This article is published under license to BioMed Central Ltd. This is an Open Access article distributed under the terms of the Creative Commons Attribution License (http://creativecommons.org/licenses/by/2.0), which permits unrestricted use, distribution, and reproduction in any medium, provided the original work is properly cited.