Exergames for health and fitness: the roles of GPS and geosocial apps
International Journal of Health Geographics
2013
12:18
Received: 17 March 2013
Accepted: 24 March 2013
Published: 5 April 2013
Abstract
Large numbers of children and adolescents in Canada, UK and USA are not getting their recommended daily dose of moderate to vigorous physical activity, and are thus more prone to obesity and its ill health effects. Exergames (video games that require physical activity to play) are rapidly gaining user acceptance, and may have the potential to increase physical activity levels among young people. Mobile exergames for GPS (global positioning system)-enabled smartphones and mini-tablets take players outdoors, in the open air, unlike console exergames, e.g., Xbox 360 Kinect exergames, which limit players to playing indoors in front of a TV set. In this paper and its companion 'Additional file 1', we review different examples of GPS exergames and of gamified geosocial apps and gadgets (mobile, location-aware apps and devices with social and gamification features), and briefly discuss some of the issues surrounding their use. Further research is needed to document best practices in this area, quantify the exact health and fitness benefits of GPS exergames and apps (under different settings and scenarios), and find out what is needed to improve them and the best ways to promote their adoption by the public.
Keywords
GPS (global positioning system)Geosocial appsLocation-based gamesExergamesPhysical activitySmartphones
Background
Current guidelines for physical activity recommend that children and young people accumulate at least 60 minutes of moderate to vigorous physical activity (MVPA) daily. Unfortunately, very many children and adolescents aged 5–18 in Canada, UK and USA are not getting their recommended daily dose of MVPA [1–3], and are thus more prone to obesity and its ill health effects. Furthermore, research shows that children and adolescents are increasingly spending more time being sedentary while consuming various types of electronic and online media [4]. Physical inactivity (often associated with poor diet and overweight) has been blamed as one of the leading causes of death in the United States [5].
The problem is that, other than organised sports, there are not many enjoyable alternatives to obtain MVPA. However, exergames (video games that require physical activity or moving one's body to play [6]) and GPS (global positioning system) exergames (electronic, location-based games that are played outdoors with the help of GPS in mobile devices carried by players) are rapidly gaining acceptance, and may have the potential to increase physical activity levels among young people.
Children and adolescents like playing video games [4]; but until recently, many did not see the use of video games as being beneficial in promoting physical activity. Challenging that belief is a group of newer console video games and controllers such as the Xbox Kinect [6, 7], that allow players to physically interact with the game and burn more calories in the process (exergames). However, the biggest limitation of console exergames is that they require a television set or computer monitor to play, and cannot be played outdoors on a mobile device.
The adoption rate of smartphones has "exploded" in recent years and is said to be growing faster than that of any other consumer technology in history [8, 9]. Among the most popular categories of smartphone apps are those dealing with health and fitness, exercise routines and dietary food intake, as well as social apps and games. Many smartphones and mini-tablets also incorporate GPS [10], and apps are now available that have capitalised on GPS and 'network location' functionalities in mobile devices, and incorporated game mechanics or gamification features that engage the user beyond the basic GPS functions of location, elevation, time, distance and speed, e.g., in alternate-reality games (ARG) and in other types of location-based exergames that require players to move and perform game tasks in a specific geographical area or in a non-pre-defined area. In this paper, only those mobile apps that have "advanced" GPS functions and game mechanics will be considered.
Survey of GPS exergames and gamified geosocial apps and gadgets
We conducted an extensive online search of existing product literature about GPS exergames and geosocial apps and gadgets. We also scanned the most popular online mobile stores/marketplaces (e.g., Google Play [
11
]) for such apps. Our results are presented in 'Additional file
1
'. They cover: (i) mobile, location-based game apps, e.g., Dokobots (Figure
1
); (ii) mobile, location-aware fitness and sports hubs/platforms with social and gamification features, e.g., EpicMix ski app (Figure
2
) and Microsoft HealthVault (Figure
3
); and (iii) location-aware sports gadgets, e.g., Oakley Airwave GPS-enabled Goggle for skiing (Figure
4
) and products combining GPS and heart rate monitoring of the player.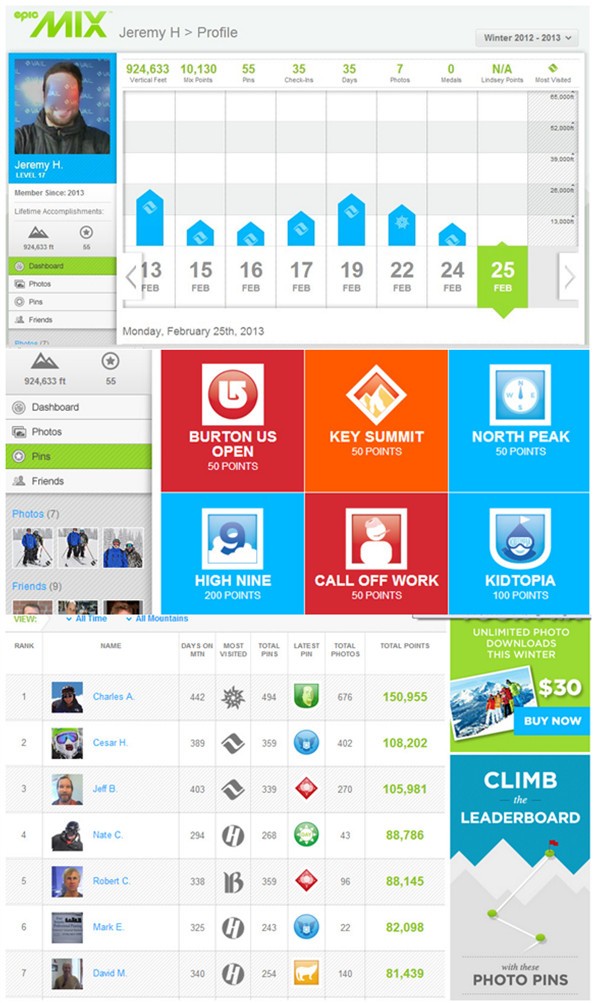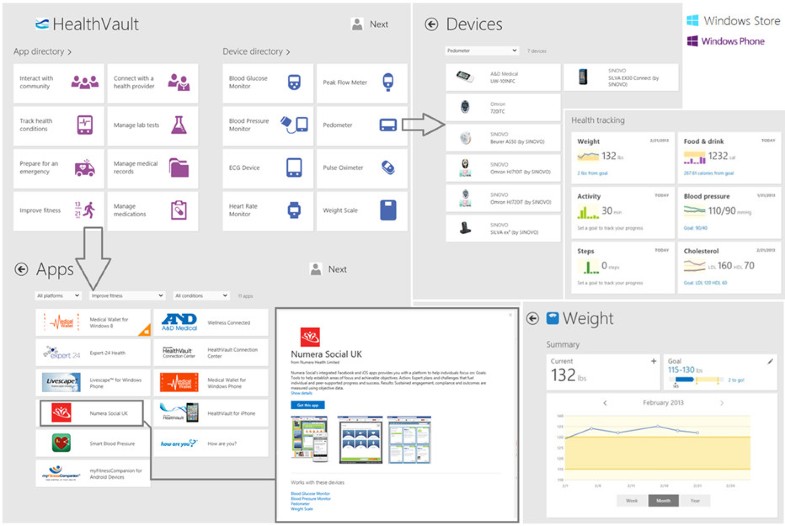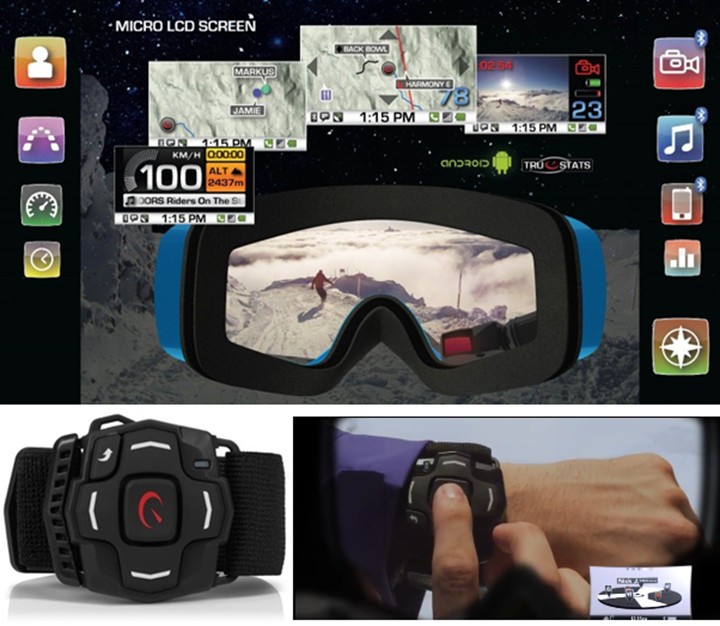 Discussion
Smartphone and GPS technologies are already playing important roles in telehealthcare and in medical emergencies [12–14], but here we are presenting some additional, non-conventional (in the context of health and healthcare) uses of these technologies, which can help keep our populations healthy and fit through the use of GPS in interesting and motivating outdoor games.
Conclusion
Location-based exergames are here to stay. While many would prefer to see young people obtaining their physical activity through sports, it seems increasingly clear that for some youngsters growing up in the 21st century, GPS exergames may be a popular alternative (or supplement) to conventional sports such as football and skiing. Some of the apps and gadgets surveyed in this paper, such as EpicMix ski app, add additional dimensions to conventional sports. If GPS exergames can be as motivating to play as traditional video games, and they have the additional physical activity benefits, we should continue to research, explore and encourage their use. The 'Game ON (Outdoor Nation)! Challenge Grants' seem a good step in this direction [28]. Individuals and teams, beginners and experts alike, are invited to create a new app or mobile game, or promote an existing game, to inspire youth to get outdoors and active. Grants of US $5,000 will be given to the top four projects and the winners will also have the opportunity to attend the E3 video game conference and show in Los Angeles in June 2013.
Declarations
Acknowledgements
Commercial products and company/brand names mentioned in this paper and the companion 'Additional file 1' are trademarks and/or registered trademarks of their respective owners.
Authors' Affiliations
(1)
University of Plymouth, Drake Circus,, Plymouth, Devon, UK
(2)
SUNY Cortland,, Cortland,, USA
Copyright
© Kamel Boulos and Yang; licensee BioMed Central Ltd. 2013
This article is published under license to BioMed Central Ltd. This is an Open Access article distributed under the terms of the Creative Commons Attribution License (http://creativecommons.org/licenses/by/2.0), which permits unrestricted use, distribution, and reproduction in any medium, provided the original work is properly cited.