Spatial-explicit modeling of social vulnerability to malaria in East Africa
International Journal of Health Geographics
2014
13:29
Received: 23 May 2014
Accepted: 6 August 2014
Published: 15 August 2014
Abstract
Background
Despite efforts in eradication and control, malaria remains a global challenge, particularly affecting vulnerable groups. Despite the recession in malaria cases, previously malaria free areas are increasingly confronted with epidemics as a result of changing environmental and socioeconomic conditions. Next to modeling transmission intensities and probabilities, integrated spatial methods targeting the complex interplay of factors that contribute to social vulnerability are required to effectively reduce malaria burden. We propose an integrative method for mapping relative levels of social vulnerability in a spatially explicit manner to support the identification of intervention measures.
Methods
Based on a literature review, a holistic risk and vulnerability framework has been developed to guide the assessment of social vulnerability to water-related vector-borne diseases (VBDs) in the context of changing environmental and societal conditions. Building on the framework, this paper applies spatially explicit modeling for delineating homogeneous regions of social vulnerability to malaria in eastern Africa, while taking into account expert knowledge for weighting the single vulnerability indicators. To assess the influence of the selected indicators on the final index a local sensitivity analysis is carried out.
Results
Results indicate that high levels of malaria vulnerability are concentrated in the highlands, where immunity within the population is currently low. Additionally, regions with a lack of access to education and health services aggravate vulnerability. Lower values can be found in regions with relatively low poverty, low population pressure, low conflict density and reduced contributions from the biological susceptibility domain. Overall, the factors characterizing vulnerability vary spatially in the region. The vulnerability index reveals a high level of robustness in regard to the final choice of input datasets, with the exception of the immunity indicator which has a marked impact on the composite vulnerability index.
Conclusions
We introduce a conceptual framework for modeling risk and vulnerability to VBDs. Drawing on the framework we modeled social vulnerability to malaria in the context of global change using a spatially explicit approach. The results provide decision makers with place-specific options for targeting interventions that aim at reducing the burden of the disease amongst the different vulnerable population groups.
Keywords
MalariaVulnerabilityClimate change adaptationIntegrated spatial modelingGeon conceptRegionalizationEastern Africa
Background
Mosquito-borne infectious diseases, such as malaria or dengue fever, impose a heavy burden on human health, and vulnerable populations in particular. In spite of the tremendous progress that has been made in reducing malaria endemicity over the past decade [1, 2] there were still an estimated 207 million cases and approximately 627,000 malaria-related deaths in 2012 [2]. According to recent estimates by the World Health Organization (WHO) approximately half of the world's population was at risk of malaria in 2012, with the countries of sub-Saharan Africa facing the highest risk [2]. In line with the global recession in malaria cases and deaths, malaria incidences have reduced over much of East Africa [3], but have resurged in eastern African highland locations with increased variability in disease rates [4–10], increasingly affecting areas with significant population numbers and densities. The causes of the resurge are controversially discussed in literature. Several papers have been published attributing this resurge to changes in environmental and climatic conditions in general [7] and climate variability in particular [9, 10]. For example, it is widely accepted that increasing temperatures have direct impacts on both life-cycle stages of the Anopheles vector and the Plasmodium parasite [11]. Although subject to large model uncertainties [12], the projected changes in regional climate conditions [13] and the resulting increase in temperature and precipitation above the minimum temperature and precipitation thresholds of malaria transmission [14] might thus result in further spread and distribution of the disease [15, 16].
Other studies, however, suggest that these effects do not act in isolation, and that other non-climatic factors, such as increase in resistance of the malaria parasite to drugs, or the decrease in control activities are more likely to be the driving forces behind the malaria resurge in this region [1, 5, 6]. Evidence has shown that the socioeconomic status (e.g., age, poverty, education, etc.) and development status are also fundamental determinants of malaria risk [17–19]. Huldén et al. [20], for example, point out that malaria being a tropical disease is a common misperception. They highlight that, although these are areas where the disease remains prevalent, it used to occur throughout all climate zones. According to their findings temperature has only a minor impact on malaria prevalence, while they found social factors, such as household size to be more important. This is also underpinned by Carter and Mendis [21], who declare that the malaria recession in Europe and North America in the 20th century is primarily attributable to a decline in human-vector contact as a result of changing living conditions and rising prosperity as well as changes in land use.
Independent of the controversial debate whether highland populations are immunologically at particular risk [22] or not [23], it is essential for the planning of targeted interventions to have up-to-date information on both (i) the spatial distribution of the disease and current endemicity levels, and (ii) the prevailing social vulnerabilities of the population. Thus, next to environmental (including climatic) factors that influence the spatial distribution of malaria, it is important to also take into consideration the range of socioeconomic, demographic, political, and behavioral factors that impact people's susceptibility and (lack of) resilience to the disease [17–19]. Several papers have been published on factors that influence the spread and spatial distribution of the disease [21, 24], including eastern Africa [25], and there are a few papers assessing malaria risk, that, besides environmental factors, also integrate socioeconomic and demographic factors [9, 26–29]. To date, however, only few studies have been published on vulnerability to vector-borne diseases [17, 18, 30–32], and malaria in particular [9]. Wandiga et al. [9] carried out surveys in three communities in the Lake Victoria Basin (eastern Africa) to assess the role of climate change and its variability, hydrology and socioeconomic factors for malaria vulnerability on a local level. A spatially explicit approach for modeling, exploring and visualizing homogeneous units of social malaria vulnerability on a policy level for districts, countries or regions is, to the best of our knowledge, not existent yet.
This paper presents a conceptual and methodological framework for modeling social vulnerability to malaria in a spatially explicit manner for the regional scale. Based on a holistic conceptual risk and vulnerability framework that was developed to guide risk and vulnerability assessments for water-related vector-borne diseases, and a set of malaria-specific spatial indicators and indicator weights, we delineate homogeneous regions of social vulnerability to malaria for the eastern African region. The aim of the proposed approach is to provide information for the place-specific targeting and prioritization of interventions.
Results
Social vulnerability to malaria
Figure
4
shows the spatial distribution of social vulnerability to malaria for the EAC region. In the map, areas of high vulnerability are displayed in red (max value = 1), while areas of low vulnerability (min value = 0) are displayed in blue using the continuous classification scheme. Regions of very high vulnerability are found in the northeastern part of the study area, particularly in the areas surrounding Lake Turkana, Kenya, at the Kenyan-Ugandan and Kenyan-Tanzanian border, as well as in the central part of Burundi. Medium to high levels are found in Rwanda with very high levels in Kigali, as well as in the northeastern and southwestern part of Tanzania. The pie charts for three selected vulnerability regions in Figure
4
indicate the relative share and contribution of the underlying vulnerability indicators to the overall vulnerability index; thus enabling an evaluation of different characteristics for each integrated geon.Although high levels of vulnerability in areas that are currently malaria free, or only affected by epidemic outbreaks, such as the East African highlands (see Figure
1
), seem surprising at first glance, this is primarily a result of the lowered immunity of the populations in these regions. As vulnerability is seen as of two key components of risk, it represents the societal predisposition which is independent from the current distribution of infected vectors. The decomposition of risk into its underlying components of hazard (i.e., probability of an infective bite) and vulnerability is useful, as it helps to identify potential future areas at-risk, as well as targeting relevant societal drivers.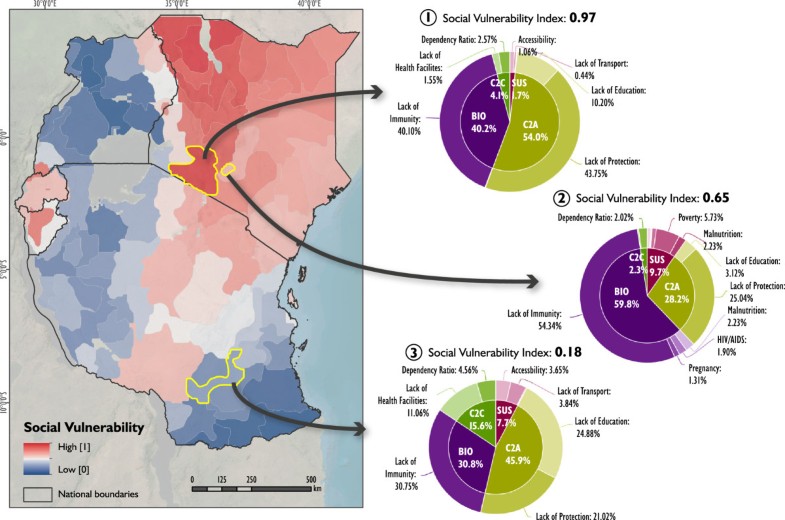 As an additional output, Figure
5
(5.1 to 5.4) displays the spatial heterogeneity of generic susceptibility (Figure
5
.1), the lack of capacity to anticipate the disease (Figure
5
.2), biological susceptibilities (Figure
5
.3), and the lack of capacity to cope with the disease (Figure
5
.4) in the study area. While generic susceptibility is rather low in the region, biological susceptibility is generally high, especially in areas where
Pf endemicity
is low (see Figure
1
); due to a lack of immunity.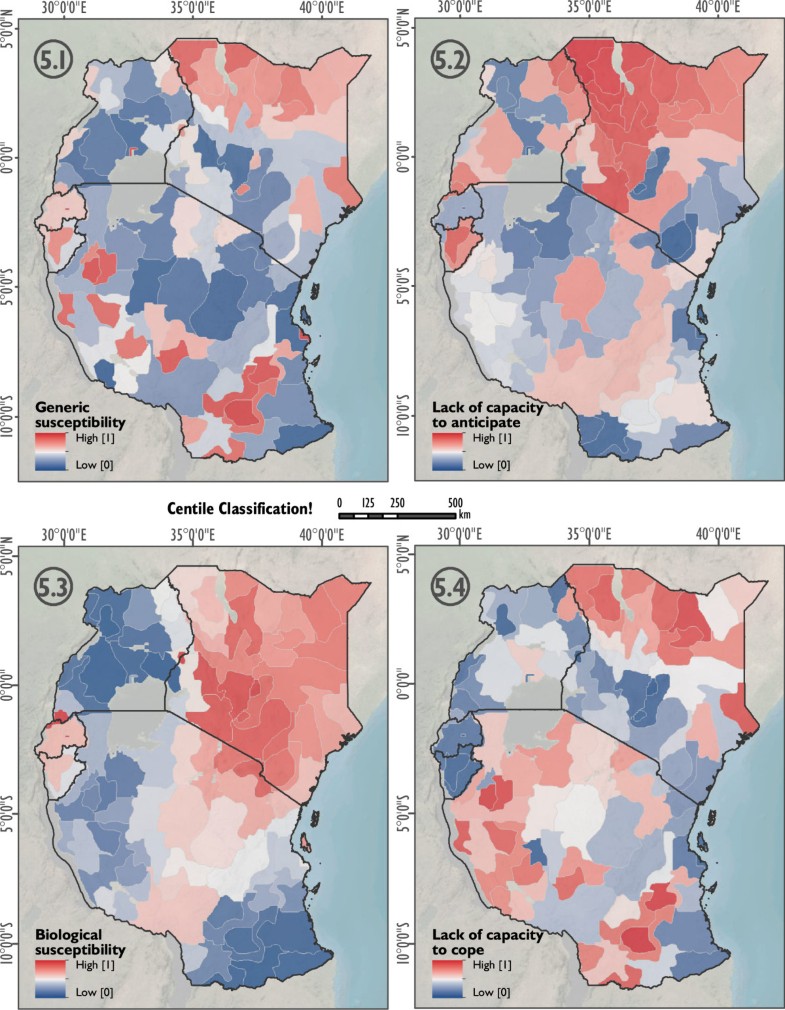 Influence of input indicators on the composite vulnerability index
As outlined above, the modeling of homogeneous vulnerability units comprises several stages where the analyst is confronted with choices between different plausible alternatives that impact the modeling outcome [
82
]; in our case the size and shape of the integrated geons as well as the vulnerability index. It is therefore important to analyze the impact of these choices by assessing the sensitivity of the modeling approach, as well as related uncertainties [
82
,
83
]. Sensitivity analysis evaluates the contribution of individual sources of uncertainty to the output variance [
84
,
85
]. In contrast to global sensitivity analysis, which enables a simultaneous assessment of multiple construction stages, local sensitivity analysis targets one construction stage at a time, while all other stages are held constant [
82
]. As no framework (so far) exists for assessing the global sensitivity and uncertainty for geons [
73
], we assessed the influence of the input vulnerability indicators on the vulnerability index by means of a local sensitivity analysis. This was achieved by discarding one of the indicators at a time, while keeping all other settings (normalization, weighting, regionalization, and aggregation) equal [
81
], and resulted in a series of alternative vulnerability indices. For each geon the alternative index was compared with the reference vulnerability index (i.e., the index based on all indicators). The results are displayed in the box plots in Figure
6
, which, for each of the alternative vulnerability indices (x-axis), show the interquartile range (IQR), the minimum and maximum values as well as the correlation (
r
) with the reference index (y-axis). The higher the IQR, the higher the influence of the respective indicator on the vulnerability index [
81
].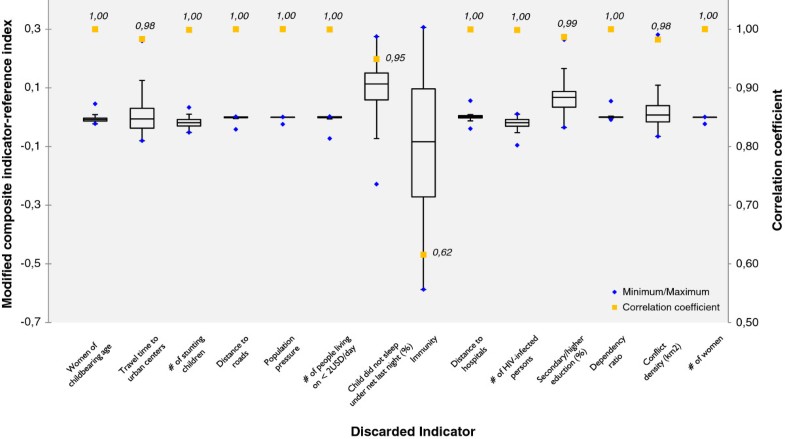 The box plots and the correlation coefficients (Pearson's r) displayed in Figure 6 clearly show that children not sleeping under a net (r = 0.95), travel time to the closest urban center (r = 0.98), education (r = 0.99) and conflict density (r = 0.98) have a minor impact, while immunity (r = 0.62) has a marked impact on the vulnerability index. With the exception of the indicator 'immunity', which has an excessive influence on the composite vulnerability index, the strong correlation between the modified vulnerability indices and the reference vulnerability index (r never smaller than 0.95) emphasizes the robustness of the vulnerability index in regard to the final choice of input datasets; again with the exception of the indicator related to immunity which has a marked impact on the composite vulnerability index.
Discussion
As shown in Figures 4 and 5, vulnerability – and its decomposed domains – varies significantly in space. This is a result of a spatial variation of the underlying vulnerability indicators. Figure 4 allows the identification of social vulnerability hot spots for malaria on a relative scale for East Africa. The results are useful for decisions regarding the entire eastern African scale level, as it supports the rough identification of intervention areas. The answer to the question "what needs to be done where?" can be derived by exploring the relative share of contributing vulnerability indicators as depicted in the pie-charts in Figure 4. For instance, region 2 – representing the urban region of Nairobi – has a stronger contribution of biological susceptibility than the neighboring region 1, or region 3. The pie-charts in Figure 4 also show that a lack of immunity is a major contribution to malaria vulnerability in the study area, which is also a result of the relatively high weight that was assigned to this indicator by the experts. However, at the same time, it also becomes evident that a lack of immunity is only one of several important factors contributing to malaria vulnerability in the study area, which is also reflected by the weights that were assigned to the single indicators by the experts (see Table 1). Aside from immunity, other relevant indicators include the lack in use of protection measures (i.e., the lack in use of bed nets), poverty, distance to hospitals, and lack of education, amongst others. This has important policy making implications, since interventions that aim at reducing the burden of the disease should not only be spatially targeted, but also take into account the relevance of each of these factors for malaria vulnerability for the respective regions. Furthermore, it is also interesting that for instance Nairobi (Figure 4, region 1) is delineated as a homogenous region. Although the presented approach does not include any information on administrative boundaries, it well reflects a homogeneous urban region which differs from its surrounding area in terms of its socioeconomic and demographic characteristics.Figure 5 presents the different indices for the four domains of vulnerability. Care has to be taken with the interpretation, as the generic susceptibility (SUS) domain has a significantly higher value in Kigali in regard to female population. To allow a comparison of the four domains the values have been classified with centile classifications.
The benefit of the geon approach as presented in this paper is that it delineates homogenous regions which are independent of a-priori geographies [86], such as administrative boundaries, and therefore facilitates a place-specific identification of possible interventions. As administrative boundaries are artificially drawn and may change over time, they can have a direct influence on the aggregated index value. For further details we refer to the Modifiable Areal Unit Problem (MAUP) as discussed by Openshaw [87]. A discussion on MAUP for geons is provided by Lang et al. [73]. Additionally, the size and shape of administrative boundaries varies significantly within the study area (e.g. district boundaries in Rwanda vs. district boundaries in Tanzania), and are not an objective measure or suitable for a relative, spatial evaluation of vulnerability across the region. We do, however, not neglect the importance of administrative boundaries as reporting units for the implementation of malaria policies and interventions [30].
From the methodological point of view this paper advances beyond the initial workflow discussed by Kienberger et al. [74] through the application of pre-processing methods and an advanced delineation of the vulnerability regions. Now, it includes methods for (i) pre-processing of indicators and statistical testing of the soundness of the indicator framework (based on OECD [78] and Hagenlocher et al. [46]), (ii) the identification of a statistical valid scale parameter, as well as for (iii) local sensitivity analysis. In the absence of causal models that evaluate the contribution of the indicators considered for social vulnerability in the study area, indicator weights were identified based on expert opinions. An alternative modeling exercise could be based on statistical weighting procedures, e.g. using weights based on principal component analysis (PCA) or regression analysis. In a previous study, we compared both statistical and expert-based weighting schemes, evaluated their impact on a vulnerability index in Cali, Colombia, and found that both modeling approaches revealed similar outputs, both globally and spatially [46].
Additionally, moving from a local sensitivity analysis approach towards a global sensitivity analysis, which considers the influence of indicators, normalization, weighting and aggregation, will be part of future research. This is particularly challenging when using geons, as not only the vulnerability index for each geon changes when altering input parameters, but also the geometry of the geons might change. To overcome this challenge we are currently developing metrics to quantify these impacts, and ultimately provide information on the stability of the delineated geons. Future research will also consider spatially explicit approaches for indicator pre-processing.
Critical for such assessments is the quality and availability of input data. An increasing number of disaggregated and spatially explicit data is publically available. However, due to its multi-source characteristic, data quality and accuracy varies between regions and datasets. As the data used for this study includes uncertainties, the results of such modeling exercises as presented here are mainly for (i) indicative purposes, and (ii) valid only for a regional scale level. Information on vulnerability not yet covered by the proposed set of indicators includes data on the quality of health services or interventions such as indoor residual spraying (IRS). Once such data are available for the entire study area, this could additionally reduce existing uncertainties in the spatial assessment of social vulnerability.
To achieve the ultimate aim of spatially explicit risk assessment, the outcomes of the presented vulnerability analysis should be combined with information on the probability of an infective malaria bite (e.g. represented through the EIR). This would allow a validation of the results based on field measurements of malaria prevalence, using for example the results of rapid diagnostic tests (RDTs). As shown in Figure 4, the presented approach provides the opportunity to integrate the modeling outcomes as well as the underlying indicator framework into an interactive web-environment [88], which can serve as a simple spatial decision support tool.
Conclusions
An expert-based, spatially explicit approach was utilized for modeling and visualizing relative levels of prevailing social vulnerability to malaria in the Eastern African Community (EAC) region. Taking into account a set of socioeconomic, demographic, access and biological/disease-related indicators, vulnerability to malaria was modeled independent of the current spatial distribution of the disease. In the context of a changing environment it is of utmost importance not only to target areas that are currently malaria endemic, but also to focus on areas that might be affected by the disease in the near future due to a changing climate and its societal drivers. A holistic risk and vulnerability framework was developed and used as a heuristic guidance tool for the identification and development of a sound indicator framework, thus enabling a reproducibility or transferability of results. The results of our research provide relevant information for policy makers to identify place-specific interventions that decrease people's susceptibility to the disease and help to strengthen their resilience. Combined with information on disease prevalence, this is one important step towards a more integrative and systemic view of malaria risk.
Declarations
Acknowledgements
The research leading to these results has received funding from the European Union's Seventh Framework Programme (FP7/2007-2013) under grant agreement no. 266327 (HEALTHY FUTURES, http://www.healthyfutures.eu/) and from the Austrian Science Fund (FWF) through the Doctoral College GIScience (DK W 1237-N23). The authors would like to thank Peter Zeil, Dr Adrian Tompkins, Tim Markmiller, Janina Bäumler and Dr Dirk Tiede for their support.
Authors' Affiliations
(1)
Interfaculty Department of Geoinformatics – Z_GIS, University of Salzburg, Salzburg, Austria
Copyright
© Kienberger and Hagenlocher; licensee BioMed Central Ltd. 2014
This article is published under license to BioMed Central Ltd. This is an Open Access article distributed under the terms of the Creative Commons Attribution License (http://creativecommons.org/licenses/by/4.0), which permits unrestricted use, distribution, and reproduction in any medium, provided the original work is properly credited. The Creative Commons Public Domain Dedication waiver (http://creativecommons.org/publicdomain/zero/1.0/) applies to the data made available in this article, unless otherwise stated.