A brief report on Primary Care Service Area catchment geographies in New South Wales Australia
International Journal of Health Geographics
2014
13:38
Received: 28 July 2014
Accepted: 30 September 2014
Published: 7 October 2014
Abstract
Background
To develop a method to use survey data to establish catchment areas of primary care or Primary Care Service Areas. Primary Care Service Areas are small areas, the majority of patients resident in which obtain their primary care services from within the geography.
Methods
The data are from a large health survey (n =267,153, year 2006–2009) linked to General Practitioner service use data (year 2002–2010) from New South Wales, Australia. Our methods broadly follow those used previously by researchers in the United States of America and Switzerland, with significant modifications to improve robustness. This algorithm allocates post code areas to Primary Care Service Areas that receive the plurality of patient visits from the post code area.
Results
Consistent with international findings the median Localization Index or the median percentage of patients that obtain their primary care from within a Primary Care Service Area is 55% with localization increasing with rurality.
Conclusions
With the additional methodological refinements in this study, Australian Primary Care Service Areas have great potential to be of value to policymakers and researchers.
Keywords
GIS
Primary care
Primary care service area
Australia
Background
Primary Care (PC) is fundamental to an effective health system [1, 2], and is a core component of the Australian healthcare system. Over 80% of Australians consult a PC provider (most commonly a General Practitioner, GP) every year, and the Australian Primary Health Care system has been assessed as being one of the better performing among its peer nations [2–4]. The importance of locally targeted PC is well recognized across health care systems: Primary Care Trusts in the United -Kingdom were local bodies entrusted with coordinating and commissioning services; in Australia Divisions of General Practice, Primary Care Partnerships in Victoria and more recently Medicare Locals were created (and subsequently revised by a different government) to facilitate better planning of primary health care services in communities across Australia. One of the requirements of a Medicare Local was that its geography reflect local health needs and "natural catchments" [5]. While what constitutes a "natural catchment" is debatable, one approach to distinguishing catchments is through the patterns of observed PC utilization. Catchment geographies that reflect observed patterns of utilization of health services or patient flows are perhaps a more "natural" representation of the geographical extent of health services use within small areas as opposed to modelled catchment geographies such as those based on calculated travel time [6] and socio-demographic information [7]. In the geographic access literature measures of "realized access" are associated with natural catchments while measures of "potential access" relate to modelled catchments [8].
Health researchers and planners are interested in analysing PC sensitive outcomes at catchment geographies that contain the resources related to these outcomes. If the majority of patients in a geography visit healthcare providers within the geography then the targeting of appropriate policies and interventions to these geographies are more likely to be successful than if the majority patronize providers outside the geography. Finally, flows of patients to and from natural catchments, and the distances associated with these flows could help identify patterns of geographic access, and potentially areas of undersupply of services.
In spite of these advantages of natural catchment geographies they are not commonly used by policy makers and planners primarily because their construction requires substantial data and technical resources. Geographies used in mapping health outcomes and to target policies in Australia often reflect historical administrative boundaries which were not designed for the purpose of monitoring health outcomes, delivering health services or targeting health policies. For example, Medicare Locals have been used to map various health outcomes and use of health services [9] in the state of New South Wales (NSW) and elsewhere [9]. Medicare Locals were not purpose built to reflect natural catchments [5]. "Local Government Areas" (LGAs) have been used by the NSW Department of Health to map variations in various health outcomes [10]. While some public health functions are provided at a Local Government Area level [11], most services are provided either privately or by levels of government other than Local Government, and the areas are not designed for the delivery or analysis of health services. Finally, census geographies such as Statistical Areas Level 3 which were also recently used to report health outcomes and health service usage, while appropriate for reporting census information are not specifically designed for reporting health outcomes or targeting health policies [9].
In the United States [12] and Switzerland [13] where natural catchments of PC from data on observed flows of patients to PC providers have been built, these geographies have been utilized extensively by researchers [13–15]. In this brief report we describe methods to develop natural catchment areas of PC in the state of New South Wales (NSW), Australia using a large survey of people aged 45 and above representing approximately 10% of the people in NSW in that age group. Individuals aged 45 years and older comprise a significant proportion of PC users in Australia. For example, of all people that saw a GP in 2009, more than half were 45 and older [16]. We refer to natural catchment small areas of PC as "Primary Care Service Areas" (PCSAs) to be consistent with the existing US and Swiss nomenclature. While our methods are generally similar to those followed by Goodman et al. [12], there are two major differences. First, our data consists of linked large scale survey and administrative data. Second, we develop a more robust approach to managing potential instability in PCSAs, which could arise where small changes in the pattern of patient flows may cause the geographical structure of PCSAs to change.
Results
A total of 392 PCSAs were generated from 884 gPOAs. Figure
2
displays a histogram of Localization Indices of the PCSAs compared to those in the original patient gPOAs. Figure
3
displays maps of LIs at PCSAs and LIs at gPOAs from which the PCSAs were created. While, the median LI in gPOAs with patients is 38%, the comparable statistic for PCSAs is 55%.While the LIs became smaller as gPOAs became more remote, they became larger as PCSAs became more remote (Table
1
). Remote Australian PCSAs are larger in area (mean 19,776 sq. km) compared to metropolitan PCSAs (mean 117 sq. km) reflecting the larger size of rural and remote Australian POAs. The median number of patients in a PCSA was 394. The correlation between median number of patients and LI Index at PCSAs is 0.23. A total of 15 PCSAs included gPOAs from outside NSW, and were identified as border PCSAs. Eighty two percent of the PCSAs were composed of 2 or less gPOAs.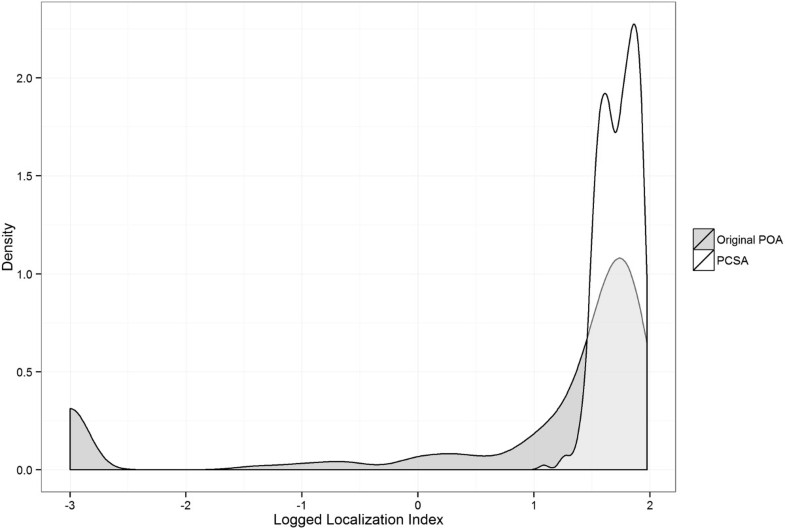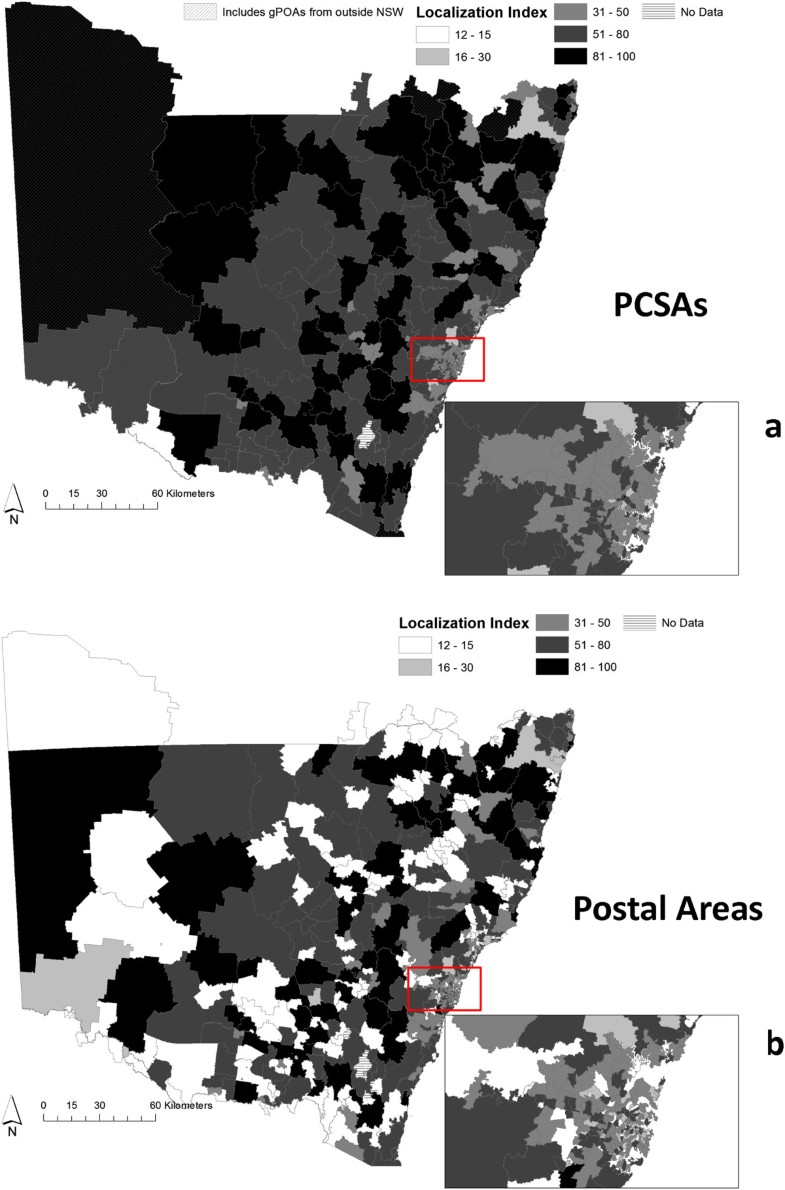 Table 1
Localization increases with increasing rurality in PCSAs while rural Postal Areas have lower Localization Indices
| Remoteness Classification | Mean Localization Index at PCSAs | Mean Localization Index at gPOAs |
| --- | --- | --- |
| Major Cities | 46 | 37 |
| Inner Regional | 62 | 37 |
| Outer Regional | 70 | 34 |
| Remote | 77 | 20 |
| Very Remote | 83 | 6 |
Discussion
We offer an approach that attempts to appropriately manage the sources of instability in creating PCSAs while trading this robustness for the risk of attributing more gPOAs to their nearest neighbour than would otherwise be the case. This is relevant not only in studies using sample data, but also in the census data context for example, complete US Medicare data. We identify patient postcodes at most risk of being differently allocated by small changes in aggregate patient flows, and use a conservative allocation procedure to assign them to neighbours. While some postcodes may be wrongly assigned the overall impact is likely to be small since these postcodes usually have a small number of patients.
We found the same level of localization in PCSAs as in the USA [12] and Switzerland [13]. This consistency may be the reflective of certain universalities in the patterns of patient mobility, and should be subject to further research. Another finding consistent with US PCSAs is that localization increases with rurality, a finding which while being intuitive finds further empirical validation from this study.
Geographic variations in healthcare costs and use have been brought into the spotlight by the recent debate in the United States on whether Medicare related incentive costs should be targeted geographically [22–24]. After a protracted debate a general conclusion was reached (summarized by the Institute of Medicine Reports [23, 24]) that geographic targeting of incentives in the context of tertiary care is not the best approach and better methodologies are required. At no point during the debate however, was the validity of the methodologies that were used to create Hospital Service Areas or Primary Care Service Areas (as opposed to the methods used to analyse data using these geographies) brought to question underscoring the solid conceptual and methodological foundations on which these geographies stand. Indeed, the Health Resources and Services Administration, an agency of the US Department of Health and Human Services states "Primary Care Service Areas (PCSAs) define service areas across the U.S. and are a useful tool for analyzing the distribution of health professionals, primary care services and access to primary care." Thus it is not surprising that PCSAs are continually being used to study primary care relevant issues in the US [14, 15]."
We use a survey of people 45 and older linked to administrative data to create PCSAs. Since these data are not a census of the active patient population, there is always the possibility of bias (our smallest PCSA represents a population of at least 250 people 45 and over). While the survey represents 10% of the people in NSW 45 and older and around 4% of the NSW population, of all people that saw a GP in 2009 more than half were 45 and older [16]. Nevertheless, bias may arise if the geographical patterns of GP patronage of the sample population are not representative of the usage patterns of the total population in a given area. In the United States PCSAs were created from Medicare-US data, representing a population of users 65 and older and validated against other datasets [12], such datasets however, are exceedingly difficult to obtain in Australia due to privacy legislations in Australia [25, 26]. Nevertheless, the LIs of the PCSAs created in this study are in agreement with what was found in Switzerland and US, which underscores their reliability in spite of being created from a much smaller numerical base than the US and Swiss PCSAs.
While we use a maximal allocation method for building these PCSAs following an existing, validated method with a large literature on research using PCSAs created using these methods, newer methods of optimization based regionalization techniques automate some of the ad hoc parameters used in this method [19, 27]. Utilization of these methods remains a possible avenue of future research.
Conclusion
Patients in New South Wales for many reasons will travel to obtain GP care. As a result, any studies of utilisation of PC or attempts to measure PC workforce shortage need to be designed with an understanding of the relationship between the area where a patient lives and the area where they receive most of their PC. This paper identifies PCSAs for NSW and is the first such geography for Australia, using a tried and tested methodology with improvements for enhanced robustness.
Consent
This research utilizes secondary data, thus individual consent was not required.
Endnote
aGoodman et al. have used the term "Preference Index". They also used fractions while we use percentages to represent this index.
Abbreviations
ABS:

Australian Bureau of Statistics
DHS:

Department of Human Services
GP:

General Practitioner
LI:

Localization Index
MBS:

Medicare Benefits Schedule
NSW:

New South Wales
O-D:

Origin–destination
POA:

Postal Area
gPOA:

Postal Areas (modified Postal Areas created for this project)
PC:

Primary Care
PCSA:

Primary Care Service Area
US:

United States.
Declarations
Acknowledgement
This research was completed using data collected through the 45 and Up Study (http://www.saxinstitute.org.au). The 45 and Up Study is managed by the Sax Institute in collaboration with major partner Cancer Council NSW; and partners: the National Heart Foundation of Australia (NSW Division); NSW Ministry of Health; beyondblue; Ageing, Disability and Home Care, Department of Family and Community Services; the Australian Red Cross Blood Service; and Uniting Care Ageing. We thank the many thousands of people participating in the 45 and Up Study. We would also like to thank Dr Danielle Butler and Dr Kirsty Douglas for their help with this research.
Authors' Affiliations
(1)
Australian Primary Health Care Research Institute, Australian National University, Canberra, Australia
(2)
Centre for Health Research, University of Western Sydney, Penrith, Australia
Copyright
© Mazumdar et al.; licensee BioMed Central Ltd. 2014
This article is published under license to BioMed Central Ltd. This is an Open Access article distributed under the terms of the Creative Commons Attribution License (http://creativecommons.org/licenses/by/4.0), which permits unrestricted use, distribution, and reproduction in any medium, provided the original work is properly credited. The Creative Commons Public Domain Dedication waiver (http://creativecommons.org/publicdomain/zero/1.0/) applies to the data made available in this article, unless otherwise stated.