Identification of contrastive and comparable school neighborhoods for childhood obesity and physical activity research
International Journal of Health Geographics
2006
5:14
Received: 30 November 2005
Accepted: 30 March 2006
Published: 30 March 2006
Abstract
The neighborhood social and physical environments are considered significant factors contributing to children's inactive lifestyles, poor eating habits, and high levels of childhood obesity. Understanding of neighborhood environmental profiles is needed to facilitate community-based research and the development and implementation of community prevention and intervention programs. We sought to identify contrastive and comparable districts for childhood obesity and physical activity research studies.
We have applied GIS technology to manipulate multiple data sources to generate objective and quantitative measures of school neighborhood-level characteristics for school-based studies. GIS technology integrated data from multiple sources (land use, traffic, crime, and census tract) and available social and built environment indicators theorized to be associated with childhood obesity and physical activity. We used network analysis and geoprocessing tools within a GIS environment to integrate these data and to generate objective social and physical environment measures for school districts. We applied hierarchical cluster analysis to categorize school district groups according to their neighborhood characteristics. We tested the utility of the area characterizations by using them to select comparable and contrastive schools for two specific studies.
Results
We generated school neighborhood-level social and built environment indicators for all 412 Chicago public elementary school districts. The combination of GIS and cluster analysis allowed us to identify eight school neighborhoods that were contrastive and comparable on parameters of interest (land use and safety) for a childhood obesity and physical activity study.
Conclusion
The combination of GIS and cluster analysis makes it possible to objectively characterize urban neighborhoods and to select comparable and/or contrasting neighborhoods for community-based health studies.
Keywords
Childhood ObesityCensus TractStreet SegmentFamily Median IncomeSchool Neighborhood
Background
An important decision when planning community-based health studies includes the choice of representative communities or neighborhoods. The communities selected for study will need to be few in number (for logistical and financial reasons), and must meet defined characteristics determined by the health condition under study (e.g. high or low disease rates), and the specific question being addressed (and related variables). The factors that will affect the selection of contrastive and/or comparable communities include the objectives of community program initiatives, the availability of community health indicators and health outcomes of interest, and the specific factors associated with those indicators and outcomes. Thus, research on community-based health programs requires methods for selection of representative communities or neighborhoods for interventions and investigation.
In our research, we have undertaken to detect the effects of school neighborhood social and built environments on child obesity and physical activity (and on associations between these). For this work, we seek to compare the environments of children attending defined groups of schools. The schools chosen for study are expected to be representative of groups of schools defined by environments and obesity rates, i.e.: 1) their social and built environments are contrastive between the selected school neighborhood groups and comparable within these groups and 2) their childhood obesity rate and/or physical activity levels are significantly different between neighborhood groups and are relatively similar within groups.
To achieve this, we needed to develop methods for objective characterization of neighborhood environments and to select representative neighborhoods or communities. In our large urban area, this was challenging.
In this paper, we report how we combined GIS and hierarchical cluster analysis to select contrastive and comparable school neighborhoods in Chicago for our pilot studies on child overweight and physical activity and school social and built environments.
Results
We successfully characterized all 412 public elementary school neighborhoods. In our first application of the school neighborhood characterizations, we identified two contrastive schools on the north side Chicago in terms of overweight rate: school A and school B (Figure
1
). According to Chicago Public Schools' policy, we only used the symbol names for school neighborhoods. In cluster analysis, the number of matching candidates for each school increases when the number of clusters decreases. Figure
1
shows the matching result when the cluster number was set to 150: there are 7 candidates for School A, but only one for school B: School D. School C, one of the matches for School A, is a good geographic match to School D. Although we didn't have the obesity rate for school C and D, we could expect a lower obesity rate in school C and a higher obesity rate in school D according to their school neighborhood environmental similarity to school A and B respectively.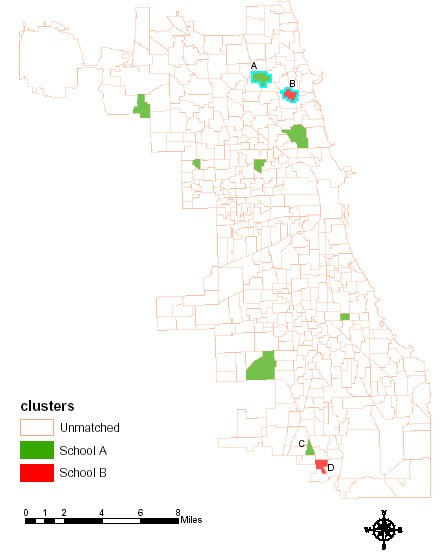 In our second application of the utility of the school neighborhood characterizations, we undertook to define contrastive neighborhoods based only on demographic and environmental factors, e.g. using some indicators from a few variable different categories: race and ethnicity, landuse, crime and traffic. Four schools on the south side of Chicago (Table
1
) were selected: E, F, G and H. Almost all students in E and G are black/African American while most students in F and H are Hispanic. (This extreme racial and ethnic composition is related to Chicago's well-documented residential segregation.)
Table 1
The profiles of the selected school neighborhoods.
| | School | E | F | G | H |
| --- | --- | --- | --- | --- | --- |
| Race and Ethnicity | White (%) | 0.00 | 0.40 | 0.00 | 3.20 |
| | Black/African American (%) | 98.70 | 0.30 | 99.90 | 3.40 |
| | Hispanic (%) | 1.30 | 99.20 | 0.10 | 92.80 |
| Land use | population density (per acre) | 6.84 | 16.30 | 24.83 | 39.94 |
| | block density (per acre) | 0.19 | 0.08 | 0.28 | 0.20 |
| | residential (%) | 18.91 | 18.68 | 75.07 | 82.26 |
| | commercial (%) | 8.25 | 1.84 | 3.70 | 13.16 |
| | industrial (%) | 1.79 | 53.19 | 0.00 | 0.00 |
| | distance to park (miles) | 0.40 | 0.36 | 0.13 | 0.21 |
| Traffic | AADT | 33100 | 15700 | 33100 | 25500 |
| Crime | 1997 violent crime rate (per 100000) | 4482.4 | 651.2 | 2247.8 | 792.6 |
Next we did cluster analysis and identified the comparable neighborhoods corresponding to these four contrastive school neighborhoods (Figure
2
). School E and F have lower population density, block density, less residential area, and longer distance to the public parks; while G and H have higher population density, block density, larger residential area, and easier access to the public parks. Both E and G have higher violent crime rate and traffic volume, while F and H have much lower crime rates and traffic volume. Thus, these four schools have distinct different races and ethnicity, landuse configuration and safety environment. This comparison maximized contrast and also included one to maximize comparability.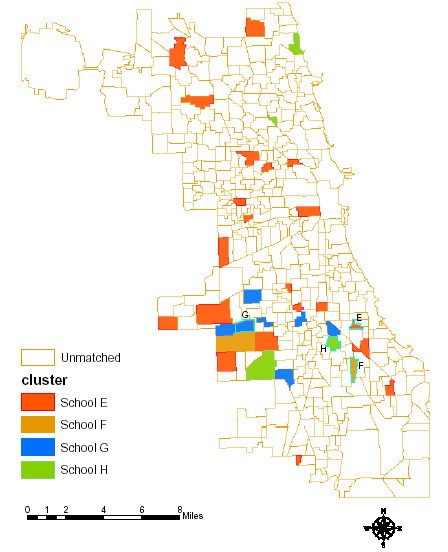 Discussion
Comparison neighborhoods or communities are often used in the design of public health and epidemiology studies, in order to clarify the roles of environmental and demographic risk, and the effectiveness of community level interventions. This paper describes how we created school district characterizations and used them to identify contrastive and comparable school neighborhoods for community-based childhood obesity and physical activity studies. We used GIS to link multiple data sources to generate objective environmental measures for the school neighborhoods in Chicago, and conduct hierarchical cluster analysis to select the desirable school neighborhoods for health study. Using a combination of GIS-supported neighborhood characterization and cluster analysis, we successfully identified contrastive and comparable neighborhoods for our child physical activity and obesity research in Chicago, a large urban area.
These methods can be applied to in other urban settings to allow objective characterization of neighborhoods and the efficient and effective identification of contrastive and comparable neighborhoods for community-based health studies.
Most previous studies have been based on simple standards to select comparison neighborhoods, such as ethnic/racial mix[1], poverty level, urbanity in large-scale environmental settings (urban, suburban and rural area [2]), or the health intervention levels[3–6]. O'Camp et al. have presented the regression and principal component analysis (PCA) approaches to the identification of neighborhoods as intervention and control sites for community-based programs[7]. These methods required that health outcomes be available in all neighborhoods. For obesity and physical activity research, local community or neighborhood-level health outcomes are often not available.
We faced a large number of potential neighborhoods in Chicago, and a long list of neighborhood variables related to child physical activity and obesity. In this context, the selection of contrastive and comparison neighborhoods for the assessment of neighborhood effects on child health became quite complex. If one environmental factor has multiple indicators, factor analysis could be used to reduce data dimensions.
Conclusion
In conclusion, this study shows a powerful methodology to select contrastive and/or comparable neighborhoods for community-based health studies and implement a logistically feasible and statistically valid sampling strategy. It appears that the combination of GIS and statistical tools provides a powerful approach to characterize neighborhood social structural context and built environment to facilitate community health programming and design.
Data and methods
Overview
In this report, we illustrate the methods that we have developed in applications to childhood obesity. To understand the applications, a bit of background about this condition is useful. Childhood overweight and obesity is an increasing public health problem and well known to have significant impact on both physical and psychological health. Childhood obesity has risen to unprecedented levels [8–11]. The United States 1999–2002 National Health and Nutrition Examination Survey (NHANES) indicates that, among children aged 6 through 19 years, 31.0% were at risk for overweight or overweight and 16.0% were overweight[8]. The high levels of overweight among children become a major public health concern. Overweight and obesity are assumed to be the results of a decrease in physical activity and an increase in food intake. Environmental factors may play pivotal roles in the markedly rising prevalence of obesity in the last 2 decades. Social environment, such as the poverty associated with race/ethnicity, and the built environment, including landuse patterns, transportation network and community design features, are important for obesity prevention, as they may encourage or discourage physical activity and healthy food intake [12–19]. Thus population-based obesity prevention, especially for children, may be achieved through a variety of interventions targeting built environment relevant to physical activity and diet[17].
GIS provides a desirable digital environment to manipulate and manage a variety of data sources to characterize human subjects and neighborhood environments related to childhood obesity and physical activity. These data are represented in GIS as different layers in three formats: point (such as residence addresses, school sites, and subway stations), line (such as street networks) and polygon/area (such as neighborhood units, census geographic units such as block, census tracts). We classify the GIS data related into two categories: those related to human subjects' location as subject layers (such as home or school locations), and those related to neighborhood environment as environmental factor layers (such as land use and traffic). The neighborhood level environmental measures of interest are often not available directly and so not ready for use. In our case, the environment measures are not available at school neighborhood levels. We followed three basic steps to generate the neighborhood measures in GIS and characterize the neighborhood for our childhood obesity and physical activity studies (Figure
3
).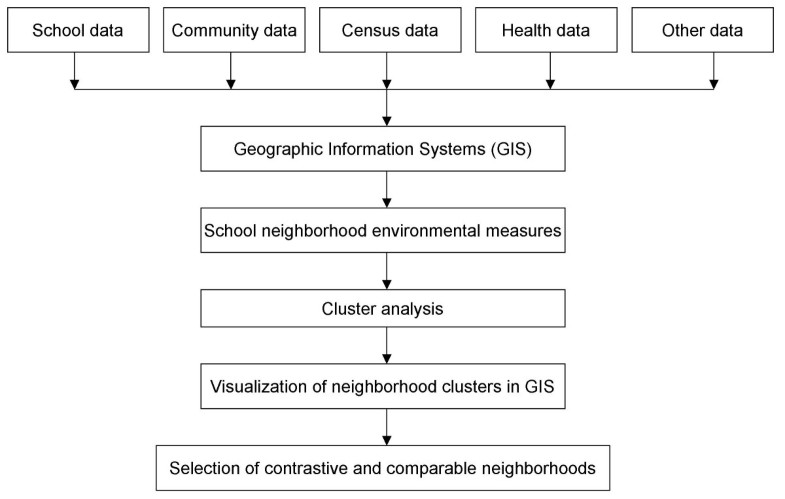 First we used GIS to integrate publicly available social and physical environmental data from multiple sources to generate objective neighborhood environment indicators. Those indicators were selected because they are considered to be potentially associated with school children's physical activities in Chicago. This process involved spatial operations between subject layers (school neighborhoods) and environmental factor layers within GIS, using appropriate spatial imputation algorithms for different types of environmental indicators. Here spatial imputation algorithms are the procedures for the partition and/or aggregation of spatial referenced data to generate the neighborhood level measures.
Second, we combined information from a Chicago public school population survey [20], school child overweight data [21], and 2000 census data to select contrastive school neighborhoods in terms of child overweight rates, built environment and/or sociodemographics (depending on what data were available). This yielded schools that were contrastive on the variables of interest.
Third, hierarchical cluster analysis was applied to identify comparable school neighborhoods corresponding to the selected contrastive ones in terms of their social and built environments. In the following sections, we first describe the data we used, then we illustrate in detail the generation of neighborhood measures of interest and cluster analysis for identifying comparable and/or contrastive neighborhoods.
Declarations
Acknowledgements
We would like to acknowledge Robert Hague from Department of School Demographics and Planning at Chicago Public Schools for providing school district boundary GIS data.
Authors' Affiliations
(1)
The Robert Graham Centre for Policy Studies in Family Medicine and Primary Care, American Academy of Physicians, Washington, USA
(2)
Mary Ann and J. Milburn Smith Child Health Research Program, Children's Memorial Research Center, Chicago, USA
(3)
Department of Pediatrics and Preventive Medicine, Feinberg School of Medicine, Northwestern University, Chicago, USA
(4)
Department of Geography, University of Cincinnati, Cincinnati, USA
Copyright
© Zhang et al; licensee BioMed Central Ltd. 2006
This article is published under license to BioMed Central Ltd. This is an Open Access article distributed under the terms of the Creative Commons Attribution License (http://creativecommons.org/licenses/by/2.0), which permits unrestricted use, distribution, and reproduction in any medium, provided the original work is properly cited.