Habitat suitability mapping of Anopheles darlingiin the surroundings of the Manso hydropower plant reservoir, Mato Grosso, Central Brazil
International Journal of Health Geographics
2007
6:7
Received: 26 July 2006
Accepted: 07 March 2007
Published: 07 March 2007
Abstract
Background
Hydropower plants provide more than 78 % of Brazil's electricity generation, but the country's reservoirs are potential new habitats for main vectors of malaria. In a case study in the surroundings of the Manso hydropower plant in Mato Grosso state, Central Brazil, habitat suitability of Anopheles darlingi was studied. Habitat profile was characterized by collecting environmental data. Remote sensing and GIS techniques were applied to extract additional spatial layers of land use, distance maps, and relief characteristics for spatial model building.
Results
Logistic regression analysis and ROC curves indicate significant relationships between the environment and presence of An. darlingi. Probabilities of presence strongly vary as a function of land cover and distance from the lake shoreline. Vector presence was associated with spatial proximity to reservoir and semi-deciduous forests followed by Cerrado woodland. Vector absence was associated with open vegetation formations such as grasslands and agricultural areas. We suppose that non-significant differences of vector incidences between rainy and dry seasons are associated with the availability of anthropogenic breeding habitat of the reservoir throughout the year.
Conclusion
Satellite image classification and multitemporal shoreline simulations through DEM-based GIS-analyses consist in a valuable tool for spatial modeling of A. darlingi habitats in the studied hydropower reservoir area. Vector presence is significantly increased in forested areas near reservoirs in bays protected from wind and wave action. Construction of new reservoirs under the tropical, sub-humid climatic conditions should therefore be accompanied by entomologic studies to predict the risk of malaria epidemics.
Keywords
MalariaGeographic Information SystemMalaria VectorHydropower PlantVector Incidence
Background
Malaria is caused by protozoan parasites of the genus Plasmodium and is transmitted, in Central Brazil, principally by Anopheles darlingi Root and four other dipters species of the Anophelines genus: Anopheles aquasalis, Anopheles albitarsis, Anopheles cruzi and Anopheles bellator. An. darlingi is considered the most anthropophilic and endophilic species among the Amazonian anophelines [1]. The preferential reproduction habitat of A. darlingi is in areas of still, clean water, and adults can fly up to 7 km for resting and feeding [2].
In Brazil, malaria is endemic in the Central Amazon region. Roberts et al. [3] reported an increasing incidence of malaria in the Amazon in the early and mid-nineties due to changes in strategies for malaria control (reduction of residual house-spraying). By 2002, cases had reduced slightly, to 349,873 cases [4]. More than 99% of all cases in Brazil have been observed in the Amazon region, which includes Mato Grosso state [5]. In southern Mato Grosso, An. darlingi is abundant, but no malaria epidemics have yet been observed. Epidemic outbreaks, however, are a latent risk, particularly in areas with a high density of vectors.
Hydropower plants provide more than 78 % of Brazil's electricity generation. With an estimated growth in demand of about 4.5 % per year, implantation of new power plants is ongoing [6]. The filling phase of the Manso hydropower plant reservoir, located about 100 km north of Cuiabá, the capital of Mato Grosso state, was initiated in November 1998 and concluded in 2001. At its highest operational levels, the reservoir covers an area of about 427 km2, and is a potential new habitat for malaria vectors [7].
Remote Sensing and Geographical Information Systems (GIS) has emerged as an innovative and important component in public health and epidemiology [8], and has been widely used for monitoring, surveillance and mapping of vector habitat and spatial modeling of vector-borne diseases [9]. Thomson et al. [10], as well as Rogers et al. [11], have given overviews of applicability of Earth-observation satellites for the study of ecology and forecast of malaria. Pope et al. [12], Beck et al. [13] and Roberts et al. [14] have given application examples for the mapping of malaria vectors, pointing out the suitability of high resolution Remote Sensing (RS) data, such as from the Landsat ETM or SPOT systems, for vegetation and land cover mapping. Newly available imagery of very high-resolution RS systems such as Ikonos and Quickbird were found to improve mapping results of small larval habitats or vegetation cover in highly structured landscapes [15, 16].
In their comprehensive overview of applicability of RS techniques for vector disease analysis, Beck et al. [9] mentioned factors such as vegetation/crop type, vegetation green up, deforestation and landscape structure as relevant for the evaluation of malaria breeding, resting and feeding habitats. Malaria transmission in the Brazilian Amazon has been found to be positively related to deforestation [17], due to the increase of populations which have direct contact with vectors and which are commonly living in precarious conditions of habitation, nutrition and health care, factors favoring malaria transmission and complicating vector control [18, 19]. Vittor et al. in 2006 [20] reported a striking increase in human biting rates of An. darlingi densities in deforested areas in the Peruvian Amazon. Castro et al. [21] mentioned for a study area in Rondonia that malaria transmission in early stages of frontier settlement is dominated by environmental risk, while in consolidated occupations infection risk is mainly determined by behavioral factors.
Singer & Castro [22] pointed out that principal natural breeding places of An. darlingi in the Amazon are at the forest margins; when inside undisturbed forests, ideal breeding habitats are rare, since standing water is acidic and the partial shade favored by this species is absent. In addition, the construction of rural roads frequently creates permanent breeding sites for An. darlingi, as a consequence of poor drainage [21]. Studies in the savannah ecosystems of the Brazilian Amazon are still rare, as they are not considered to be endemic regions [23].
The monitoring of wetlands – both natural and artificial – and flooding is fundamental, as bodies of water are the breeding habitat of Anopheles larva [2]. In Belize, An. darlingi densities have been found to be positively related to riverine vegetation types [24]. Principal reproduction habitats were shaded or partly shaded patches of floating debris and submerged plants along creek and river margins. The comprehensive study of Keiser et al. [25] conclude that the implantation of dams favor habitat suitability of malaria vectors. In Brazil, increase of malaria transmission has been reported for the great reservoirs of Balbina, Tucuriu, Samuel and Itaipu [25, 26]. Vasconcelos et al [17], as well as Tadei et al [27], mentioned that the accumulation of nutrients in reservoirs can favor growth of aquatic vegetation, important reproduction habitats for An darlingi. As shown for the Lower Kihansi Hydropower plant in Tanzania, artificial bodies of water can even introduce malaria into areas not known to have the disease [28]. On a local scale, the expectation of an increase of vector densities around reservoirs is supposed to vary as a function of distance from the shoreline and the proximity to portions of the reservoir suitable as breeding habitats [17, 25, 29]. In GIS-based approaches these factors can be derived from Digital Elevation Model (DEM) analysis [15].
Mosquito activity is supposed to be strongly influenced by environmental factors such as temperature, humidity, wind speed and moon phase and should therefore be considered in spatial model building [23, 30, 31].
In the present study we report on our experience of applying satellite-based remote sensing of vegetation and land-use cover and geographic information system (GIS) analytic techniques based on DEM to the study of habitat suitability of the malaria vector
Anopheles darlingi
Root. In our study area, the Manso hydropower plant influence area in the Central south of Mato Grossso state (Central Brazil), malaria is not endemic, but in 2006, a case was reported for the "Bom Jardim" settlement (Fig.
1
). Despite the resettled former inhabitants of the areas flooded by the reservoir, the study area is frequently visited by tourists, mainly from the city of Cuiabá, which use the lake for recreation purposes on weekends. As monkey fauna, which is believed to be the main animal host of malaria parasites, is common in the Cerrado woodlands and gallery forests [
32
], presented habitat evaluation should be considered a potential transmission risk assessment. Our focus is on the influence of the Manso hydropower plant reservoir on vector incidence, applying logistic regressions and testing model sensitivity and specificity by ROC curves. Spatial and temporal distribution of the vector is related to reservoir climatic and environmental factors (temperature, humidity, rainfall, land cover, distance to potential reproduction habitat, reservoir shoreline morphology) in order to present a detailed map of vector habitat suitability which could provide the basis for the development of a malaria early warning system.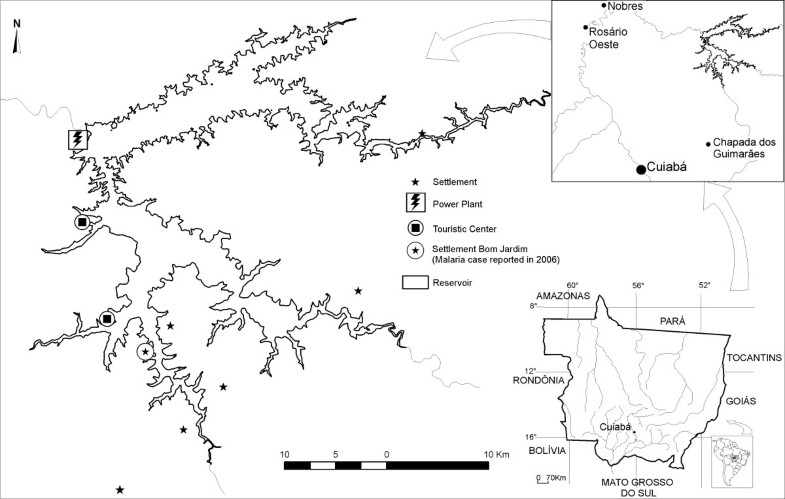 Results
Human biting rates
An. darlingi
is widely described as an endophilic or endophagic [
37
]. In campaigns in and around housings of better quality, however, such as those realized in the residential areas of the hydroelectric stations of Samuel, Balbina, and Tucurui, only 0.6 % of
An. darlingi
specimens had been captured in the interior of houses. As shown in Fig.
3
, maximum HBR from extra-domicile captures were much higher that those of peri-domicile and intra-domicile observations. Joining captures from both seasons, a paired sample Wilcoxon test results in highly significant differences (p < 0.01).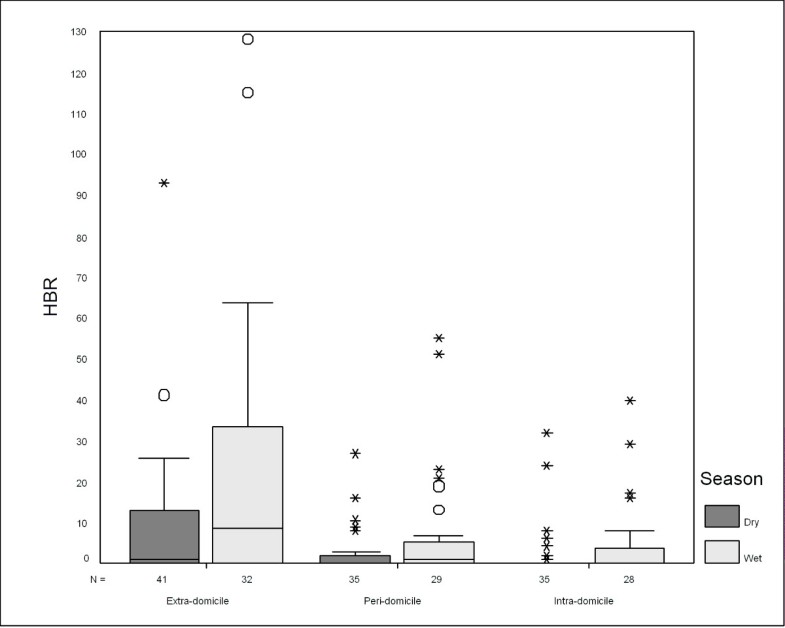 Following the argumentation of Charlwood [37], we suppose that these results could be a function of housing quality: all resettled families have obtained newly constructed houses. As we focus in the present study on the influence of environmental factors on habitat suitability we only considered extra-domicile samples for LR model building (n: 73). All evaluated sampling points, nevertheless, were inside An. darlingi flight ranges of rural settlement housing or tourist infrastructure (distance equal or less than 2 km).
Various studies have identified the relation between climatic conditions such as precipitation and temperature and human-biting rates of malaria vectors [27, 36]. Figure 3 shows a comparison of human biting rates (HBR) of the 22 sampling points obtained from intra-, peri- and extra-domicile captures during two dry (March of 2000 – October 2000 and March of 2001 – October 2001) and two wet seasons (November of 2000 – April 2001 and November of 2001 – April 2002).
Exploratory analysis indicates slightly higher HBR during the wet season (Fig. 3), which could be expected due to an increase of reproduction habitats and higher water temperatures [38]. A maximum HBR value of 128 was obtained during a wet season campaign at the end of March 2000 near the reservoir. Captures of more than 10 specimens, however, were obtained in distances of more than 1.6 km from the reservoir, too. The median of HBR is higher for extra-domicile captures during the wet season (8.60) than for those of the dry season (1.25). A Wilcoxon test for paired samples, however, does not result in significant differences in vector incidences between the two periods (p = 0.328). Nevertheless, all meteorological explanatory data sets were tested in multiple LR model building to evaluate if spatial habitat simulations must be done for different meteorological-climatic conditions (see Tab. 4).
Spatial data processing
Overall accuracy for the three land cover classes used as predictors in LR model building was determined to be 84.1. Producer's and User's accuracies are similarly high for Pasture and Savannah formations, whereas forest classification is less accurate. Denser savannah woodlands ("Cerradão"), build ecotones with the semi-deciduous forests, causing higher rates of misclassifications between both classes. Thematic map (Fig. 5) shows Savannah and Pastures as the predominant land cover. Semi-deciduous forests, the vegetation formation where the highest HBR were obtained, covers the dissected steep ramps of the Central Brazilian shield and accompany the stream valleys.
From the 73 extra-domicile sampling campaigns, 31 were carried out at a distance between 0 a 200 m of reservoir shoreline, 12 at a distance between 200 and 500 m, 25 between 500 and 1,000 m and 5 at a distance greater than 1 km (Fig. 4).
Discussion
Although An. darlingi is the most important malaria vector in Brazil, knowledge about its habitats is limited, particularly on a local scale and in the influence area of hydropower plant reservoirs.
Various studies have reported the importance of climatic factors on vector incidence and malaria prevalence in semi-humid tropical climates; increased rain and temperatures, for example, can have positive effects on vector breeding and development rates [21]. Our results indicate that the availability of a permanent reproduction habitat seems to equilibrate seasonal differences in vector incidence generally observed in humid and semi-humid tropical climates [22]. Slightly higher vector densities observed at collections during the rainy season (November through April) were not found to be significantly superior to those of the dry season (p < 0.05). Similarly, Guimareas et al. [26] in their study on the Itaipu power plant reservoir mentioned that Anopheline incidence did not increase during the summer rainy season. Contrary to our findings, An. darlangi incidences in the surroundings of the Serra da Mesa power plant in the Cerrado savannah region of Goias state was found to be higher during the rainy season [23].
Multispectral Landsat ETM imagery classification and DEM-based GIS methods were applied to local scale prediction of vector presence probabilities. As climatic factors showed no significant influence on vector presence, only a unique logistic regression model was developed.
First, higher incidences are associated with spatial proximity to reservoir and semi-deciduous forests followed by Cerrado woodland. Vector absence was associated with open vegetation formations such as natural grasslands, pastures and agricultural areas. As in our study, Guimaraes et al. [23] noted higher incidences of An. darlingi for locations covered with denser savannah formations ("Cerrado", "Cerradão"). None of their sampling sites, however, was covered by semi-deciduous forest, which showed the highest incidences in our study. It is important to mention that vegetation units in the hilly terrain of the Manso power plant region are highly fragmented, reflecting variability in geoecological conditions as well as anthropic transformations. Forest formations in the study area are spatially limited to corridors of straight river valleys along the outlets of inflowing streams. Semi-deciduous forests as well as Cerrado woodlands and savannahs are reminiscent of patches interlaced by managed pastures. None of the sampling points was located in a continuous singular vegetation unit whose area would exceed the flight ranges of An. darlingi. Therefore, we see no contradiction to studies that have reported an increase of An. darlingi incidence in Amazon regions suffering recent deforestation [20, 26]. As rural populations predominantly settle near stream valleys covered by forest, vector presence may be additionally favored by the availability of feeding sources.
Maximum flight range of An. darlingi is estimated to vary between 2 km and 7 km [2]. As pointed out by Charlwood & Wilkes [40], An. darlingi may follow edges of the forest margin following road systems. As the implantation of resettlements and tourist infrastructure has opened potential flight paths, we believe that mosquitoes may reach areas in a distance of at least 2.5 km from the supposed breeding habitats in the hydropower reservoir. This thesis seems to be confirmed by some HBR above 10 in a distance more than 1.6 km from the shoreline. In reservoirs such as that of the Manso power plant, which experience extensive water level variations as a function of operation schemas for power generation and seasonal hydrological stream regimes, distance estimates based on DEM analysis should be done for date specific water levels. Maximum water level amplitude of about 10 m can result in horizontal alterations of shoreline distances of more than 200 m. Vector presence and reservoir proximity had significant positive correlation in an univariate as well as in the multivariate LR model (p < 0.05). Since preferred breeding habitats of An. darlingi are large pools of stagnant water and slow-moving streams [23], we developed and tested a shoreline morphographic index based on DEM analysis. In an univariate LR model, vector absence was significantly related to peninsula situations (index > 0.5), when vector incidence was elevated at sampling points near embayments, protected from wave action. In the multivariate LR model, however, shoreline index was rejected as an explanatory variable in a 0.05 confidence interval. Results of nonparametric correlation analysis suggest that this is due to correlation of shoreline index with vegetation types. Sampling points with high vector densities near reservoir bays – in many cases flooded stream valleys – are mainly covered by dense wooden vegetation formations.
Conclusion
According to the presented results, we conclude in the framework of formulated hypothesis: the incidence of An. darlingi in the surroundings of the Manso hydropower plant in the Central Brazilian Cerrado region is highest near the reservoir and inside semi-deciduous forest. Savannah scrub- and woodlands are more suitable habitats than pastures or cropland.
Only slight seasonal differences among HBR were observed, indicating that the increase of mosquito presence in the wet season as reported for other sub-humid tropical regions is balanced by the presence of an artificial reproduction habitat.
Remote Sensing and GIS techniques such as digital land cover classification and DEM based buffering were found to contribute to habitat characterization and mapping. GIS-based morphographic classification, still little explored for habitat suitability simulation, was found to be a promising technique that should be included in future studies of An. darlingi habitats.
Declarations
Acknowledgements
This study was funded by FURNAS S.A.
Authors' Affiliations
(1)
Department of Geography, Federal University of Mato Grosso, Cuiabá, Brazil
(2)
Institute of Biology, Federal University of Mato Grosso, Cuiabá, Brazil
(3)
Institute of Public Health, Federal University of Mato Grosso, Cuiabá, Brazil
Copyright
© Zeilhofer et al; licensee BioMed Central Ltd. 2007
This article is published under license to BioMed Central Ltd. This is an Open Access article distributed under the terms of the Creative Commons Attribution License (http://creativecommons.org/licenses/by/2.0), which permits unrestricted use, distribution, and reproduction in any medium, provided the original work is properly cited.