Linking stroke mortality with air pollution, income, and greenness in northwest Florida: an ecological geographical study
International Journal of Health Geographics
2008
7:20
Received: 18 February 2008
Accepted: 01 May 2008
Published: 01 May 2008
Abstract
Background
Relatively few studies have examined the association between air pollution and stroke mortality. Inconsistent and inclusive results from existing studies on air pollution and stroke justify the need to continue to investigate the linkage between stroke and air pollution. No studies have been done to investigate the association between stroke and greenness. The objective of this study was to examine if there is association of stroke with air pollution, income and greenness in northwest Florida.
Results
Our study used an ecological geographical approach and dasymetric mapping technique. We adopted a Bayesian hierarchical model with a convolution prior considering five census tract specific covariates. A 95% credible set which defines an interval having a 0.95 posterior probability of containing the parameter for each covariate was calculated from Markov Chain Monte Carlo simulations. The 95% credible sets are (-0.286, -0.097) for household income, (0.034, 0.144) for traffic air pollution effect, (0.419, 1.495) for emission density of monitored point source polluters, (0.413, 1.522) for simple point density of point source polluters without emission data, and (-0.289,-0.031) for greenness. Household income and greenness show negative effects (the posterior densities primarily cover negative values). Air pollution covariates have positive effects (the 95% credible sets cover positive values).
Conclusion
High risk of stroke mortality was found in areas with low income level, high air pollution level, and low level of exposure to green space.
Keywords
Census TractGreen SpaceRoad SegmentStroke MortalityChoropleth Mapping
Background
Stroke is a type of cardiovascular disease that affects the arteries leading to and within the brain. A stroke occurs when a blood vessel that carries oxygen and nutrients to the brain is either blocked by a clot (ischemic stroke) or bursts (hemorrhagic stroke) [1]. When that happens, part of the brain cannot get the blood (and oxygen) it needs, so it starts to die. It is the third leading cause of death in the Western world, after heart disease and cancer [2]. Stroke could soon be the most common cause of death worldwide [3]. The chances of having a stroke more than double for each decade of life after age 55 [4, 5]. Stroke is more common in men than in women [5]. According to the American Heart Association, African Americans have a higher risk of stroke than Caucasians do [6]. While a number of risk factors for stroke, e.g., age, gender, and ethnicity, are well known, the potential importance of outdoor air pollution is much less recognized. Other less well documented risk factors include socioeconomic factors and physical inactivity.
Air pollution is known to be associated with cardiovascular disease, but relatively few studies have examined the association between air pollution and stroke mortality [7]. There is increasing evidence linking outdoor air pollution and stroke [7–11] using either ambient air pollutant concentration data or proximity to polluters as a surrogate exposure. A study conducted in Seoul, Korea, has shown that commonly measured pollutants (O3, SO2, NO2, CO, PM10) are all significantly associated with stroke mortality [7]. In a study conducted in the Netherlands, gaseous air pollutants (O3, CO, SO2) were found to be significantly associated with stroke mortality [12]. In Hong Kong, however, none of 4 pollutants (SO2, NO2, O3, PM10) studied were found to be significantly associated with stroke mortality [13]. Using hospital admission records from Taiwan, Tsai [9] found a statistically positive association between PM10 and both ischemic and hemorrhagic strokes. In a small-area level ecological study, Maheswaran [11] found that stroke incidence rates are higher in more polluted areas due to the combined effects of acute and chronic exposure. Maheswaren and Elliott [14] examined the association between stroke mortality and air pollution at the small-area level using proximity to main roads as a proxy for exposure to road traffic pollution, and a 5% increase in stroke mortality was observed in areas within 200 m of a main road [14]. Inconsistent and inclusive results from existing studies justify the need to continue to investigate the association between stroke and air pollution.
There is considerable evidence of income inequality affecting health [15, 16]. More and more studies have examined how income inequality affects health. Marmot [17] discussed two ways in which income could be causally related to health: through a direct effect on the material conditions necessary for biological survival, and through an effect on social participation and opportunity to control life circumstances. Psychologists have found the psychological effects produced by income disparities on groups and individuals in the population. These psychological theories hold that disparities in income and social standing create stresses that can eventually damage health [18, 19]. Social scientists have found that individual- and group-level social relationships influence health either directly or through more proximal factors. When income differences are smaller, people are more trusting of one another and more likely to participate in communal activities, and this social cohesiveness is linked to lower overall mortality and better self-rated health [20, 21]. Shi [22] found that there is relationship between stroke and income and that the impact of income inequality on stroke mortality was reduced in the presence of primary care.
Epidemiological studies have revealed that physical inactivity represents a high risk of premature development of chronic diseases such as cardiovascular diseases. Physical inactivity can increase the risk of high blood pressure, high blood cholesterol, diabetes, heart disease and stroke. Studies have found that greening of urban areas could make a contribution to increase physical activity [23]. International studies have documented positive health effects of green areas on human health (e.g., [15, 24–28]. Using satellite data, Kimes [29] found that urban areas with the highest asthma hospitalization rates have the lowest vegetation cover. No studies have been done to investigate the association between stroke and greenness. Even though some studies have shown an association between green space and health, there is most likely also an association between local or accessible green space and socioeconomic status, e.g., income, race, and education, which may act as confounders. Another possible confounder is the function of green space as an air purifier. Trees, forest and grassland not only create feelings of relaxation and well-being and areas for recreation and physical activity, which promotes good health, but also can improve air quality by removing pollutants and particulate from the air.
Our study area includes Escambia and Santa Rosa counties in northwest Florida (Figure
1
). According to the Florida CHARTS (Community Health Resources Tool Set) [
30
], in 2003, stroke age-adjusted death rate (per 100,000) is 53.5 for the US, 42.4 for Florida, 74.1 for Escambia County, and 50.0 for Santa Rosa County. Escambia County has much higher stroke death rate than the state and the country. The objective of this study was to examine if there are associations between stroke and air pollution, income and greenness in northwest Florida. Our study uses an ecological geographical approach. We collected stroke data at the census tract level. We derived raster surfaces of densities of both point and mobile air polluters. We calculated greenness using remotely sensed imagery. Dasymetric mapping technique was employed to calculate average values of air pollution and greenness variables for each census tract. We last adopted a Bayesian hierarchical model with a spatially structured random effect and a random effect with an exchangeable non-spatial prior distribution to link stroke date with air pollution, income and greenness.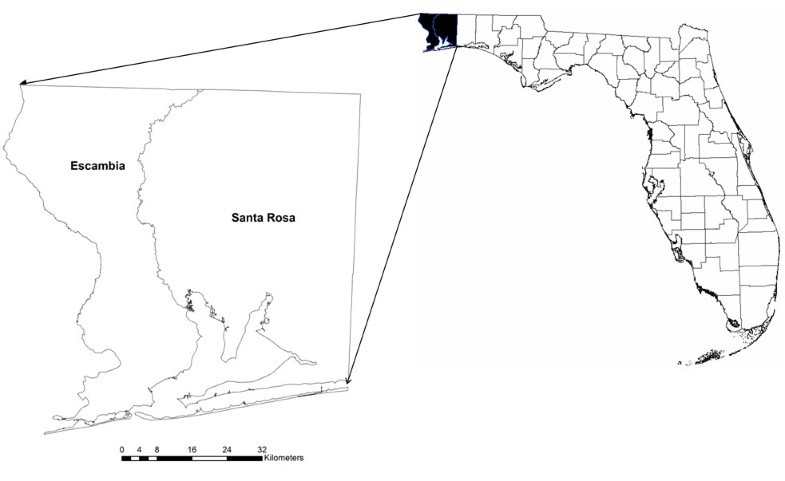 Discussion
We found an excess risk of stroke mortality in areas with high air pollution levels. Several potential mechanisms have been proposed to explain the association between air pollution and stroke. It has been hypothesized that fine particulate air pollution provokes alveolar inflammation, causing the release of potentially harmful cytokines, which results in increased coagulability [54]. Experimental evidence suggests that ultrafine particles are able to penetrate the human lung and enter the blood circulation [55]. Particulate air pollution has been shown to induce progression of atherosclerosis in an animal model [56]. We also found a negative effect of income level, i.e., higher risk of stroke mortality occurs in areas with lower income. It is interesting to find that exposure to more green space could reduce the risk of stroke mortality. The empirical result in this study supports the "salutary" effects of the exposure to natural environments on human health [57] as well as the significance of residential environments to counteract "sedentary" lifestyles [58] and that greening of urban areas could make a contribution to increase physical activity [23].
There are several strengths in our study. The first is the use of ecological approach and the Bayesian hierarchical model. Ecological studies are particularly useful when the individual level of exposure is either difficult or impossible to obtain, or can be only measured imprecisely [51]. An advantage to performing an ecological analysis is that we were able to control for unmeasured ecological-level confounders. In our study, we were able to include income and greenness as covariates in addition to air pollution. Ecological studies are more useful for generating and testing hypothesis (i.e. qualitative identification of an association) rather than quantitative estimation of the strength of an exposure-response relationship [59]. The Bayesian model has advantages over conventional statistical models in that it has the ability to deal with the issue of spatial autocorrelation by incorporating a spatially structured random effect. It allows us to deal with extra-Poisson variation exacerbated by the small scale as well as to take into account various area-specific covariates. Secondly, the use of kernel density approach was able to consider amount of emissions and cumulative impacts from multiple sources of air pollution. Thirdly, we adopted dasymetric mapping method to calculate aggregate environment exposures whose values are based on human activity areas only. This has improved data accuracy and reliability of the model results. Lastly, to our knowledge, the present study is the first to investigate the association of stroke with greenness. We took advantage of satellite remote sensing for our environment health study.
In interpreting the results of this study, several limitations require consideration. We did not examine ischemic and hemorrhagic stroke separately due to unavailability of the data at the census tract level. Some studies have shown that the effects of air pollutants on ischemic stroke mortality were statistically significant, whereas this was not the case for hemorrhagic stroke mortality [7, 60]. The use of polluter density data does not necessarily represent individual exposure. The use of aggregated data and therefore inferences based on the analysis cannot be directly transferred to the individual level. We did not consider ethnicity effect. Although it is important to construct a model of health determinants that include relevant risk factors, many of these factors are collinear and therefore cannot be included in the same model. Race and income are inextricably linked and an effort to isolate class and race makes little sense [61]. In our study using an ordinary least regression model and the US Census 2000 data at the tract level, we found that there is a significant negative relationship between income and race (p < 0.001). Census tracts with a higher proportion of black residents (including Hispanic blacks) have a lower income level. An inherent limitation of an ecological geographic study is that it uses aggregate data and does not have the ability to incorporate individual information, e.g., individual migration, time length of residence, and the separation of places of work, recreation and living. We selected a time frame for data based on what was available. Our analysis did not consider the lag-time between a potential exposure and the occurrence of the disease symptoms. People may have been exposed much earlier and might have lived at a different place than where the first signs of the disease occur and where they die. For dasymetric mapping, it is the residents of the census tract being disaggregated that are redistributed to the developed areas. The assumption behind this is that these areas are equivalent to spaces of human activity used by those that reside within that specific census tract. Since the developed areas also include road networks and parking lots, this will not always be the case (e.g. the roads and parking will likely be used by those from other geographies). Although the use of polluter density surfaces has advantages over spatial coincidence and spatial proximity indices in that it takes into account the amount of emission and accumulative effects from multiple pollution sources, it shares the same drawback of inability to consider spatial heterogeneity of the spread of air pollution due to variance in location relative to polluters, wind direction, terrain, and many other factors. Also, the TRI emission quantities are estimated and not measured amounts and we were not able to consider different types of pollutants. Our future research will have to use air dispersion modelling to derive concentrations of criteria air pollutants. We are also interested in merging aerosol optical depth satellite data with ground monitor data to derive concentration surfaces of particulate matter.
Conclusion
Our ecological study using dasymetric mapping and Bayesian hierarchical modelling for Escamiba and Santa Rosa Counties in northwest Florida has found association between stroke mortality risk and household income, air pollution from both traffic and point source polluters, and greenness. High risk of stroke mortality was found in areas with low income level, high air pollution level, and low level of exposure to green space. The findings of the study point to the issues of environmental injustice, socioeconomic injustice and health inequality. A green health perspective in urban planning could have an important role in future disease prevention and health promotion activities. The linkage between stroke and air pollution suggests to policy-makers that targeting policy interventions at high pollution areas may be a feasible option for stroke prevention.
Declarations
Acknowledgements
This study is a component of the "Assessment of Environmental Pollution and Community Health in Northwest Florida" supported by U.S. EPA Cooperative Agreement Award X-9745002 to the University of West Florida (Project Director: K. Ranga Rao). The content of this report are solely the responsibility of the authors and do not necessarily represent the official views of the U.S. EPA.
Authors' Affiliations
(1)
Department of Environmental Studies, University of West Florida, Pensacola, USA
(2)
Center for Environmental Diagnostics and Bioremediation, University of West Florida, Pensacola, USA
Copyright
© Hu et al; licensee BioMed Central Ltd. 2008
This article is published under license to BioMed Central Ltd. This is an Open Access article distributed under the terms of the Creative Commons Attribution License (http://creativecommons.org/licenses/by/2.0), which permits unrestricted use, distribution, and reproduction in any medium, provided the original work is properly cited.