Re-identification of home addresses from spatial locations anonymized by Gaussian skew
International Journal of Health Geographics
2008
7:45
Received: 25 April 2008
Accepted: 12 August 2008
Published: 12 August 2008
Abstract
Background
Knowledge of the geographical locations of individuals is fundamental to the practice of spatial epidemiology. One approach to preserving the privacy of individual-level addresses in a data set is to de-identify the data using a non-deterministic blurring algorithm that shifts the geocoded values. We investigate a vulnerability in this approach which enables an adversary to re-identify individuals using multiple anonymized versions of the original data set. If several such versions are available, each can be used to incrementally refine estimates of the original geocoded location.
Results
We produce multiple anonymized data sets using a single set of addresses and then progressively average the anonymized results related to each address, characterizing the steep decline in distance from the re-identified point to the original location, (and the reduction in privacy). With ten anonymized copies of an original data set, we find a substantial decrease in average distance from 0.7 km to 0.2 km between the estimated, re-identified address and the original address. With fifty anonymized copies of an original data set, we find a decrease in average distance from 0.7 km to 0.1 km.
Conclusion
We demonstrate that multiple versions of the same data, each anonymized by non-deterministic Gaussian skew, can be used to ascertain original geographic locations. We explore solutions to this problem that include infrastructure to support the safe disclosure of anonymized medical data to prevent inference or re-identification of original address data, and the use of a Markov-process based algorithm to mitigate this risk.
Keywords
Precise Point LocationHealth Information ExchangeOriginal AddressAnonymization ProcessAnonymization Algorithm
Background
To develop broadly integrated national healthcare information infrastructure, the utility of sharing personally identifiable data for clinical care, public health and research must always be weighed against privacy concerns. For example, automated outbreak detection systems for surveillance of influenza and bioterrorism, use data from a variety of sources (hospitals, clinics, laboratories) for aggregation, analysis and investigation [1–3]. For the detection of spatial clustering among disease cases, these aggregation systems achieve optimal detection sensitivity and specificity when using the most complete, accurate patient location data [4].
We have previously described a spatial de-identification algorithm that blurs precise point locations for patients, moving them a randomized distance according to a 2-dimensional Gaussian distribution with variance inversely proportional to the square of the underlying population density [5]. Other spatial anonymization approaches that have been employed include random skews, affine transformations, data aggregation techniques, and the use of software agents to preserve confidentiality [6, 7]. Anonymization of patient address data by reassignment of geographic coordinates allows privacy preservation while sharing data for disease surveillance or biomedical research [5]. As the volume of personally-identifiable health data that is electronically transmitted and published has consistently increased [8], so has the magnitude of the threat to privacy. Geographical information is particularly identifying; we have demonstrated that it is possible to correctly identify most home addresses even from low resolution point-maps commonly published in journal articles [9].
We specifically explore whether de-identification algorithms that use spatial blurring – a non-deterministic process – may be susceptible to weakening when an adversary can access multiple anonymized versions of the same original data set [
10
]. For example, if data anonymized by a Gaussian blurring function were available upon request from a data source, the adversary could request anonymized patient data repeatedly. Since the data are non-deterministically anonymized, the results vary each time they are requested. By averaging the geocoded values for each visit, the anonymity afforded by the blurring algorithm may be reduced (Figure
1
illustrates the effect of averaging locations across the repeated anonymization passes to increase resolution for re-identification).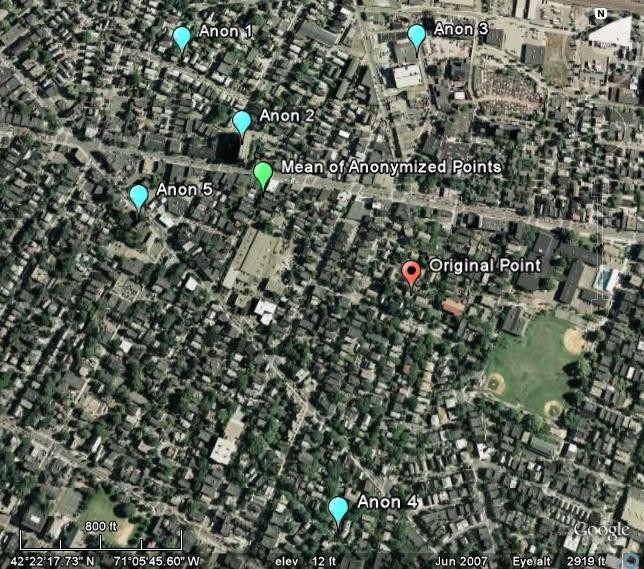 Here, we quantitatively demonstrate this vulnerability in two common anonymization approaches. We produce multiple anonymized data sets using a single set of addresses and then progressively average the anonymized results related to each address, characterizing the steep decline in distance of the re-identified point to the original location, (and the reduction in privacy) at each stage. Next, we propose and discuss two solutions to this specific class of vulnerabilities. The first tightly couples anonymization to a distributed health infrastructure that exchanges the data, so that it can control the number of copies distributed to any one party. The second is an extension to the spatial anonymization process employing a Markov process for increasing the anonymity of a 2-dimensional data set anonymized by Gaussian skew.
Results
Re-Identification of points anonymized using Gaussian and randomized skew
Additional information was ascertained from multiple anonymized copies of one original set of point locations, significantly weakening the anonymization used. The average distance to the original addresses after one anonymization pass, which represents the previously described [5] use of an anonymizing algorithm, was 0.69 km. After each point was inferred using the average of fifty Gaussian skew anonymization passes, the mean distance from the average of all of the anonymized points to the original point in the data set was reduced to 0.1 km.
Similarly, when the anonymizing algorithm is a uniform skew (a random skew that involves moving a point randomly within a square), re-identification attempts using the average of several anonymized data sets also reduced data set privacy markedly. The average distance to the original addresses after one anonymization pass, the traditional use of such algorithms, was set at 0.69 km, to match the level of skew used in the 2-dimensional Gaussian data sets. As in the case of the 2-dimensional Gaussian skew, the average distance to the original point was also reduced to just under 0.1 km after averaging 50 anonymized data sets.
The average distance to the original address is plotted as a function of the number of separate anonymization passes used in the re-identification inference, for both anonymization methods in Figure
2
. Attempts at inferring the original addresses using multiple anonymization passes, show that the average distance inversely varies with the square root of the number of anonymized data sets used in the inference. There is a sharp decrease in the average distance to the original address with 10 anonymization passes and thus a sharp decrease in data set anonymity.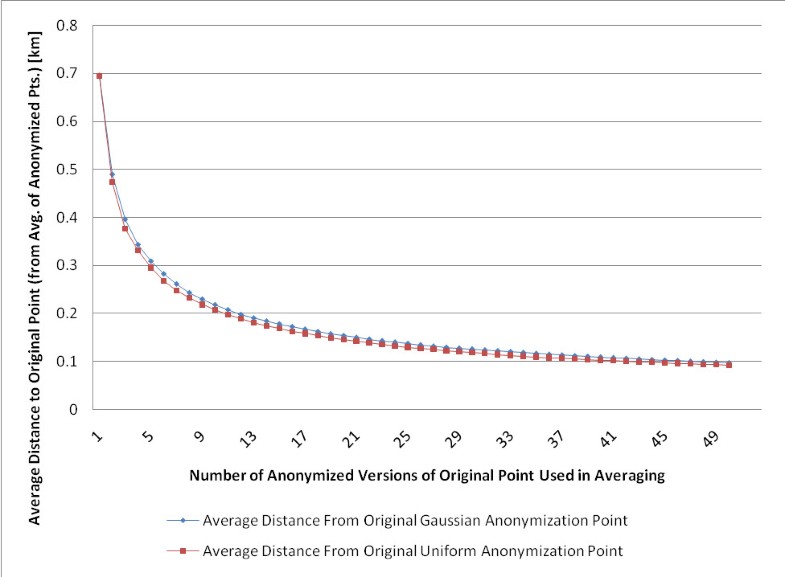 Conclusion
In order to protect privacy when using spatial skew algorithms, the number of distinct anonymization results or passes that represent the same data must be controlled. Limiting the generation or disclosure of more than one version will avoid re-identification through averaging. Alternative approaches include integration of anonymization into data provisioning systems to achieve such a restricted data release, or the use of a Markov process to generate multiple anonymized data sets of the same records. These approaches avoid running the algorithm anew with each request, reducing the variation that is at the root of the vulnerability.
Methods
Geographical test data sets
A data set containing artificially-generated geocoded values for 10,000 sample patients was created using a spatial cluster creation tool [
14
,
15
]. All points were uniformly distributed within a circle of radius 800 m centered in Boston, MA, and assigned a unique numeric identifier for tracking. Each of the geocoded addresses was then anonymized using a Gaussian 2-dimensional spatial blur skew that was adjusted for population density [
5
], fifty separate times. A second anonymization approach, a uniform skew, was used to create a second group of 50 anonymized data sets. Each geocode that was anonymized using the uniform skew method was moved a distance, in meters, ranging from [-
λ
,
λ
], independently in each dimension. Figure
5
describes the 2-dimensional probability distribution function for both of these anonymization algorithms.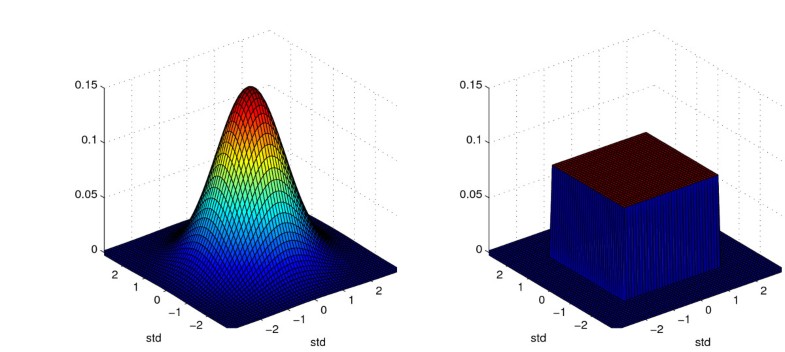 Population-adjusted 2-dimensional Gaussian skew
In the simplest case, the Gaussian skew anonymization procedure is a probabilistic strategy that reassigns an original point, with coordinates , to a new location based on two Gaussian probability density functions
These are simply 1-dimensional Gaussians with means equal to the original coordinates x0 and y0, respectively, and standard deviations σ x and σ y . The parameters σ x and σ y are proportional to the desired level of anonymity k, and are inversely proportional to the population density at . In other words, the greater the anonymity desired, or the lower the underlying population density, the farther points are moved on average.
Re-identification through averaging
With each subsequent anonymized version, the geocoded points that referred to the same individual address were averaged to estimate the original address. For re-identification inference number
n
, the anonymized versions of the same address were averaged from data sets [1,
n
], as shown in Figure
6
. For example, the second re-identification inference data set included the averages of addresses from anonymized data sets 1 and 2, the third inference data set included anonymized data from data sets 1, 2, and 3, and so on. After each pass, the distance between the average anonymized point and the original address was calculated.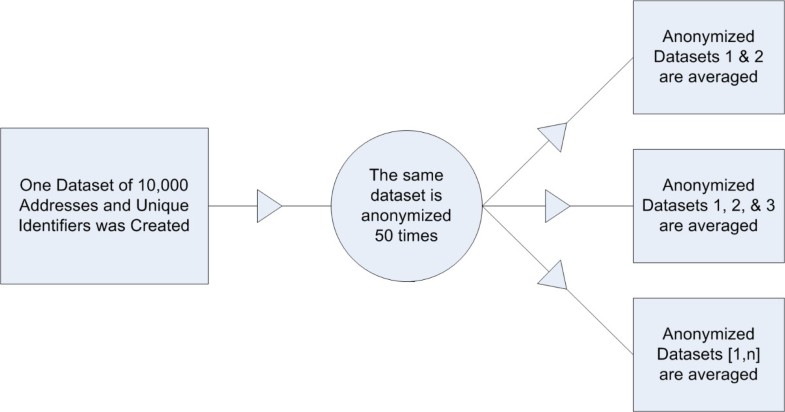 Declarations
Acknowledgements
We gratefully acknowledge John Brownstein for helpful discussion and support on figures. This work was supported by 1 R01 LM007677 from the National Library of Medicine.
Authors' Affiliations
(1)
Children's Hospital Informatics Program, Children's Hospital Boston, Boston, USA
(2)
Computer Science and Artificial Intelligence Laboratory, Massachusetts Institute of Technology, Cambridge, USA
(3)
Harvard-MIT Division of Health Sciences and Technology, Cambridge, USA
(4)
Harvard Medical School, Boston, USA
Copyright
© Cassa et al; licensee BioMed Central Ltd. 2008
This article is published under license to BioMed Central Ltd. This is an Open Access article distributed under the terms of the Creative Commons Attribution License (http://creativecommons.org/licenses/by/2.0), which permits unrestricted use, distribution, and reproduction in any medium, provided the original work is properly cited.