MosquitoMap and the Mal-area calculator: new web tools to relate mosquito species distribution with vector borne disease
International Journal of Health Geographics
2010
9:11
Received: 29 October 2009
Accepted: 18 February 2010
Published: 18 February 2010
Abstract
Background
Mosquitoes are important vectors of diseases but, in spite of various mosquito faunistic surveys globally, there is a need for a spatial online database of mosquito collection data and distribution summaries. Such a resource could provide entomologists with the results of previous mosquito surveys, and vector disease control workers, preventative medicine practitioners, and health planners with information relating mosquito distribution to vector-borne disease risk.
Results
A web application called MosquitoMap was constructed comprising mosquito collection point data stored in an ArcGIS 9.3 Server/SQL geodatabase that includes administrative area and vector species x country lookup tables. In addition to the layer containing mosquito collection points, other map layers were made available including environmental, and vector and pathogen/disease distribution layers. An application within MosquitoMap called the Mal-area calculator (MAC) was constructed to quantify the area of overlap, for any area of interest, of vector, human, and disease distribution models. Data standards for mosquito records were developed for MosquitoMap.
Conclusion
MosquitoMap is a public domain web resource that maps and compares georeferenced mosquito collection points to other spatial information, in a geographical information system setting. The MAC quantifies the Mal-area, i.e. the area where it is theoretically possible for vector-borne disease transmission to occur, thus providing a useful decision tool where other disease information is limited. The Mal-area approach emphasizes the independent but cumulative contribution to disease risk of the vector species predicted present. MosquitoMap adds value to, and makes accessible, the results of past collecting efforts, as well as providing a template for other arthropod spatial databases.
Keywords
MalariaMosquito SpeciesVector SpeciesJapanese EncephalitisHuman Population Density
Background
Mosquitoes are required for the natural transmission of important diseases such as malaria, dengue, Japanese encephalitis, Yellow fever, West Nile, lymphatic filariasis, and Chikungunya. Knowing when and where mosquito disease vectors occur could be vital information to combat these diseases. Over 3,500 mosquito species are currently formally recognized, but only a minority transmit disease, and these vectors vary geographically in their medical importance. A first step toward understanding mosquito distribution is to gather high quality taxonomic and geographical information about mosquito occurrence. Creating a computerized database of mosquito collection records is not a new idea [1, 2], but technological advances such as the Internet make a distributed database more achievable.
Suitable mosquito collection data can be retrieved from museum specimens, from records maintained by mosquito control agencies, or from the scientific literature. Foley et al. [3] demonstrated the value of museum mosquito collection records for understanding mosquito biogeography and ecology, and for planning mosquito surveys. The basic information required are the longitude and latitude, the species identification, and date of the mosquito collection. Other information, such as on the habitat, add value to the record, and Foley et al. [4] listed over 60 fields of information about a collection event that could be recorded. These authors proposed that standards be adopted for recording collection data, because of the growth and interoperability of online inventories such as the Global Biodiversity Information Facility (GBIF) [5].
Point collection data can be matched to remotely sensed data or climatic averages to develop mosquito species-specific models of distribution or habitat suitability [6, 7]. Similarly, pathogen or disease suitability models have been developed [8] that can be fine-tuned with more detailed vector information. Ecological niche modeling has been identified as a broadly applicable method for disease studies, including for predicting interactions among participating species [9]. More specifically, if the generalized spatial extent of a mosquito vector, human host and pathogen can be approximated for an area of interest (AOI), and the extent of co-occurrence (aka the Mal-area [10]) quantified, then the value for different AOI could be compared to provide a simplified estimate of relative disease risk. However, any attempt to understand disease risk by this method should account for the diversity of vector species within the particular AOI.
Here we describe the development of an online spatial database for mosquito collection records and distribution models called MosquitoMap [11] that we designed for medical entomologists, vector disease control workers, preventative medicine practitioners, and health planners to promote knowledge about mosquito distribution. We also describe a unique tool within MosquitoMap, called the Mal-area calculator (MAC) that relates the distribution of vectors, humans and pathogens/disease.
Results and Discussion
Mosquito occurrence is tied to the environment. For example, all mosquitoes have an aquatic larval stage, do not occur above a certain elevation, and need a minimum amount of solar radiation to develop. It is tempting to regard vector species as a homogeneous component of the environmental background to disease transmission. However, mosquito species can utilize different microclimates, vary in their biting behavior, and may have diverse life histories. An additional complication is that a species may be a primary vector in one area of its range but, for reasons that are unclear, may play a secondary role in other areas. It has been proposed that a more objective understanding of regional differences in the underlying force of malaria transmission can be attained by considering the properties intrinsic to the regionally most "dominant" vector species [22]. We suggest that any attempt to understand the spatial distribution of vector-borne disease transmission will benefit from knowledge of the distribution and vectorial importance of the entire vector species fauna within an AOI. Thus, a goal of MosquitoMap is to provide awareness, not just of the potential extents of individual mosquito species, but of the implications for disease transmission of the combination of vector spatial distributions within an AOI.
The Mal-area concept emphasizes the independent but cumulative role of vector species in determining disease risk. Many other factors affect disease transmission but are not considered in the MAC, for example, health care coverage, host immunity, degree of vector control or insecticide treated bednet usage, and insecticide and drug resistance. It is anticipated that mosquito and pathogen distribution models will vary in their accuracy and biological realism, which will affect estimates of disease risk. For example, vector ecological niche or habitat suitability models are often based on presence only data, and are affected by the number of data points, selection of environmental layers, and the algorithms used to generate the predictions. Although the prediction of vector species spatio-temporal dynamics is possible [24], ecological niche models are usually constructed to predict static average yearly spatial extents, and potential presence rather than abundance. However, as models are improved and are made available on MosquitoMap, the biological realism of the MAC output should also improve. The MAC allows users, such as vector disease control workers, preventative medicine practitioners, and health planners, to see within the AOI where the predicted transmission risk areas are located, and quantifies this risk area for comparison with other AOI. In the absence of other intelligence information, the MAC can provide a useful initial decision tool, affecting such things as: counselling for prophylaxis, choice of health messages, where best to locate personnel, the form of vector control, and the vector identification tools needed.
MosquitoMap [
11
] is publicly available and, as of Oct, 2009, contained 126,031 mosquito collection records. These records pertain to 1,891 scientific names (complexes, subspecies, species and above) from 143 countries (see Figure
6
). The oldest record, for the type locality of
Toxorhynchites haemorrhoidalis
, is from 1787. Most records date from the mid 1960s to early 1970s, due mainly to records from the Mosquito Information Management Project [
2
,
3
].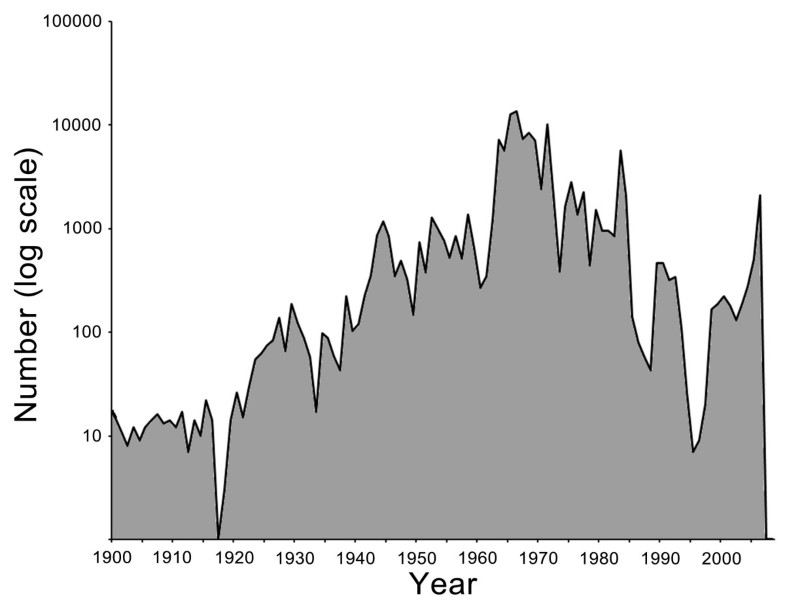 Point data in MosquitoMap could have a variety of uses including: informing medical entomologists about where mosquito collection efforts should be directed; identifying areas relevant to the study of mosquito biogeography, evolution and biodiversity; allowing predictions about the potential spread of exotic mosquito introductions; allowing predictions about the potential effects of global warming on mosquito distributions; allowing insights into mosquito community structure, and environmental and climatic correlates to species occurrence (ecological niche); allowing continent-wide rather than just local studies of vector-borne disease; and identifying cryptic evolutionary lineages that differ in geographic or ecological space.
MosquitoMap could be expanded to include other environmental layers relevant to mosquito distribution (e.g. coastal forest urban, forest fringe, rice irrigation) or vector-borne diseases (urban/rural, impregnated bed nets, war zone, drug resistance, border areas, immunological status, distance to health clinic). Some challenges common to disease mapping [25] include: the heterogeneity of data sources, and difficulties in integrating data from MosquitoMap with other disease management and biodiversity systems. We hope to improve the functionality of MosquitoMap, and to use it as a template for other vectors (e.g. sand flies, ticks and fleas) of disease.
Conclusion
We developed a Web-based spatial database of mosquito collection records and distribution models called MosquitoMap. An application within MosquitoMap, called the MAC, quantifies the area of overlap, for any AOI, of vectors, humans and disease. MosquitoMap and the MAC can be utilized by medical entomologists, vector disease control workers, preventative medicine practitioners, and health planners to determine what species have been collected where, and to estimate the Mal-area for vector-borne diseases risk assessment. As more users submit records and distribution maps, the utility of these online resources will increase. Data on MosquitoMap are freely available and contributions are clearly sourced and acknowledged within MosquitoMap using appropriate citations provided by the contributor.
Declarations
Acknowledgements
Funding for this work was provided by the Global Emerging Infections Surveillance and Response System, a Division of the Armed Forces Health Surveillance Center, and from the Global Biodiversity Information Facility. This research was performed under a Memorandum of Understanding between the Walter Reed Army Institute of Research and the Smithsonian Institution, with institutional support provided by both organizations. The opinions and assertions contained herein are those of the authors and are not to be construed as official or reflecting the views of the Department of the Army or the Department of Defense.
Authors' Affiliations
(1)
Division of Entomology, Walter Reed Army Institute of Research, Silver Spring, USA
(2)
Worldview Solutions Inc, Richmond, USA
Copyright
© Foley et al; licensee BioMed Central Ltd. 2010
This article is published under license to BioMed Central Ltd. This is an Open Access article distributed under the terms of the Creative Commons Attribution License (http://creativecommons.org/licenses/by/2.0), which permits unrestricted use, distribution, and reproduction in any medium, provided the original work is properly cited.