Geospatial analysis of HIV-Related social stigma: A study of tested females across mandals of Andhra Pradesh in India
International Journal of Health Geographics
2010
9:18
Received: 12 December 2009
Accepted: 12 April 2010
Published: 12 April 2010
Abstract
Background
In Geographical Information Systems issues of scale are of an increasing interest in storing health data and using these in policy support. National and international policies on treating HIV (Human Immunodeficiency Virus) positive women in India are based on case counts at Voluntary Counseling and Testing Centers (VCTCs). In this study, carried out in the Indian state of Andhra Pradesh, these centers are located in subdistricts called mandals, serving for both registration and health facility policies. This study hypothesizes that people may move to a mandal different than their place of residence for being tested for reasons of stigma. Counts of a single mandal therefore may include cases from inside and outside a mandal. HIV counts were analyzed on the presence of outside cases and the most likely explanations for movement. Counts of women being tested on a practitioners' referral (REF s) and those directly walking-in at testing centers (DW s) were compared and with counts of pregnant women.
Results
At the mandal level incidence among REF s is on the average higher than among DW s. For both groups incidence is higher in the South-Eastern coastal zones, being an area with a dense highway network and active port business. A pattern on the incidence maps was statistically confirmed by a cluster analysis. A spatial regression analysis to explain the differences in incidence among pregnant women and REF s shows a negative relation with the number of facilities and a positive relation with the number of roads in a mandal. Differences in incidence among pregnant women and DW s are explained by the same variables, and by a negative relation with the number of neighboring mandals. Based on the assumption that pregnant women are tested in their home mandal, this provides a clear indication that women move for testing as well as clues for explanations why.
Conclusions
The spatial analysis shows that women in India move towards a different mandal for getting tested on HIV. Given the scale of study and different types of movements involved, it is difficult to say where they move to and what the precise effect is on HIV registration. Better recording the addresses of tested women may help to relate HIV incidence to population present within a mandal. This in turn may lead to a better incidence count and therefore add to more reliable policy making, e.g. for locating or expanding health facilities.
Keywords
Pregnant WomanCommunity Health CenterAutoregressive ParameterSpatial Pattern AnalysisSpatial Cluster Analysis
Background
HIV related stigmas are a driving force influencing the behavior and location specific testing results of persons seeking HIV testing [1]. Much has been reported about stigmatized behavior, but little has been investigated on the possible movements of persons in general and women in particular seeking anonymity and thus moving from their residence to other places for getting tested. Misinformation about HIV testing attitudes, and HIV stigmatizing beliefs represent potential barriers to testing [2–5]. Kaplan et al [3] note that our understanding of the mechanisms by which HIV related stigma perpetuates is limited. To plan improved interventions it is necessary to better understand the behavioral pattern of those getting tested. Various population based studies report major differences from sentinel surveillance based estimates [6–8].
Hence, obtaining a good insight into the spread of the HIV incidence requires a reliable registration of those infected. Registration has an effect on the official statistics as well, as for example the Indian government recently reported a change in the official incidence value from 4.5 to 1.5% at the national level, similarly to what happened in Kenya (Appendix I). According to Pandey et al [9], the earlier HIV estimates in India were based on HIV sentinel surveillance (HSS) data. It is assumed that prevalence among attendees of antenatal clinics serves as as a proxy for the prevalence in the general population and prevalence among the patients of sexually transmitted diseases as a proxy for the prevalence among populations with high risk behavior. The absence of HIV surveillance among female sex workers and men having sex with men was a weakness of this system. Those two groups were later included in the estimation but sexually transmitted disease clinics were not discarded. This resulted in double counting. In 2006, improved data became available as the sentinel surveillance among ANC women was expanded covering nearly every district in the country allowing better geographical representation with adequate data for each state. Additionally, community based HIV prevalence measured by the National Family Health Survey-3 [10] provided an opportunity to replace earlier assumptions, validate the HSS data and improve the HIV estimate. Calculations and estimates in Pandey et al [9] reverse the number of total HIV prevalence in India. They quote that the current estimate is a revision based on improved data and methodological changes. The difference between the current estimate and previously published estimates does not represent a true decline at the population level.
Oppong [11] while discussing the data problems in HIV research quotes that sample size, nonrepresentative samples, and geographic and testing bias, tend to make seroprevalence estimates defective if generalized beyond its sample population. A change of scale to the facility level improved representativeness and lead to more promising results. Until recently, methodology was developed and applied to data that were only available at the state and the district level. The analysis presented in our study goes one step further and considers the sub-districts or mandals level.
Disease data as analyzed in this study have a clear spatial component. Registration is done at hospitals and clinics that are located in mandals, the spread of the disease is most likely done by roads and transport networks and spatial components are possibly helpful to provide better estimates. To do so, geographical information system was used in this study, providing opportunities to analyze HIV data and related layers of information in a quantitative way by means of readily available spatial statistical tools. The aim of the study is to quantify the degree to which women move to a different place for HIV-testing and to find explanatory variables. To do so, data sets of women being tested on a practitioners' referral and those directly walking-in at testing centers were compared with data sets of pregnant women. HIV data used was collected in 2006 from the Indian state of Andhra Pradesh, where a well-established registration system exists.
Results
Outlier analysis
Figure
1
shows
I
REF
,
I
DW
and
I
P
maps. Patterns of spread displayed by
I
REF
and
I
DW
are largely similar, both showing a higher incidence in the coastal edge of Andhra Pradesh and around the state capital Hyderabad than in the rural areas within the state.
I
P
is lower than either
I
REF
and
I
DW
, generally taking values below 15 with only 4.8% of the mandals having an incidence between 15 and 22. Also,
I
P
is distributed more evenly over the state, than either
I
REF
or
I
DW
.
I
REF
on the average is higher than
I
DW
in almost all locations (Figure
2
).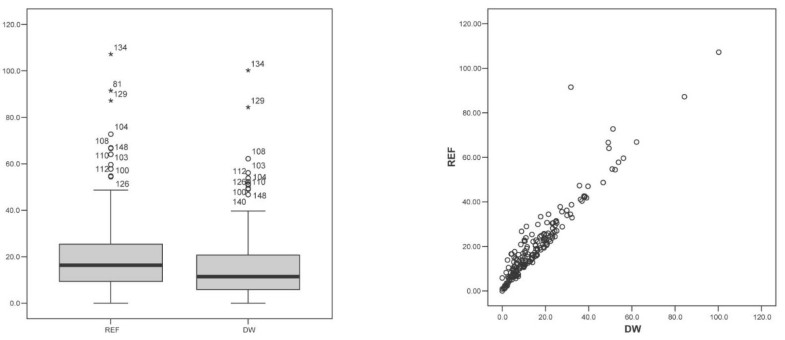 ID
1
,
ID
2
and
ID
3
maps represent the mandals that explain movement of HIV-positives (Figure
3
). Assuming that incidence for pregnant women
I
P
is generally lower than incidence for the general population, as they are a subsection of the whole female population, it is noted that HIV-positive females are apparently moving from mandals with negative values and values up to 2 to other mandals for getting tested. Such an approximating approach provides a clue in understanding the differences in the incidence in these mandals. In
ID
3
the interest is in the end values as these are the places which have either a higher
I
REF
value or a higher
I
DW
value. At mandals unaffected by movement,
I
REF
and
I
DW
should be equal. Hence a much higher value for either of the two represents a mandal with females either moving in or out for testing.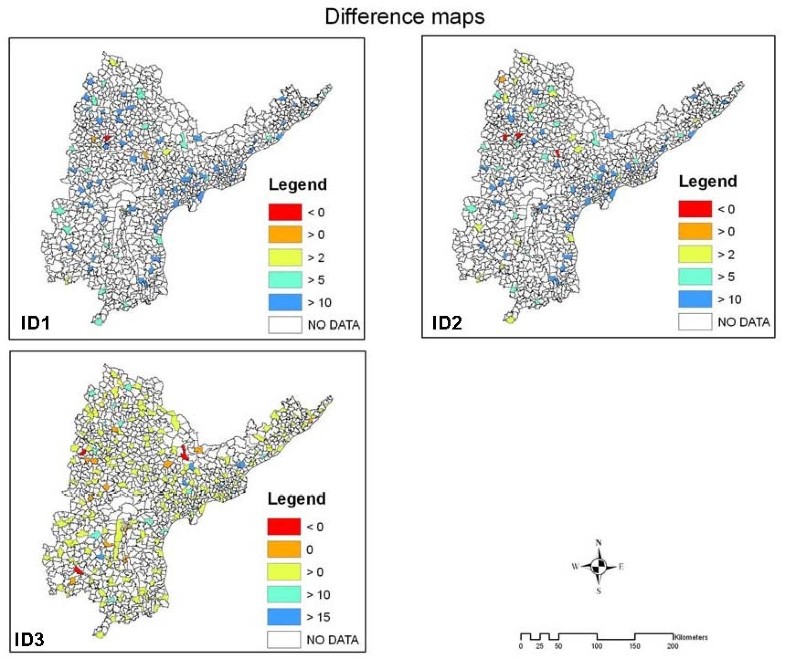 Spatial Cluster analysis
Cluster analysis is performed to draw regions in the three classes which represent high rates of incidence. Figure
4
shows the results of the cluster maps for
I
REF
,
I
DW
and
I
P
. Such clusters identify the mandals at higher risks as compared to their neighbors, including their statistical significance. The search radius for the moving window was kept at 5% of the population. Cluster analysis for
REF
s resulted into 14 clusters of which 9 were significant, for
DW
s into 11 clusters of which 6 were significant and for pregnant women into 14 clusters of which 11 were significant. The
DW
s are significantly clustered only at the SE coastal zone, a pattern which can also be witnessed in the incidence maps (Figure
1
). As expected, both
REF
s and pregnant women are spread more equally over the state though in varying proportions.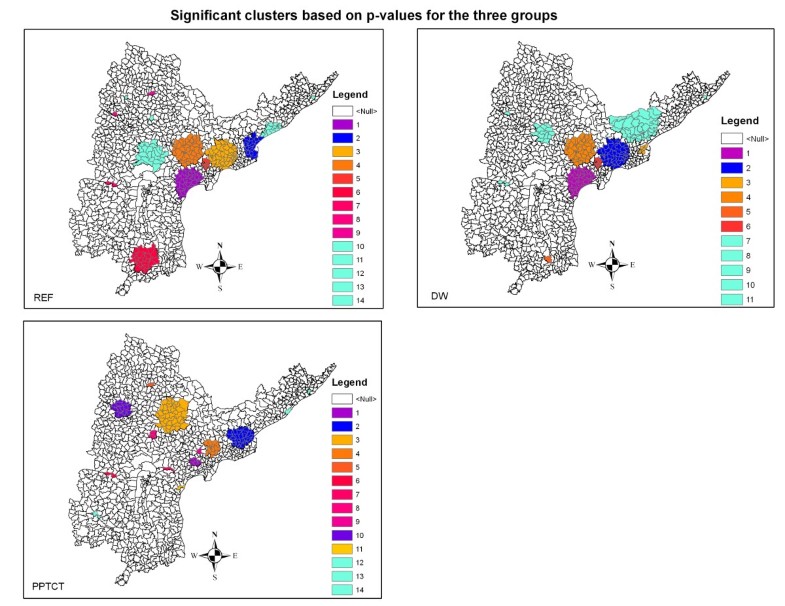 Establishing spatial relationships
Relations between REF s and pregnant women with the type of facilities and the DW s with the roads were explored. it is observed that a relation between the type of facilities and the pregnant women as CHCs usually have higher incidences, although a significant relation between REF s or DW s with higher order facilities was not discovered. The number of neighbors (N N ) seems to affect incidence on the basis of the visual comparison. The distance from roads (D R ) shows a relation to incidences displayed by the difference maps, although, these patterns are far from uniform.
and an estimated ρ parameter equal to 0.0359 (significant at the α = 0.05 level), hence with slightly different coefficients. Use of the conditional autoregressive (CAR) model model did not lead to any substantial change.
where the autoregressive parameter ρ was estimated as 0.069 (p < 0.001) and an AIC value equal to 645.5 was obtained. In this equation the contributions of N R is almost significant (p = 0.062) whereas the other contributions are not significant (p > 0.1). It shows a positive relation between road density N R and differences in I DW and I P , as such supporting the initial hypothesis: the difference increases with increasing road density. This increase is larger for REF s than for DW s, in other words: REF s are more inclined to move to another mandal for being tested than DW s.
None of the variables unambiguously explains the behaviour of the type of tested females. Therefore, although it seems that females might be moving one cannot exactly capture the movement and the attributed reasons do not fully explain any of the hypothesized phenomena. The regions where the incidence in pregnant women is higher than the general population can be identified as the zones of movement and similarly those with high DW s; however no significance or a consistent cause could be attributed to this.
Discussion
This empirical study presents a first step to capture the overall pattern of HIV incidence at the state level to address the movement of people for testing on HIV. Its consequences can be relevant for HIV treatment and follow-up.
Trend analysis by means of maps and graphs revealed that incidence in the referrals group, I REF , shows on the average higher values than incidence in the directly walking-in group, I DW . A possible explanation is that in India there is little movement among women. If women do not belong to the high risk groups, then infection occurs through their partners in marriage and they get tested as a REF instead of as a DW. This spatial pattern analysis also shows that I P is lower than I REF and I DW . The most likely explanation is that the number of HIV-positives from PPTCT centers represents only a fraction of the total female population. Several mandals, however, have larger I P than I REF and I DW values. With an underlying assumption that I P should be the lowest, the mandals defying the trend give us a reason to further explore potential causes. A hypothesis that this occurs at random should be tested against the alternative that a definite and clear cause exists, such as the quality of the unit and reported success stories. The current data set did not allow us to do so, however.
The higher rates of I REF and I DW in the South Eastern coastal zones are clearly shown, both by the spatial pattern analysis and by the cluster analysis. This area is marked with a dense highway network and active port business. According to [26], this is also a favourite destination for the female sex workers, most likely explaining the registered incidence in these areas. A clear distinction exists between mandals where people live, and mandals where their HIV status is recorded. Elevated clusters are found for DW s in this region whereas the pattern of REF s is more scattered. The high variation of I P in terms of spatial spread is caused by the fact that pregnant women are a control group which is supposed to reliably represent the underlying population. Also, a high incidence rate is observed in pregnant women almost all over Andhra Pradesh. The fraction of pregnant women is low in REF s and absent in DW s. These values therefore show that a relatively large number of HIV-positive women in the general population is either not getting tested or moves to another place. In particular, the South Eastern coast zone is attractive, being a well connected urban set-up. Other reasons for comparatively lower I REF and I DW values in the rest of Andhra Pradesh might be caused by the low testing rates and lack of adequate and easily accessible facilities.
The attempts to relate I REF , I DW and I P with different parameters reveal a few interesting correlations. I P shows a positive significant relation with the type of facilities. This is in accordance with the social behaviour where women using government facilities usually prefer higher order facilities for anti-natal care. Also, based on visual analysis, it is noticed that community health centers have often been associated with higher incidences of REF s and DW s. This means that it is not the hierarchy of facility based on size that plays a role but it is the presence of a facility. Therefore women are likely to get tested if a facility is present, either small or large, and if they are aware of it. Since no significant relationship was observed with the road infrastructure and the proximity, one can infer that it is not governed by the good connectivity whether women move for getting tested. This may also explain the assumption that capturing movement depends on the type of movement and the transportation modes available in a mandal.
The following recommendations are derived from this study:
HIV is a dynamic disease and a good data capturing is the backbone of all the policies. Further analysis in a spatio-temporal domain may be the key to better understand the interplay of various factors.

The fact that one can only partially, i.e. non-significantly, explain the relations of differences leads us to assume that at the scale of the study and the available data, much of the movement is random and that a more detailed data set should be collected to exactly identify where people are moving and what factors are governing them in their behaviour.

From a policy point of view, it may be important to increase self-motivation among women specially belonging to the HRGs (High Risk groups) potentially represented by the DWs to get tested because of the rapid progressing of HIV. More focused and better policies are needed to enlighten women so that they do not wait for a reference but visit a VCTC to get tested. In particular Andhra Pradesh needs special attention to let women abstain from behaviour responsible for the spread, and to take special measures not to allow the disease to spread to other states.

A better insight into the quality of the data may help to improve describing factors determining HIV spread and to support spatial decision making, like positioning new health care facilities.

Common policy assumption of coincidence of residence and test place is challenged by the present study, and should be reconsidered in future policies.
The study was constrained due to some important factors. Different sources of data sets were used; hence interoperability is a major problem. Census data, administrative boundaries, NACO and road data all have different sources and different procurement time which have to be adjusted for each other. This loses the originality of data to an extent and hence affects the results. For this exploratory study the amount of available data was large, but still more could have been measured. Possibly, the use of additional information could lead to a better analysis with a higher amount of explained variation. The available data set, representative at the level of mandals, however, was already quite unique and as far as we know has not been analyzed before.
The aim of this study was to analyze the whole state of Andhra Pradesh, but since facilities are present only in a limited number of mandals the analysis addresses some 20% of the mandals. This is compensated by the fact that an analysis at the district level integrates data from many hospitals. The main point addressed in this study about HIV policy-making, however, is that a change is needed in a basic assumption that place of testing and residence coincide. Consequences of such divergence need to be further explored in future research. Data quality could further improve if a better registration is done. Women should deliver their home address when visiting a VCTC for being tested. Also, motivating information about their preference of choice should be provided.
Conclusions
Some concrete conclusions follow from this study. First, it was hypothesized that higher order facilities would attract more HIV-positives, but the study shows that mandals with higher incidences usually have a lower order facilities, such as a community health center. Therefore a hypothesis for further research could be that anonymity attracts females to a lower order facility for testing. Second, a pattern is observed between the type of facilities and the pregnant women as community health centers usually had higher incidences. However, significant relation between REF s or DW s with higher order facilities could not be discovered. Finally, there is a significant relation between the incidence in pregnant women and the order of the testing center.
Several trends emerge from the present study. The outlier analysis and the cluster analysis show that women move for getting tested. The present dataset did not allow us to say where they move to and what the precise effect is on HIV registration. The assumption that there is a random movement is not traceable at the given scale, also because of the amount of missing data. Alternatively, movement is perhaps an interplay of other interacting socio-economic factors which need to be further addressed.
Further research involving more spatio-temporal data would be helpful. This study relies on the 2006 data, since only those had the detailed PPTCT information. The number of testing centers is increasing with time, and data from 2007, 2008 and 2009, with less missing values, might be used. Comparing different years may provide us with more conclusive inter-relationships. A next step may be to analyze I REF and I DW differences for males, either relating these incidence on the basis of assumptions to those of female incidences, or by using a different benchmarking. It would be interesting to explore the relationships of the male incidence with different variables. This together with the female analysis will give us a larger picture and better understanding of reasons for people to move and in the end more reliable HIV data of a better quality.
Appendix 1
India, Said to Play Down AIDS, Has Many Fewer With Virus Than Thought, Study Finds New York Times - Asia Pacific section, June 8, 2007. This article contains also this authoritative quote about the drop of estimations in Kenya: This is a replay of what happened in Kenya, said Daniel Halperin, an expert on AIDS infection rates at the Harvard School of Public Health. When Kenya was more carefully surveyed in 2004, he said, its prevalence rate was halved, to 6.7 HIV/AIDS Cases In India Might Be Lower Than Current Estimates, Survey Says Medical News Today, 13 Jun 2007 and AIDS cases drop, but mostly due to revised data - Previous estimates of 39 million were inflated, global health officials say MSNCB via Associated Press, Nov. 19, 2007
List of abbreviations used
AH:

Area Hospital
ANC:

Anti Natal Clinic
CHC:

Community Health Center
CAR:

conditional Autoregression
DH:

District Hospital
DWs:

Direct Walkins
GGH:

General Government Hospital
GIS:

Geographic Information System
HIV:

Human Immunodeficiency Virus
HRGs:

High Risk groups
HSS:

HIV Sentinel Surveillance
NACO:

National AIDS Control Organization
NFHS:

National Family Health Survey
OLS:

Ordinary Linear Regression
PPTCT:

Prevention of Parent to Child Transmission
REFs:

Referrals
SAR:

Spatial Autoregression
VCTC:

Voluntary Counseling and Testing Centers.
Declarations
Acknowledgements
We thank National AIDS Control Organisation (NACO), Ministry of Health and Family welfare, Government of India, New Delhi for providing the HIV data. The first author is grateful to the ITC International Institute for Geoinformation Science and Earth Observation for hosting her to do this research.
Authors' Affiliations
(1)
Indian Institute of Technology IIT, Roorkee, India
(2)
ITC International Institute for GeoInformation Science and Earth Observation, Hengelosestraat 99, the Netherlands
Copyright
© Kandwal et al; licensee BioMed Central Ltd. 2010
This article is published under license to BioMed Central Ltd. This is an Open Access article distributed under the terms of the Creative Commons Attribution License (http://creativecommons.org/licenses/by/2.0), which permits unrestricted use, distribution, and reproduction in any medium, provided the original work is properly cited.