Evolution of research in health geographics through the International Journal of Health Geographics (2002–2015)
International Journal of Health Geographics
2016
15:3
Received: 2 November 2015
Accepted: 7 January 2016
Published: 20 January 2016
Abstract
Health geographics is a fast-developing research area. Subjects broached in scientific literature are most varied, ranging from vectorial diseases to access to healthcare, with a recent revival of themes such as the implication of health in the Smart City, or a predominantly individual-centered approach. Far beyond standard meta-analyses, the present study deliberately adopts the standpoint of questioning space in its foundations, through various authors of the International Journal of Health Geographics, a highly influential journal in that field. The idea is to find space as the common denominator in this specialized literature, as well as its relation to spatial analysis, without for all that trying to tend towards exhaustive approaches. 660 articles have being published in the journal since launch, but 359 articles were selected based on the presence of the word "Space" in either the title, or the abstract or the text over 13 years of the journal's existence. From that database, a lexical analysis (tag cloud) reveals the perception of space in literature, and shows how approaches are evolving, thus underlining that the scope of health geographics is far from narrowing.
Keywords
Health geographicsGeographic spaceSpatial analysisLexical analysis
Background
Health Geographics is a relatively recent field of research. Indeed, although the link between man's health and his environment has been underlined in medical sciences since Hippocrates, it took a long time for geography to consider that studying health facts was interesting and justified. A proper current of health geographics only emerged in the years 1970–1980. Research is flourishing and concerns themes as varied as the spread of vectorial diseases, access to healthcare, a space's potential to be or not favorable to health, or looking for environmental determinants in the occurrence of a pathology. Spatial analysis, through the study of closeness, spread, spatial interaction, self-correlation, interpolation, progress and accessibility, is naturally at the center of this research. We wanted to find out how research work carried out on this theme has evolved with the passing time. To do so, we have opted for analyzing the way space is broached in the articles of the International Journal of Health Geographics, a benchmark journal on health geographics and geo-informatics fields. The material for this study was the corpus of articles published between the date when the journal was created and the present day.
Data collection methods
The idea was to select articles including the word "space" either in the title, or the abstract or the text. 359 articles fit that request in the period spreading from the time the journal was created by Boulos [4] to the present day (September 2015). Subsequently, the title and abstract were integrated into a utility software enabling one to carry out a lexical analysis of the corpus, essentially from the most frequent words (TagCrowd) [1–3]. We only integrated the articles' titles and abstracts into the utility, because we considered that they were good indicators of the main words used in the text, bearing in mind that they synthesize the article's object. Representation is by means of a tag cloud. Words with the same root as space—like spatial—are merged in our request. We requested that the hundred most used words appear, as well as their frequency. We broke up the analysis period (13 years) into three temporally homogeneous sub-periods (2002–2005, 2006–2010 and 2011–2015).
Discussion
Our aim was to focus on the term space, and to find out in what way this term and those related were broached in the various articles of the journal in which they appear either in the title or in the abstract. We were particularly interested in the question of what potential has the geographic space to have a direct influence on health matters.
However, we are well aware that other articles in which these terms appear neither in the title nor in the abstract can nonetheless broach these issues using other words. That is why a lexical analysis has also been done on the articles that had been excluded in order to see whether they were different from those selected. The process was carried out only on articles concerning the most recent period (2011–2015), namely on 108 articles (Fig.
4
). What emerges from this analysis is that, most of the time, the words most frequently used are the same as those where the word
space
came out in the forefront, however less frequently, apart from the word
system
which is the most frequently used (77 against 59). But new words appear:
available
(35),
care
(50), c
ountries
(29),
facilities
(48),
food
(33),
individual
(28),
patient
(39),
physical
(50),
school
(29),
services
(55),
social
(48) and
transport
(38).

What are these articles, and in what way do they differ from those previously selected? Some are centered on data-related methodological difficulties, whether these are linked to geo-referencing or cartographic representation, for example they are about how difficult it is to have access to Gis data on a fine scale in some rural regions, and how useful it is then to rely on previously trained community health workers in order to obtain data on the repartition of safe water for people in northern Rwanda [37]. These articles also deal with the development of pertinent cartographic approaches to represent, for example, the risk linked to natural-focal diseases [38], or for better distributing healthcare resources in developing countries [39]. The scale of work seems to be different, the areas being bigger at a regional scale [40] or national [41], it is more about assessing or comparing health systems [42], access to healthcare [43] or health situations [44], transposing methods from a country to another rather than within a limited space where one tries to evaluate one's ability to act on its inhabitants. The foregoing can partly explain the appearance of the terms countries, facilities and services in these articles.
Other close terms are used in place of the word space or the adjective spatial, like the word neighborhood when the aim is to evaluate the light environment to which people can be exposed, as we know that it may cause circadian disruption due to the level of melatonin [45] or even contribute to the development of breast cancer [46]. The term neighborhood is also frequently used to evaluate a food environment [47], or a walkability environment (Neighborhood Environment Walkability Scale-NEWS) [48]. Certain authors resort to this term when studying the impact of a socio-economically disadvantaged environment on the health of its residents [49]. As for the word area, it is used in place of the word space to observe new geographic areas where certain viruses (arboviruses) spread, triggered by climate changes and notably dryer conditions [50], or to specify the scale of particular studies [51, 52]. Finally, we note the incorporation of geographical factors such as altitude, the number of hours of sunshine, relative humidity, temperatures or rainfalls in neural network models in order to measure their impact of the Eyrythrocyte Sedimentation Rate (ESR) [53]. These articles can be backed by cohort studies to find out whether there could be a connection between a long stay in the south-east of the United States and chronic kidney disease, and whether this connection may differ depending on the ethnic group [54].
Further to these analyses, we wanted to have a relative view of the main words which characterized the different periods, this time in relation to the whole of the articles selected between 2002 and 2015. Because of limitations inherent to TagCrowd, and in particular memory capacity (5 megabyte), it has not been possible to create a tag cloud including all titles and abstracts of all 359 articles selected. Therefore, we have drawn a chart representing the 40 most frequently used words (over 200 times in the whole corpus) which are also found in each period (Fig.
5
). This longitudinal view (2002–2015) of the words used in the corpus clearly confirms that the terms most used between 2002 and 2005 (
spatial
,
health
,
cancer
,
clusters
and
maps
) are even most frequently so in the following period (2006–2010), but much less recently (2011–2015). It is interesting to note that only the words
model, neighborhood
and
environment
are used more recently in comparison with other periods. The use of three words fluctuated greatly between 2006 and 2015, the words
cancer
and
clusters
were used less frequently (−87, −173), and conversely the word
model
was used more frequently (+210).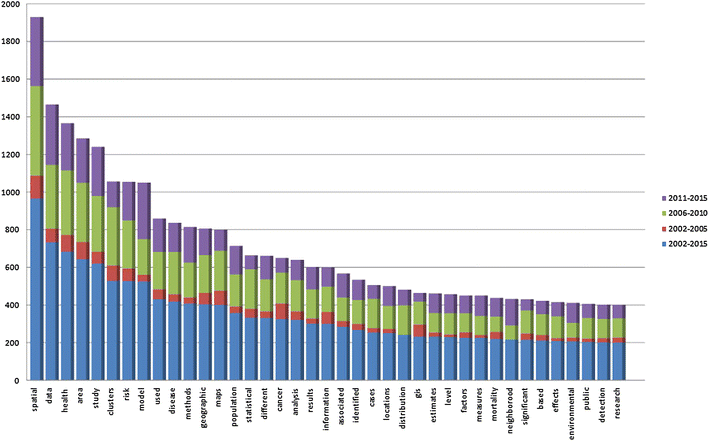 We reach there the limit of this utility; although it has the advantage of giving a general idea of the main words present in a corpus, it nevertheless gives only a snapshot, a frozen image of these words, and the time parameter can only be introduced by splitting the corpus into several periods as we did. Moreover, although it allows to process together words that it deems similar (space, spatial etc.), it doesn't allow to select personally from a list of words with a close meaning yet a different root, as we could see with the words neighborhood, area, zip codes, place, location etc., which are nonetheless related to the geographic space. Furthermore, the words are processed individually and not in context, which may cause a problem in the case of qualifying adverbs and even more with adjacent terms expressing a negation (no, not etc.).
That's the reason why if we want to go deeper into these analyses, it is preferable to carry out a Keyword in Context analysis (KWIC analysis) using for example a free online tool called Voyant Tools suite (http://voyant-tools.org/). An example of this kind of analysis with free text from the health domain can be found in Maramba et al. [3].
We used this tool notably to observe more closely the evolution in time of the three terms which evolved most over time (
cancer
,
cluster
and
model
) (Fig.
6
). We can see on this chart that although the terms
cluster
and
cancer
have evolved in parallel with the passing time (apart from a slight decoupling between the two curves, where the term
cluster
seems to be used independently from studies on cancer, for example in data relating to congenital malformations [
55
]), these two terms are less and less used these days, contrary to the term
model
which seems to be used more and more frequently. Indeed, although the detection of clusters is effective for infectious diseases, it seems to be less successful in the case of cancer. This can be explained by the fact that cancer is indubitably a multifactorial disease. Therefore, it is difficult to draw one or several causes that are easily identifiable and explanatory. Thus, researchers may detect cancer clusters in different environmental expositions. Few significant results have come out of such studies [
56
], and for this reason research on clusters associated to cancer tends to slow down. At present, research extends both to other types of modeling and to numerous themes other than cancer, as shown in Fig.
7
which represents an extract of a KIWC analysis carried out on the word
model,
which contributes to diversifying approaches in health geographics.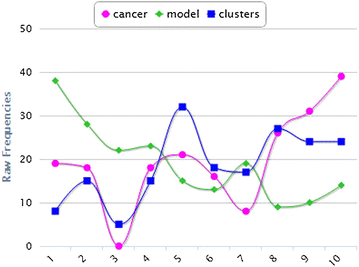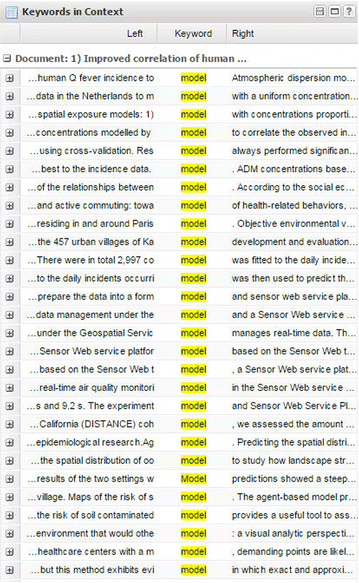 Conclusion
The interest of this contribution was to list a number of general trends that are at the core of health geographics. Health geographics is a recent discipline that relies on new technologies in order to better grasp the links between health facts and their context; it is characterized by a wide methodological diversity and the variety of subtopics broached. Our aim was to emphasize that this field of research is vast, and that beyond the subjects studied, it contributes to a revival of geography via the extension of problems such as MAUP, the visualization of data, issues of ethics and protection of individuals, in particular in regard to the explosion of detailed and geolocated data. In view of the richness of this fast-expanding field, we wished to encourage young geographers to work on these health issues, because there is still so much to do.
Declarations
Authors' contributions
This paper is the brainchild of SP, SO and VL. SP carried out the articles' lexical analysis and interpreted results. VL, MB and SO wrote the section on vectorial diseases, CP that on accessibility to healthcare, and GM that on recent trends and the abstract. All authors read and approved the final manuscript.
Acknowledgements
The authors thank UMR ESPACE for its support to the ESSE research group.
Authors' information
The authors belong to a UMR ESPACE group of research named "Espaces de Santé, Santé des Espaces" (Health Spaces, Health of Spaces, ESSE in French). The purpose of this group is to study the relations between geographic space and people's health. It is composed of ten researchers or lecturers-researchers whose names follow: Daniel Bley, Marion Borderon, Vincent Laperrière, Gilles Maignant, Sébastien Oliveau, Cindy Padilla, Sandra Pérez, Alain Sandoz, Dorian Souliès, Nicole Vernazza-Licht.
Competing interests
The authors declare that they have no competing interests.
Open AccessThis article is distributed under the terms of the Creative Commons Attribution 4.0 International License (http://creativecommons.org/licenses/by/4.0/), which permits unrestricted use, distribution, and reproduction in any medium, provided you give appropriate credit to the original author(s) and the source, provide a link to the Creative Commons license, and indicate if changes were made. The Creative Commons Public Domain Dedication waiver (http://creativecommons.org/publicdomain/zero/1.0/) applies to the data made available in this article, unless otherwise stated.
Authors' Affiliations
(1)
UMR ESPACE 7300, University of Nice Sophia, Nice, France
(2)
UMR ESPACE 7300, University of Aix-Marseille, Aix-en-Provence, France
(3)
DSET-GS, School of Public Health, Rennes, France