Seasonal variation in geographical access to maternal health services in regions of southern Mozambique
International Journal of Health Geographics
2017
16:1
Received: 18 July 2016
Accepted: 8 December 2016
Published: 13 January 2017
Abstract
Background
Geographic proximity to health facilities is a known determinant of access to maternal care. Methods of quantifying geographical access to care have largely ignored the impact of precipitation and flooding. Further, travel has largely been imagined as unimodal where one transport mode is used for entire journeys to seek care. This study proposes a new approach for modeling potential spatio-temporal access by evaluating the impact of precipitation and floods on access to maternal health services using multiple transport modes, in southern Mozambique.
Methods
A facility assessment was used to classify 56 health centres. GPS coordinates of the health facilities were acquired from the Ministry of Health while roads were digitized and classified from high-resolution satellite images. Data on the geographic distribution of populations of women of reproductive age, pregnancies and births within the preceding 12 months, and transport options available to pregnant women were collected from a household census. Daily precipitation and flood data were used to model the impact of severe weather on access for a 17-month timeline. Travel times to the nearest health facilities were calculated using the closest facility tool in ArcGIS software.
Results
Forty-six and 87 percent of pregnant women lived within a 1-h of the nearest primary care centre using walking or public transport modes respectively. The populations within these catchments dropped by 9 and 5% respectively at the peak of the wet season. For journeys that would have commenced with walking to primary facilities, 64% of women lived within 2 h of life-saving care, while for those that began journeys with public transport, the same 2-hour catchment would have contained 95% of the women population. The population of women within two hours of life-saving care dropped by 9% for secondary facilities and 18% for tertiary facilities during the wet season.
Conclusions
Seasonal variation in access to maternal care should not be imagined through a dichotomous and static lens of wet and dry seasons, as access continually fluctuates in both. This new approach for modelling spatio-temporal access allows for the GIS output to be utilized not only for health services planning, but also to aid near real time community-level delivery of maternal health services.
Keywords
Maternal health services
Geographical access to care
Global health
Health geography
Geographical information systems
Background
Geographical proximity to health facilities is a known determinant of both access to maternal care [1–3] and better maternal outcomes [4, 5]. These improved outcomes have been attributed to improved access and utilization of antenatal care, as well as of delivery in health facilities that have skilled birth attendants [6–8].
Quantifying geographic access to care is the most common use of geographical information systems (GIS) in maternal health research and practice [9, 10]. The information obtained can aid in the planning and design of health services by evaluating the geographic reach of the health system to its intended population [11], and showing how underserved regions can be reached [12]. GIS modelling of access to care requires information about the location of health facilities, the geographic distribution of populations [13], and how the population moves to access care.
There is a dearth of research on spatio-temporal modelling that incorporates the component of time to account for changes in access during seasons. This is relevant for all places that are prone to severe weather, and is particularly relevant to sub-Saharan Africa where substantial rainfall and flooding in the wet seasons affect the accessibility of roads at very grand scales [14, 15]. Whether or not these reduced levels of access to facilities may be associated with the seasonal nature of some severe maternal morbidities (such as eclampsia) in tropical climates is unclear [16, 17]. Although women may become sicker in the wet season and attend care later [16, 17], it is clear that these women need emergency obstetric care when it is least likely to be accessible.
Many of the models for potential spatial access to maternal care have been developed in high-income settings and cannot be applied directly to low-income regions. For example, in high-income settings, the 1-h driving time threshold is used as a gold standard for identifying populations that are underserved by the health care system. While a 1-h travel time to care is clinically important in high- or low-income settings, many people in sub-Saharan Africa do not drive cars to access maternal care services [15]. Many women usually in sub-Saharan Africa walk to health centres, or use public transport which represents a mix of walking and driving modes [18, 19]. Furthermore, most of the models for quantifying spatial access to maternal care have not accounted for the impact of seasonality on impeding access to maternal care services. One such study from sub-Saharan Africa [14] presented results in the form of static maps, making it difficult to ascertain how the results could be operationalized and incorporated into health promotion programs that reflect the daily experiences of women as they travel to seek care.
This study aimed to extend current models for access to maternal care services by accounting for the impact of flooding and precipitation, making them more relevant for a typical low- or middle-income country context. We developed a spatio-temporal model to describe how women of reproductive age in regions of southern Mozambique (Fig.
1
) would potentially access all maternal health care services, by various modes of transport, and how that access may change during different seasons. Mozambique has reported estimates for Maternal Mortality Ratio (MMR) that range from 249 to 480 deaths per 100,000 live births, and is among the top 20 countries with the highest MMRs in the world [
20
–
22
]. There has been between 50 and 63% reduction in MMR from since 1990 according to known estimates, land this is sargely due to falling rates of maternal deaths from direct obstetric causes [
20
]. Nonetheless, much of existing geographical coverage of basic and comprehensive emergency obstetric care (BEmOC and CEmOC) services, which are delivered largely through secondary and tertiary level facilities remains inadequate for the population's needs [
23
,
24
].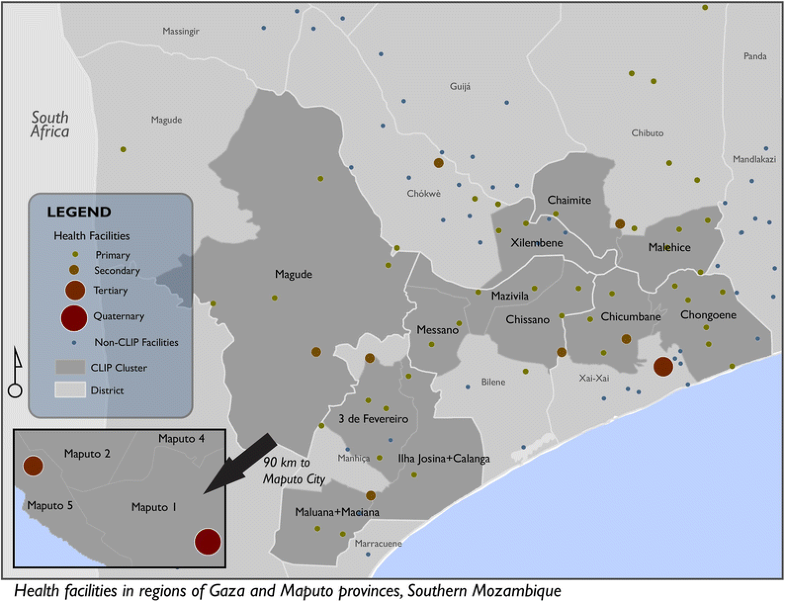 The impact of severe weather on the poor road infrastructure has been described as a barrier for women to seek both antenatal and obstetric care in this region of Mozambique [25]. Flooding in the study area had also previously resulted in entire neighbourhoods being displaced or isolated from health care facilities, with pregnant women in some instances being cut off from emergency obstetric care for months [26]. While according to the authors' knowledge this is the first study in Mozambique to model geographical access to care based on travel time, previous studies have reported very long distances to access maternal health services and that this has an effect of elevating risk for adverse maternal outcomes [21, 25]. Nonetheless, in other sub-Saharan settings similar to Mozambique, it is known that some women travel for a very long time, sometime up to 2 days to access basic maternal care [14, 27].
Results
Seasonal variation in travel times to health facilities
A similar pattern of reduced access is observed for travel to other level facilities for women that began their journeys with walking to PHCs. At the peak of the dry season, 64% (n = 50,352) and 46% (n = 36,151) of women of reproductive age lived within 2-h travel time to the nearest SHF and THF, respectively, that offer life-saving maternal care. Approximately 61% of the women of reproductive age (n = 3840) and 43% (n = 2722) of pregnant women also lived within 2-h travel time to SHF and THF, respectively. Populations of women of reproductive age living within 2-h from SHF and THF dropped to 53% (n = 42,211) and 27% (n = 21,764), respectively, while that of pregnant women dropped to 51% (n = 3188) and 25% (n = 1584), respectively, during the rainy season because of weather induced increases in travel in travel time.
The model scenarios involving the use of public transportation markedly reduce the travel times to all level facilities. At the peak of the dry season, 87% (n = 69,299) of women of reproductive age lived within a 1-h travel time to the nearest PHC using public transport. Approximately 87% (n = 5478) of pregnant women also lived within 1-h travel to the nearest PHCs. The population of women of reproductive age within 1-h travel time by public transport to PHC dropped by 5 to 82% (n = 65,165) while that of pregnant women dropped by 6–80% (n = 5110) at any time during the wet season. The furthest communities were up to 4.9 h of travel time to PHC using public transport during the dry season. However, this increased to 6.6 h at the peak of the wet season.
At the peak of the dry season, 95% (n = 75,281) and 75% (n = 59,475) of women of reproductive age lived within 2-h travel time to the nearest SHF and THF respectively. Approximately 94% (n = 5958) of the women of reproductive age and 73% (n = 4618) of pregnant women also lived within a 2-h travel time to SHF and THF, respectively. These populations of women of reproductive age living within two hours from SHF and THF dropped to 90% (n = 71,208) and 51% (n = 40,053), respectively, while that of pregnant women dropped to 88% (n = 5572) and 48% (n = 3004), respectively, during the rainy season.
There is a near exponential increase in travel times between the communities that are closest to health facilities compared to the ones that are the furthest (Fig. 5), indicating that huge disparities exist in access to maternal health services. For the furthest communities, there is a 2.1-hour increase in travel time to PHC, 2.7 h to SHF and 3.1 to THF for journeys that commences with walking to PHCs in the wet season. This increase in time is equivalent to walking approximately 10 extra kilometers to the nearest primary facility. Similarly, travel time increases by 1.7, 2.5 and 2.8 h to PHC, SHF and THF respectively are also observed for the furthest communities when journeys commence with public transport.
Discussion
This paper describes a new approach for measuring and visualizing spatio-temporal access to maternal health services. To our knowledge this is the first time that empirical records of precipitation have been incorporated into modelling spatio-temporal variation in access to care. Specifically, this work extends the current models of geographical access to maternal care by accounting for the multiple transport options that characterize women's' journeys, and how their transit changes depending on season.
The transport information provided in the CLIP facility assessment and baseline census describe what a typical woman's journey from home to primary care facilities and through the rest of the health facility referral network looks like. While [34] demonstrated a model of spatial accessibility that accounts for mechanized and non-mechanized modes of transport, simulations of access were done for each mode in isolation. Other studies have projected travel times through the health facility referral chain in a hierarchical fashion similar to this study [27], but have overlooked the multiple transport options (walking, public transport, and use of ambulances) that characterize women's journeys. Our study explored travel times that result from the use of mixed transport modes through the various tiers of the health care system and advances spatial modeling of access to maternal care in a direction more suited for the daily realities of women in low- and middle-income countries where vulnerability to poor pregnancy outcomes is highest.
While a previous study [14] examined the potential impact of seasonality on access to maternal health services, our use of empirical daily records of precipitation and floods has demonstrated that the seasonal variation in access cannot simply be imagined through a dichotomous, and static lens of wet and dry seasons, as access continually fluctuates. The elements do not only slow down travel to health facilities, but in some instances can isolate whole communities from accessing these services [26]. The use of real weather records enhanced our understanding of how access to maternal care may be hampered. Media sources confirm that the communities identified as having been isolated because of floods, were actually flooded, in some instance resulting in the community members being evacuated [44–46].
While these results indicate a sizeable reduction in the number of women who live within 1-h of basic care (PHC) and 2-h from life-saving care (SHF and THF) because of precipitation and floods, the transport mode used has a much greater impact on increasing travel times to health facilities. For example, pregnant women living within an hour of primary care facilities are shown to increase by 41% when women access public transport from their community, compared to when they walk to PHCs to seek care (Fig. 5). A similar pattern exists for SHFs with an increase of 33% for pregnant women who live within 2-h, resulting in 95% of all women living within 2-h of life-saving maternal care. This significant reduction in travel times because of access to public transport illustrates the potential impact of community-level transport related support for women needing to access maternal care, and further confirms the value of initiatives aimed at increasing access to transport as they will potentially greatly increase access to care both in the dry and wet seasons.
While the dominant view on geographical access to care assumes a need to measure distances or travel times from communities to health facilities, an emerging model of care in many low- and middle-income countries includes care by community health workers (CHWs) [47]. CHWs are "lay members of communities who work either for pay or as volunteers in association with the local health care system in both urban and rural environments and usually share ethnicity, language, socioeconomic status and life experiences with the community members they serve" [48]. These minimally trained workers extend the reach of basic health services in communities that are not well covered by health centres' [49]. The impact of flooding on hindering community health workers from accessing to pregnant women in need of services have been reported by [50]. The blend of weather sensitive spatio-temporal model of access with the upcoming strategies for reaching the most isolated populations with health services through a mobile health force [51, 52] will potentially take to utility of spatio-temporal models of access beyond macro-planning of health services and make them operational on a daily basis at the community-level. The increased recognition of community level health surveillance, including pregnancy surveillance and mobile health technologies [52, 53] will set the context where these daily pictures of access could inform decisions by community health workers as they link communities to formal health services.
A limitation to our approach to modelling spatio-temporal access is that it does not account for wait times at facilities, as these data were not available. Wait times would provide a more accurate picture of how long it takes to navigate through the health care systems, accounting for both geographical and health services related delays. Including waiting times in the modelling process would be a step closer to modelling all three delays of triage, transport and treatment [54]. Further to that, in modelling the use of public transport, we did not account for time a woman may need to wait to get a vehicle once she gets to the main road. Waiting for transport is a known barrier to care seeking in the study area [25], thus making travel time estimate very conservative.
Another limitation for this study pertains to estimates for speed and travel time. While the ones used in this study have been adopted from previous studies on access to care, there is a lack of good evidence that these estimates are relevant for our study setting. There is also a lack of empirical data on the real extent to which precipitation reduces travel speed on different road types under study. Furthermore, safety concerns for women who may walk to seek emergency care at night, and the unavailability of public transport during evenings, have been previously noted as barriers for accessing to maternal care [15]. Future research is therefore needed on methods of generating empirical data for validating speed limits and how precipitation more precisely affects travel in different seasons and at different times of day.
The ideas and methods proposed in this paper can be translated to other health disciplines and settings where seasonal elements affect access to care. Similar problems of harsh weather impeding access to health care for geographically isolated regions in Aboriginal communities of Northern Canada [55]. Data show that women living in these communities are disproportionately more vulnerable and more likely to experience adverse maternal outcomes when compared with the rest of the Canadian population [4]. The proposed approach could be used to imagine new models of access that cater to the geography of, and temporal patterns in precipitation affecting women in these remote regions.
Conclusions
Models for spatio-temporal access that account for the daily realities of women's transport options in their communities are increasingly necessary. Understanding populations' geographical access to maternal health services and how it varies by season will enable health services planners to better identify populations that are underserved by their spatial configuration, and best increase access to health care. Flooding and heavy rainfall continue to be apparent characteristics of climate change, that are known to impede access to maternal care. This study highlights how to combine daily records on precipitations and floods to enhance the understanding of the seasonal variation in spatial access to maternal care in a way that has an impact, not only on long-term planning of maternal health services but potentially on improving daily planning concerning access to care at the facility and extending the reach of care to the community. Initiatives that for transport support at the community level will complement the understanding of these spatio-temporal dynamics to accessing maternal care and will help women get to health facilities quicker.
Abbreviations
CENACARTA:

National Cartography and Remote Sensing Centre
CHW:

community health worker
CLIP:

community level intervention for pre-eclampsia
FEWSNET:

Famine Early Warning Systems Network
GIS:

geographical information systems
GPS:

global positioning system
PHC:

primary health centre
SHF:

secondary health facility
THF:

tertiary health facility
Declarations
Authors' contributions
PTM, NS, PvD and TF made substantial contributions to conception and design of the project. FV, CS, KM, HED and ES led the acquisition of data in country data. PTM and NS led the analysis and were involved together with all the authors in the interpretation of the results. PTM, LM, TF, NS and MV made substantive contributions to writing the first complete version of the article, and all the authors were involved in revising it critically for important intellectual content. All authors read and approved the final manuscript.
Acknowledgements
The authors would like to acknowledge, Reason Mlambo, Yona Hagos and Mona Lee for their contributions to manual digitization of roads data, and Valódia Cármen Cufanhane and Antonio Maimbo from CENACARTA for volunteering to check the data and advise on data capture processes.
Competing interests
The authors declare that they have no competing interests.
Availability of data and material
All the street data that was used in this project can be available to anyone upon request. The flood data is available from the global flood observatory (http://floodobservatory.colorado.edu/), while the precipitation data is available from FEWSNET (ftp://ftp.cpc.ncep.noaa.gov/fews/fewsdata/africa/arc2/geotiff/). The CLIP baseline data on pregnancies and reproductive age women's populations is not yet available in the public domain as the CLIP trial is still underway at the time of writing.
Ethics approval and consent to participate
Ethical approval for CLIP was obtained from the CISM Institutional Review Board (CIBS—CISM) and the UBC Review Board, while approval for the mapping component was acquired from the Simon Fraser University research ethics board.
Funding
This work was part funded by Grand Challenges Canada- Stars in Global Health program (Grant 0197) and was conducted as part of the PRE-EMPT (Pre-eclampsia/Eclampsia, Monitoring, Prevention and Treatment) initiative supported by the Bill & Melinda Gates Foundation.
Open AccessThis article is distributed under the terms of the Creative Commons Attribution 4.0 International License (http://creativecommons.org/licenses/by/4.0/), which permits unrestricted use, distribution, and reproduction in any medium, provided you give appropriate credit to the original author(s) and the source, provide a link to the Creative Commons license, and indicate if changes were made. The Creative Commons Public Domain Dedication waiver (http://creativecommons.org/publicdomain/zero/1.0/) applies to the data made available in this article, unless otherwise stated.
Authors' Affiliations
(1)
Department of Geography, Simon Fraser University, Burnaby, Canada
(2)
Department of Surveying and Geomatics, Midlands State University, Gweru, Zimbabwe
(3)
Centro de Investigação em Saúde de Manhiça, Manhica, Mozambique
(4)
Department of Obstetrics and Gynaecology, University of British Columbia, Vancouver, Canada
(5)
Department of Obstetrics and Gynaecology, St George's, University of London, London, UK
(6)
Department of Medicine, University of British Columbia, Vancouver, Canada