From urban planning and emergency training to Pokémon Go: applications of virtual reality GIS (VRGIS) and augmented reality GIS (ARGIS) in personal, public and environmental health
International Journal of Health Geographics
2017
16:7
Received: 3 February 2017
Accepted: 14 February 2017
Published: 20 February 2017
Abstract
The latest generation of virtual and mixed reality hardware has rekindled interest in virtual reality GIS (VRGIS) and augmented reality GIS (ARGIS) applications in health, and opened up new and exciting opportunities and possibilities for using these technologies in the personal and public health arenas. From smart urban planning and emergency training to Pokémon Go, this article offers a snapshot of some of the most remarkable VRGIS and ARGIS solutions for tackling public and environmental health problems, and bringing about safer and healthier living options to individuals and communities. The article also covers the main technical foundations and issues underpinning these solutions.
Keywords
VRGIS (virtual reality GIS)
ARGIS (augmented reality GIS)
Urban planning
Environmental planning
Smart cities
Emergency training
Physical activity
Public health
Pokémon Go
Background
Virtual reality GIS (VRGIS) is decades old. It has been around since the 1990s [1, 2]. (One may also add mixed reality GIS [MRGIS] and augmented reality GIS [ARGIS] as closely related terms and concepts.) But more recent developments in technologies, such as big data, augmented reality, graphic processing units (GPUs) and the Internet of Things (IoT), have helped provide superior implementations, higher performance and better human–computer interactive modes for VRGIS, which enabled its use in solving more complex, practical and real-world problems.
VRGIS technology is a combination of virtual reality (VR) and GIS technologies, integrating three-dimensional GIS (3D GIS) and Internet-oriented GIS (Web GIS). VRGIS technology adopts different human–computer interaction devices [1]. It establishes a three-dimensional (3D) model in a virtual environment, and operates via personal computers, mobile devices and smart glasses. Newer generations of low-cost hardware technologies and ubiquitous devices are significantly reducing the threshold of VRGIS adoption and acceptance by various research communities and user groups [3].
Indeed, the year 2016 brought new opportunities for more mature and accessible mobile and non-mobile VRGIS and ARGIS applications, with the release of mainstream immersive VR hardware gear by major players, spanning a wide range of prices, levels of sophistication and functionalities, such as Google (Daydream View VR [
4
] and its much cheaper predecessor, Cardboard, introduced in 2014 [
5
], which uses the smartphone's gyroscope for head tracking—Fig.
1
), Microsoft (HoloLens [
6
] and cheaper VR headsets [
7
]), Valve and HTC (Vive [
8
]), Facebook and Samsung (Oculus Rift and Gear VR [
9
]), and Sony (PlayStation VR [
10
]).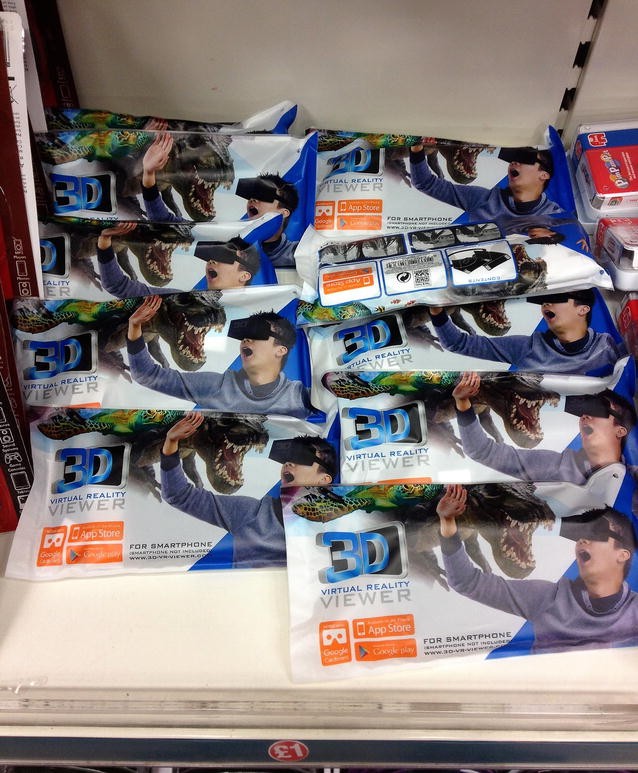 A quick overview of recent VRGIS and ARGIS/MRGIS applications in health and public health
Characteristics of VRGIS
Online virtual worlds and 3D stereoscopic solutions (considered as foundation technologies for VRGIS and ARGIS) have a great potential for being used for research purposes in social, behavioural, economic and human-centred computer sciences, with many applications in the public and environmental health arenas [40–44]. In geography, including human and health geography, virtual worlds have been successfully developed as assistant tools, facilitating the creation of studies and the understanding of the theories and practices of geography [45–49].
VRGIS can be seen as an enhanced version of geographical virtual worlds. VRGIS, which merges 3D stereoscopic, VR and GIS technologies, uses footprint files in GIS format for 3D reconstruction [50], and expresses GIS information in the VR domain based on a coupled system; the VRGIS method consists of GIS and VR modules [51]. When operating VRGIS in the virtual environment, users can interact with the system and get feedback from it using different sensing devices. The external world and the system can form a feedback loop through sensing devices.
The main characteristics of VR technology are (1) interactivity—the extent to which the users can operate and get feedback in the simulated environment; (2) existence—the extent of the user's presence in the simulation environment; (3) autonomy—the movement degree of objects in the virtual environment based on physical laws; and (4) multiple perceptibility [1]—compared with traditional GIS, VRGIS' main strength lies in the enhanced interaction between the users and the system, which improves the user's experience making it more immersive.
Thanks to modern multimedia, mass storage technologies and linkages through broadband networks, VRGIS is able to combine remote sensing (RS), aerial photogrammetry, GPS, GIS, city simulation, virtual displays and other technologies to conduct detailed 3D descriptions of a multi-resolution, multi-scale complex geographical environment, with multiple spatio-temporal categories. This is where past, present, and future geographical environments are rendered in a realistic and immersive manner with digital virtual reality via computer networks and other information technologies [51, 52].
Key issues of present-day VRGIS
VRGIS-based application tools for smart cities
Many users are satisfied with the realistic visual effects and immersive interactive experience of the latest VRGIS developments. The key to a successful VRGIS application lies in identifying suitable application areas [1], and fully recognising the efficacy of VRGIS and the convenience it can provide to various fields [111]. The design of well-tailored application tools requires not only familiarity with the feasibility of VRGIS implementation in the scenarios at hand, but also an in-depth understanding of the corresponding industrial demands. VRGIS experts carry out demand analyses and functional design of application tools to achieve the desired practical goals in each case, effectively improving labour efficiencies in the corresponding application domains [48, 112]. After the system implementation of VRGIS in a given field, effectiveness can be measured using appropriate human–computer interaction and usability testing methods to study users [113]. Final judgments about the application are then made based on users' feedback results [114, 115].
VRGIS has been widely applied in domains related to smart cities and urban management, such as traffic and transportation [116], e-government and e-business [98], ocean and island management [117–119], scenic area management [120], virtual community [121], geography education [122, 123], and underground pipeline management [124]. Virtual geographies are currently being developed for several applications, including virtual cities, landscape visualisation, visualising past and future geographies, visualising abstract concepts and taking people on virtual field courses [125–127].
Traditional urban and environmental applications of VRGIS focus on the simulation of landscape structure [120]; geomorphological structure; geological structure; large-scale traffic and urban engineering structure; natural movements of the Earth system, such as volcanic eruptions, earthquake processes, flood disasters and other emergency cases; desertification and soil erosion processes in lakes, forests and other natural ecosystems; regional, urban and other ecological systems [128]; sustainable development of cities [129]; and transformation and planning of regions. In the context of smart cities, VRGIS has been applied to population management, traffic (congestion) prediction and mitigation, urban resource allocation, monitoring of water resources, environmental protection, disaster prevention, early warning systems and rescue planning operations.
In a modern smart city system, the most basic characteristic of VRGIS is its capacity to visualise 3D details. Users immersed in the virtual environment can test different possibilities and candidate locations for a given task or a new city development plan to decide on the best course of action to take [130, 131]. Planners of new buildings or other facilities can have a comprehensive view of their new development location from various perspectives, including surrounding and nearby buildings. Users, such as city managers, can see the actual landscape of streets, buildings and vehicles, and assess the number of buildings, congestion conditions and light exposure within the vicinity.
The core function of geographic information technology as decision support tool plays a key role in realising the full potential of smart cities and associated technologies, such as IoT [100, 131, 132]. Capitalising on the technology's powerful spatio-temporal decision support affordances, users can interrogate the relevant GIS databases to analyse and display the distribution of business activities of interest, such as the positioning of public facilities, major pipelines and other useful information. An emergency alarm service enables the officers in charge to immediately obtain 3D images of areas requiring immediate attention for further processing. By properly integrating event information in the GIS database, city officers can see, and dynamically monitor, the location(s) of corresponding smart city object(s) attached to an event as it unfolds, such as specific building(s) or particular street(s) or crossing(s) in the case of a traffic jam.
Conclusions
The rapid developments in computer technology are opening up new application frontiers for VRGIS and ARGIS in the domains of personal, public and environmental health. When properly conceived and implemented, VRGIS and related technologies can serve as enablers of healthier and safer living for individuals and communities. IoT-driven smart cities benefit the most from the real-time, effective and highly integrated 3D visualisation of big (geo)data via VRGIS. VRGIS can assist in the analysis of the urban fabric and other related attributes, providing auxiliary methods for urban and environmental planning and design [133, 134]. The underpinning databases can be updated with 3D data at any time (even in real time), so as to reflect new urban plans and regional changes in a timely manner (or as they unfold in real time) via VRGIS, thus broadening the technology's application prospects.
Looking at the future, there are virtually no limits to the possibilities of VRGIS and ARGIS applications in health and medicine. For example, GIS has traditionally been applied to features on the surface of the Earth, but it is also possible to apply the technology to anatomical features at the scale of the human body [135]. In this respect, one may consider Royal Philips' augmented-reality surgical navigation technology for image-guided spine, cranial and trauma surgery [136, 137] as an advanced and highly specialised form of ARGIS/MRGIS. News updates related to the topic of this article can be always accessed at [138].
Declarations
Authors' contributions
MNKB conceived and edited the article, including the introduction, overview of recent VRGIS and ARGIS/MRGIS applications in health and public health, and conclusions, as well as Figs. 1 and 2. ZL, PG, CJ and AS contributed text on the technical issues underpinning VRGIS solutions today, particularly in the context of smart city applications, with additional input and pointers provided by MNKB. All authors read and approved the final manuscript.
Acknowledgements
The authors would like to thank the Open3D Project (EPSRC Grant EP/M013685/1).
Competing interests
MNKB is Editor-in-Chief of International Journal of Health Geographics.
Disclaimer
Reference in the manuscript to any specific commercial product, process or service by trade name, trademark, manufacturer or otherwise does not necessarily constitute or imply its endorsement, recommendation or favouring by the authors or the entities they are affiliated to, and shall not be used for commercial advertising or product endorsement purposes.
Open AccessThis article is distributed under the terms of the Creative Commons Attribution 4.0 International License (http://creativecommons.org/licenses/by/4.0/), which permits unrestricted use, distribution, and reproduction in any medium, provided you give appropriate credit to the original author(s) and the source, provide a link to the Creative Commons license, and indicate if changes were made. The Creative Commons Public Domain Dedication waiver (http://creativecommons.org/publicdomain/zero/1.0/) applies to the data made available in this article, unless otherwise stated.
Authors' Affiliations
(1)
The Alexander Graham Bell Centre for Digital Health, Moray College UHI, University of the Highlands and Islands, Elgin, Scotland, UK
(2)
Department of Computer Science, University College London, London, England, UK