Interactive, open source, travel time scenario modelling: tools to facilitate participation in health service access analysis
International Journal of Health Geographics
2017
16:13
Received: 5 September 2016
Accepted: 6 April 2017
Published: 18 April 2017
Abstract
Background
Modelling travel time to services has become a common public health tool for planning service provision but the usefulness of these analyses is constrained by the availability of accurate input data and limitations inherent in the assumptions and parameterisation. This is particularly an issue in the developing world where access to basic data is limited and travel is often complex and multi-modal. Improving the accuracy and relevance in this context requires greater accessibility to, and flexibility in, travel time modelling tools to facilitate the incorporation of local knowledge and the rapid exploration of multiple travel scenarios. The aim of this work was to develop simple open source, adaptable, interactive travel time modelling tools to allow greater access to and participation in service access analysis.
Results
Described are three interconnected applications designed to reduce some of the barriers to the more wide-spread use of GIS analysis of service access and allow for complex spatial and temporal variations in service availability. These applications are an open source GIS tool-kit and two geo-simulation models. The development of these tools was guided by health service issues from a developing world context but they present a general approach to enabling greater access to and flexibility in health access modelling. The tools demonstrate a method that substantially simplifies the process for conducting travel time assessments and demonstrate a dynamic, interactive approach in an open source GIS format. In addition this paper provides examples from empirical experience where these tools have informed better policy and planning.
Conclusion
Travel and health service access is complex and cannot be reduced to a few static modeled outputs. The approaches described in this paper use a unique set of tools to explore this complexity, promote discussion and build understanding with the goal of producing better planning outcomes. The accessible, flexible, interactive and responsive nature of the applications described has the potential to allow complex environmental social and political considerations to be incorporated and visualised. Through supporting evidence-based planning the innovative modelling practices described have the potential to help local health and emergency response planning in the developing world.
Keywords
Travel TimeTravel SpeedDestination PointSpatial Decision Support SystemRaster Grid
Background
Proximity to health services is a key factor determining outcomes for a range of health issues [1–4] including ongoing treatment for chronic conditions [4], preventative services [5] and emergency response [6]. Over the last decade therefore, as spatial data and geographic information systems have become increasingly available, considerable attention has been given to understanding the geographic dimensions of access [7, 8]. This work has largely focused on identifying populations remote from health services through the spatial modelling of travel time and has become a common planning tool supporting transport and service infrastructure planning [7].
The usefulness of such spatial decision support systems (SDSS) are however constrained by the availability of accurate input data and limitations inherent in the assumptions, parameterisation and methods used [2, 9–11]. Furthermore these analysis have been criticised for being developed in a top–down way that does not allow for the incorporation of qualitative data or individual experiences [10, 12]. These limitations have led to the value and utility of these forms of analysis being questioned when considered within a broader framework of health service provision that has to factor in a complex array of dynamic environmental, social and economic determinants [9, 12, 13]. Indeed it has been argued that current empirical health studies modelling accessibility tend to over simplify access in complex health care landscapes, leading to misinformed policy interventions [10]. Various authors have called for studies that provide a more nuanced understanding of the relationship between specific populations and their unique geographical contexts [10, 14, 15]. Neutens [10] specifically argues for individual-based and temporally integrated analysis and more sophisticated geo-computational tools that address social disparities in accessibility of health care. Along with new spatial analytical tools, it has also been suggested that new geo-visualisation methods are needed to enable a more sophisticated evaluation of complex multidimensional travel with greater flexibility to facilitate the incorporation of local knowledge [8, 12, 15]. Currently however, these modelling tools are primarily available only in proprietary GIS or SDSS packages requiring considerable expertise to operate, and produce static outputs failing to capture the complexity of individual travel patterns [10, 16]. Local health planners in developing countries often need much simpler approaches to SDSS. The lack of accessibility to, and flexibility of, these tools is particularly an issue in the developing world where human and financial resources are limited, as is access to basic spatial data [17], also travel is often complex and multi-modal [13].
The aim of the work presented in this paper was to develop simple, open source, adaptable and interactive service access modelling tools that improve access to health services through facilitating more sophisticated multi-temporal modelling, the incorporation of local knowledge and supporting participatory planning. While the development of the tools described in this paper was guided by health service issues from a specific developing world context, the approach described has utility, more generally for enabling greater access to, and more nuanced, health service planning and effective emergency medicine. The following section explores some of the underlying assumptions and limitations in standard forms of travel time modelling and their relevance in a health service delivery context. Modelling tools designed to address some of the identified limitations are then described.
Using SAGA-GIS and Netlogo to inform policy
Whilst other tool sets have been developed to assist travel time analysis [28], this is the first to be based around free open source software. The SAGA-GIS and Netlogo travel time tools can make the process of access analysis simpler than that available in proprietary software. The relative simplicity and functionality of these tools has the potential to support the decentralisation of travel time assessments. Both tools have been recently introduced to health planners in Eastern Indonesia in the South Central Timor (TTS District) of East Nusa Tenggara province which is well known as an underdeveloped and a disaster prone region. In this district two health officials and one local disaster management official were provided the Netlogo and Saga SDSS tools to inform policy options related to investment in both transport infrastructure and health facilities.
Those introduced to the tools mentioned ease of use as one of the key enabling variables supporting their uptake [
44
,
45
]. In TTS district, resulting travel time visualisations, as shown in Fig.
8
, have been used to inform local and national government investment plans for health infrastructure. These tools were used to support a clear evidence-based assessment of the geographic vulnerability of communities in the region. The vulnerability visualisation enabled local health to advocate to the local development planning unit, senior local officials and national health officials to build a new hospital and health facilities in a remote sub-district [
44
–
46
].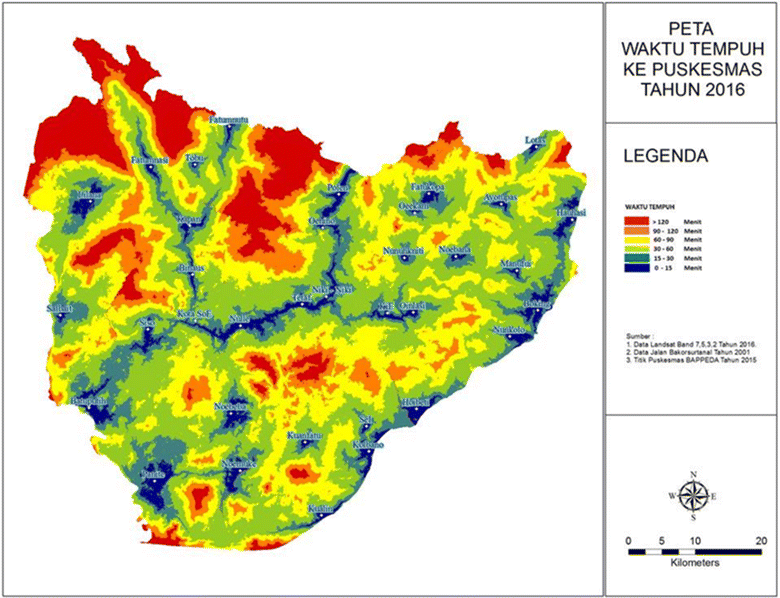 The toolkits have been important for guiding the local and national health planners to think about the strategic placement of new infrastructure, particularly with regard to communities vulnerable to flooding. In TTS district, monsoonal flooding in December and January is often followed by access disruption due to damaged roads and roads being cut by landslide debris. Therefore, according to the local officials, the travel time tools helped them identify not only alternative routes to health facilities but also guide local disaster management offices to identify vulnerable areas that can be potentially damaged by both floods and landslides.
Whilst initially developed for health planning, the tools and some training was also provided to one local emergency planner who subsequently used the SAGA GIS toolkit to develop local risk and vulnerability map for five villages. However this disaster risk modelling did not incorporate the net logo tools due to different reporting requirements between local health and emergency departments [45].
Discussion
While the promise of the use of technology and SDSS for increasing both efficiency and effectiveness of government planning in the developing world is well recognised, the uptake of the SDSS have been often challenged by the quality of human resources [43] and the usability and practicality of SDSS [45, 47]. Furthermore the planning information provided by these tools is sometimes not fully understood by policy makers [44, 47]. The approaches described in this paper have been designed to overcome some of the limitations common in analysis of health care access. The tools described reduce some of the barriers to the more wide-spread use of GIS analysis of service access, allow complex spatial and temporal variations in service availability and travel speeds to be explored, facilitate a more complex assessment of multi-modal travel, allow the exploration of individual cases and support the integration of local knowledge.
Another advantage of the SAGA travel time tool is the integration of a number of pre-existing tools that facilitate the development of input grids. For example SAGA provides a comprehensive set of image classification tools for producing the vegetation grid layer from free Landsat data. SAGA also provides simple tools for incorporating elevation derived metrics, such as the Strahler stream orders, into the process. The travel time implementation in SAGA is robust, fast and transparent. Large datasets can be analysed quickly and the underlying inputs and variables can be easily queried and altered. The analysis outputs can also be exported to other GIS software for further work. The toolchains used to automate the processes are also reasonably simple to comprehend and alter. This is important as different regions will have different travel condition parameters not currently incorporated into the tool chains. For example in very rugged places it would be easy to add another step within the travel time tool chain to take into account slope for modifying travel speeds.
Whilst clearly a useful tool the GIS, implementation is only appropriate when set up and mediated by someone with familiarity with GIS and specifically SAGA GIS functions. The NetLogo models were therefore developed to provide a user friendly interactive environment from which to work with the GIS derived raster data.
Geo-simulation model 1 (distance transform implementation)
To the author's knowledge this is the first implementation of a distance transform algorithm for health access modelling within an ABM platform. The key benefit of the ABM implementation is the way it facilitates rapid and flexible modelling of multiple travel time scenarios through a simple user interface. Using the range of pre-set parameter settings along with the road, barrier and services feature drawing tools allows for an unlimited number of possible scenarios to be explored. The geo-simulation model makes it a relatively easy process to teach anyone how to parameterise and 'play' with access scenario modelling. The speed at which parameters can be altered and new scenarios explored has the potential for the model to fit into infrastructure planning discussions. Furthermore the ability to automate the production of multiple scenarios, as shown in Fig. 7, enables multiple dimensions of travel to be visualised. These can be produced in both image or GIS data formats for presentation or analysis independent of the ABM platform.
Despite its flexibility, the model described here has limitations related to the allowable size of the input grids and the processing speed. The NetLogo platform is Java based running in RAM memory. This can result in larger grid models, i.e. greater than 1000 × 1000 cells, being unable to load into NetLogo without editing Java parameters. The chamfer cost analysis used in this ABM takes double the time to conduct a grid analysis than when the same data is analysed in SAGA GIS. However, neither of these issues is considered a significant barrier to the useful application of the model. The grid size limitation still allows large areas to be modelled and processed at reasonable speeds. The model, for example, presented in this paper uses a 30 × 30 km grid with a 50 m cell size but conducts a travel time analysis in ~8 s. Grid size and processing speed could be increased with further code optimisation and the use of implementation platforms such as python.
Geo-simulation model 2 (raster-network)
This model allows local knowledge to be used to place people into the landscape thus simulating individual cases. This can be useful particularly where population distribution data is not available. This model could easily be extended to allow the comparison of multiple travel conditions i.e. two agents—one walking at night, the other being stretchered during the day—could leave the same point at the same time and their progress monitored. In addition more complex network rules could be applied supporting different route paths and different travel speeds for a range of vehicle types. Ambulance travel requiring a journey from the destination point to the agent and back to the destination point could also be modelled. Whilst currently the model uses a grid layer to mimic network movement, it would be possible to incorporate a real network layer into the model, more accurately representing network function.
Further work
The SAGA and geo-simulation travel time modelling tools could be further extended to include more service access factors. For example it is known that cell phones are critically important in many situations for accessing care [13], being used to contact health service professionals and to gain help when needing to travel to a health facility. Therefore a lack of mobile phone signal could add another layer to remoteness analysis. Modelling potential signal coverage could easily be added into the SAGA tool chain by incorporating available terrain tools. Similarly signal coverage could be incorporated into the geo-simulation through the incorporation of elevation data and code that models signal travel.
Conclusion
Travel and service access is complex, not reducible to a few static modelled outputs [9, 10]. The approaches described in this paper use a unique set of tools to explore this complexity, promote discussion and build understanding in order to produce better planning outcomes.
The potential benefits of health GIS are often constrained by access to basic health information and a lack of skills among public health personnel for interpreting spatial data [8, 42]. In addition, current spatial models of health care access simplify the multifaceted and complex nature of real world travel. The accessible, flexible, interactive and responsive nature of the applications described here, through facilitating interactive scenario gaming and the discussions they provoke, have the potential to allow complex environmental social and political considerations to be combined and visualised. The further development and integration of this approach has the potential to make the governance and planning of service delivery more open, transparent and effective. Whilst some of the health service access issues incorporated into these models may not be relevant in all contexts, this paper describes an open and easily adaptable approach to developing interactive spatial decision support systems for health planning.
In emergency management studies, lead time is often defined as the time difference between the initiation and completion of a natural hazard event. Having appropriate technology locally available can lower the time needed to access services and reduce loss of life and assets. In the context of disaster early warning systems, local emergency responders need to have better prediction of both lead time and travel. The former will lead to better preparedness and the later will lead to better response planning [43]. Alternatively these applications could be used for modelling access and remoteness for a broad range of planning and governance tasks such as assessing remoteness from markets and schools or for modelling travel time. Indeed there is considerable scope for further exploration of the role of integrating GIS and interactive geo-simulations to support a range of planning, education and advocacy roles. In particular the opportunities for interactive geo-simulation applications in supporting evidenced-based service provision and participatory planning in both the developed and developing world are yet to be fully explored.
Declarations
Authors' contributions
This first author was responsible for model development work the second author was primarily responsible for the follow up 'on ground' assessment. Both authors read and approved the final manuscript.
Acknowledgements
We would like to thank Dr. Kerstin Zander and Professor Stephen Garnett for their reviews of draft versions of this paper and the contribution and support of Nelson Sula and Nahad Baunsele from the Health department and Zenon Dau from the local disaster management office.
Competing interests
The authors declare that they have no competing interests.
Funding
Funding was provided internally through the author's employer Charles Darwin University.
Publisher's Note
Springer Nature remains neutral with regard to jurisdictional claims in published maps and institutional affiliations.
Open AccessThis article is distributed under the terms of the Creative Commons Attribution 4.0 International License (http://creativecommons.org/licenses/by/4.0/), which permits unrestricted use, distribution, and reproduction in any medium, provided you give appropriate credit to the original author(s) and the source, provide a link to the Creative Commons license, and indicate if changes were made. The Creative Commons Public Domain Dedication waiver (http://creativecommons.org/publicdomain/zero/1.0/) applies to the data made available in this article, unless otherwise stated.
Authors' Affiliations
(1)
Charles Darwin University, Casuarina, Australia