GridSample: an R package to generate household survey primary sampling units (PSUs) from gridded population data
International Journal of Health Geographics
2017
16:25
Received: 27 March 2017
Accepted: 4 July 2017
Published: 19 July 2017
Abstract
Background
Household survey data are collected by governments, international organizations, and companies to prioritize policies and allocate billions of dollars. Surveys are typically selected from recent census data; however, census data are often outdated or inaccurate. This paper describes how gridded population data might instead be used as a sample frame, and introduces the R GridSample algorithm for selecting primary sampling units (PSU) for complex household surveys with gridded population data. With a gridded population dataset and geographic boundary of the study area, GridSample allows a two-step process to sample "seed" cells with probability proportionate to estimated population size, then "grows" PSUs until a minimum population is achieved in each PSU. The algorithm permits stratification and oversampling of urban or rural areas. The approximately uniform size and shape of grid cells allows for spatial oversampling, not possible in typical surveys, possibly improving small area estimates with survey results.
Results
We replicated the 2010 Rwanda Demographic and Health Survey (DHS) in GridSample by sampling the WorldPop 2010 UN-adjusted 100 m × 100 m gridded population dataset, stratifying by Rwanda's 30 districts, and oversampling in urban areas. The 2010 Rwanda DHS had 79 urban PSUs, 413 rural PSUs, with an average PSU population of 610 people. An equivalent sample in GridSample had 75 urban PSUs, 405 rural PSUs, and a median PSU population of 612 people. The number of PSUs differed because DHS added urban PSUs from specific districts while GridSample reallocated rural-to-urban PSUs across all districts.
Conclusions
Gridded population sampling is a promising alternative to typical census-based sampling when census data are moderately outdated or inaccurate. Four approaches to implementation have been tried: (1) using gridded PSU boundaries produced by GridSample, (2) manually segmenting gridded PSU using satellite imagery, (3) non-probability sampling (e.g. random-walk, "spin-the-pen"), and random sampling of households. Gridded population sampling is in its infancy, and further research is needed to assess the accuracy and feasibility of gridded population sampling. The GridSample R algorithm can be used to forward this research agenda.
Keywords
Cluster surveyMulti-stageCluster sample
Background
Household survey data are collected to support prioritization of national and international issues, allocate billions of donor and government dollars, track progress toward major policy and program goals including the sustainable development goals (SDGs) [1, 2], quantify needs during disaster responses [3, 4], and follow consumer trends [5]. Household surveys are particularly important in countries where census data, or other forms of official data such as birth and death registries, are outdated, incomplete or inaccurate. Selection of representative household survey samples requires definition of areal units with up-to-date and accurate population counts—typically enumeration areas from a recent census—creating a circular dilemma. Where census data are not available, outdated, or known to be unreliable, individual survey teams have begun to experiment with gridded population sampling as an alternative [6–11], and organizations that fund routine surveys are beginning to recommend gridded population datasets as alternative sample frames [12]. To date, however, no tools exist to support complex survey selection from gridded population datasets, and there is scant guidance to use these emerging methods. This paper (1) describes how gridded population datasets have been used as alternative sample frames to outdated or inaccurate census data, (2) introduces GridSample [13], an R package, for the first-stage selection of complex household surveys using gridded population data, and (3) summarizes options to implement gridded population samples in the field. R is an open-source free software environment created and maintained by hundreds of developers from many disciplines worldwide. R contains well-established, user-created packages to perform statistical analysis and data visualization.
Typical household surveys
Since the 1980s, hundreds of nationally-representative household surveys have been conducted by governments in low- and middle-income countries roughly every five years with support from the United Nations (UN) [14, 15], the US Government [16], and the World Bank [17] to monitor social, demographic, economic, and health indicators. The UN's Multiple Indicator Cluster Surveys (MICS), the US Government's Demographic and Health Surveys (DHS), and the World Bank's Living Standard Measurement Surveys (LSMS) stratify samples by sub-national region, and sample roughly 10,000 households in a two-stage design that is widely used by survey implementers to maximize statistical power and feasibility while minimizing costs and potential biases [14–16]. Each of these surveys cost several hundred thousand US dollars and approximately two years to implement and publish [18].
In standard large-scale household surveys, implementers sample communities first (called clusters, or primary sampling units—PSUs) from recent census enumeration areas. Then second, list all households in the sampled communities during a field mapping exercise before systematically sampling households [
13
,
15
,
16
] (Fig.
1
). In the poorest settings, household enumeration is still routinely performed by hand with a pencil and paper [
16
], and satellite-enhanced enumeration has been piloted with printed maps of satellite imagery and with mobile devices [
19
,
20
]. While these methods are widely adopted and considered the gold-standard, they are limited in their ability to generate accurate samples when census data frames are outdated or inaccurate [
21
]. At the time of this writing in 2017, 37 of 157 countries in Africa, Asia, and Central and South America has a census that is 10 years old or more [
22
]. Many of these countries have experienced population displacement by environmental disasters, conflict, rapid economic change [
23
], official changes to subnational administrative area boundaries [
24
] and normal demographic shifts due to changing birth and death rates.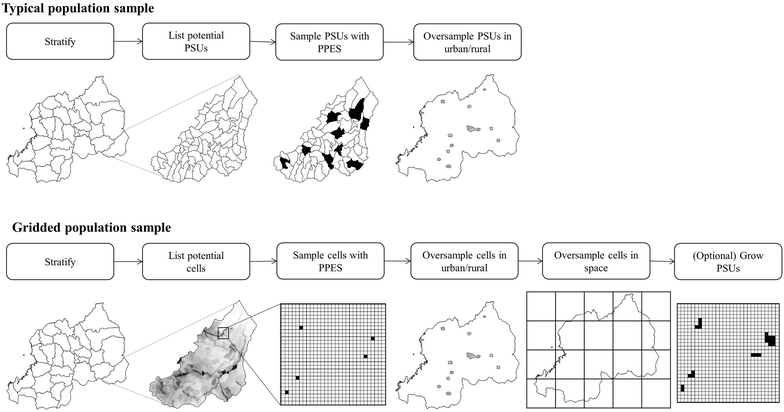 Gridded population data
Gridded population data may prove to be a viable alternative sample frame where census data are outdated or inaccurate. Three types of gridded population datasets are available. First, standard "top-down" gridded population datasets are generated by models that either directly disaggregate administrative population counts to grid cells using satellite imagery (e.g. land cover and nighttime lights) and other spatial data (e.g. road and building locations), or non-uniformly disaggregate population counts using complex modeling approaches. Direct disaggregation approaches vary from simple areal weighting (e.g. GPWv4 [25], UNEP [26]) to use of ancillary data, such as urban settlement areas, to inform the location and density of disaggregated population (e.g. GRUMP [27], GHS-Pop [28], Facebook [29]). Complex modelling techniques (e.g. WorldPop [30], Landscan [31], Demobase [32]) include such methods as aggregating input and covariate data at two scales to test and tailor the model to local areas.
Multiple top-down global gridded population datasets are available to freely download including WorldPop [33], GPWv4 [34], GHS-POP [35], GRUMP [36], and UNEP [26]. Landscan [37] datasets are free to US Federal Government agencies and some humanitarian, education and commercial organizations, upon request. Gridded population datasets are published as population estimates per pixel, where pixels are measured in decimal degrees and are thus slightly smaller and less square-shaped toward the earth's poles compared to the equator. Within countries, differences in cell size are generally negligible; exceptions include Brazil and Russia with large north–south coverage. WorldPop [33] additionally provides population per hectare estimates measured in meters, where each pixel is 100 m × 100 m anywhere on earth. Gridded population datasets have known inaccuracies, particularly at the sub-national and metropolitan scales [38, 39]. Although top-down gridded population datasets may be based on outdated or incorrect population totals from 2nd-, 3rd-, and 4th-level administrative areas, the distribution of population estimates within administrative areas might be more representative of the population than enumeration area counts in the last census.
Gridded population data need not be based entirely on census data. Where census data are grossly outdated and populations are reasonably stationary, researchers are experimenting with a second type of gridded population dataset using "bottom-up" methods that integrate population counts from small area surveys with dozens of spatial covariates [40]. In areas where large-scale population movement has resulted from a major event, such as an earthquake or violent conflict, researchers have begun to work with mobile phone companies to gain anonymized, aggregated call detail records (CDR) and generate a third type of CDR-enhanced gridded population dataset [41–43].
Gridded population sampling for household surveys
The GridSample package was recently released in R CRAN to generate PSUs for household surveys using gridded population data rather than census data [13]. GridSample supports typical complex sample designs including stratification, oversampling in urban or rural areas, and sampling of different numbers of households within urban and rural areas (Fig. 1). Because grid cells are approximately uniform in size and shape within a country, GridSample also allows for a population sample to be supplemented with a spatial oversample in remote areas which is attractive if survey results will be used to generate small area estimates or make interpolated surfaces [44] (Fig. 1).
The user needs either two or three datasets to use GridSample. First, a gridded population dataset that covers the study area. Gridded population data are produced in raster file format. A common example of a raster dataset is a photograph which is comprised of pixels, each with a single color value. Similar to a photograph, gridded population cells each have one estimated population value. Second, the user provides the boundary of the study area if the sample is not stratified, or boundaries of geographic strata if the sample is stratified. Third, the user optionally inputs urban/rural area boundaries if urban and rural domains will be represented in the survey. Boundaries are commonly formatted as a shapefile, a type of file used to store points, lines, or polygons (areas) and their attributes. GridSample requires that all input datasets are converted to raster format using the same grid cell dimensions as the population dataset. Below, we provide a code example to convert shapefiles to rasters.
The input raster datasets, plus a number of survey parameters, are used to randomly sample grid cells with probability proportionate to estimated population (PPES) size in a first step, and then optionally grow PSUs around selected seed cells until a minimum population threshold is achieved in a second step (Fig.
2
). This two-step process ensures both that the desired number of PSUs per strata and domain are achieved, as well as desired population per PSU.
GridSample
outputs a shapefile of PSU boundaries which can be visualized in a geographic information system like QGIS™ or ArcGIS™, or overlaid on satellite imagery, for example in Google Earth™. The shapefile includes a record for each PSU containing the latitude-longitude coordinate of the PSU centroid (geographic center), and the PSU and strata population counts needed in sample weight calculations.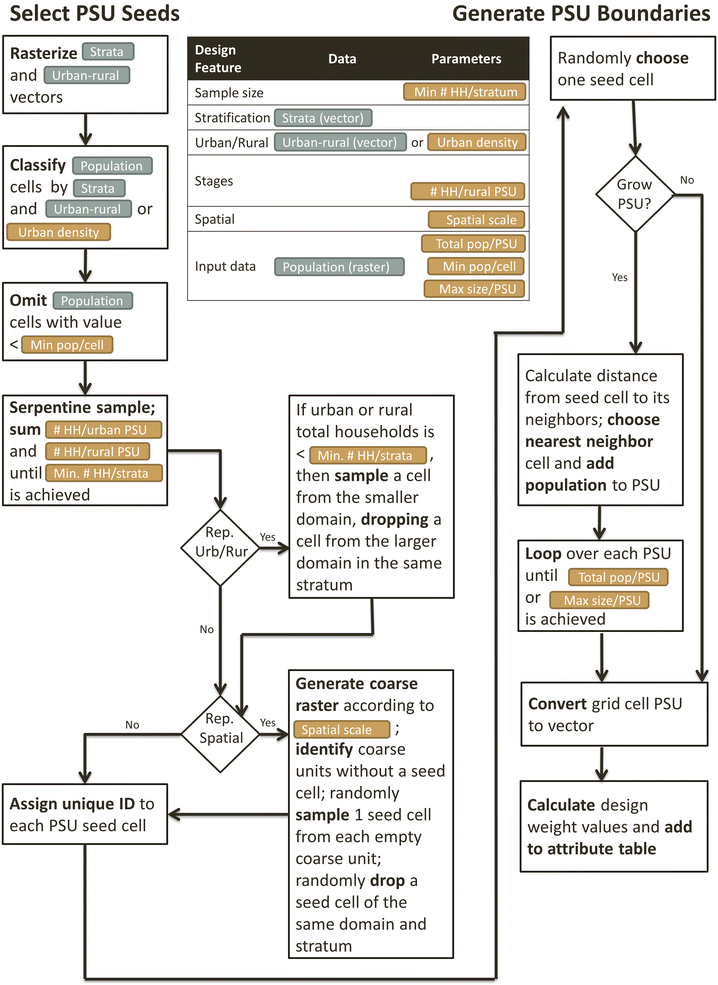 In the following sections, we provide a technical overview of the GridSample algorithm workflow; describe how to replicate typical complex survey designs in GridSample; describe the use of population sampling with a spatial oversample; and reproduce an existing DHS sample in GridSample. To support use of GridSample, we provide sample weight calculation instructions, discuss practical limitations, outline areas for future gridded population survey research, and offer suggestions to improve the feasibility of fieldwork.
GridSample: technical workflow
GridSample is an R CRAN package with four functions—gs_mode, gs_rasterize, gs_zonal_raster, and gs_sample—though the user only interacts with the main function, gs_sample. GridSample is written for R version 3.2.3 or newer, and requires the following libraries: rgdal (≥1.2–5), raster (≥2.5–8), data.table (≥1.10.4), rgeos (≥0.3–22), geosphere (≥1.5–5), sp (≥1.2–4), deldir (≥0.1–12), spatstat (≥1.49–0), and maptools (≥0.8-41). Figure 2 visualizes how the input datasets and parameters are processed in gs_sample. At a minimum, the user must specify the input gridded population dataset (population_raster), household sample size (cfg_hh_per_stratum), study area boundary (which is strata_raster, the boundary of a single stratum sample), population size per PSU (cfg_pop_per_psu), and number of households to be sampled per PSU (the urban value cfg_hh_per_urban is used for all PSUs if a rural value cfg_hh_per_rural is not specified). Further complexities can be added to the survey design including stratification, oversampling of urban/rural populations, and spatial sampling. GridSample first selects PSU seed cells from the dataset, and then optionally grows each PSU by adding neighboring cells until a minimum geographic size (cfg_max_psu_size) or population size (cfg_pop_per_psu) is achieved.
Before using gs_sample, the user must rasterize all vector data to match the grid dimensions of the gridded population dataset (population_raster). Specifically, the user must rasterize urban/rural boundaries and strata boundaries. Urban/rural boundaries (urban_raster) may be defined from existing data sources such as Global Urban Footprint (GUF) [45], Global Rural Urban Mapping Project (GRUMP) [36], Global Human Settlement City Model (GHS-SMOD) [46], Modis 500 m urban extents [47], and European Space Agency Land Cover class for urban areas [48]. Alternatively, the user may generate urban/rural extents by classifying the population density layer (population_raster), or by uploading an urban/rural shapefile from another source. Choice of urban/rural boundary is highly dependent on the nature of the survey, as definitions of urban and rural populations differ across countries and disciplines [49]. The strata boundary raster (strata_raster) can be derived from administrative area boundaries, for example Map Library [50] or DIVA-GIS [51], though the user might upload alternative strata boundaries defining, for example, ecological regions or a program catchment area.
To select PSU seed cells, gs_sample classifies each cell in the gridded population dataset (population_raster) by urban or rural location (if cfg_sample_rururb = TRUE and urban_raster is specified), and assigns a stratum ID (strata_raster). Serpentine sampling is used such that cells are geographically ordered from west-to-east, north-to-south, and sampled based on a random starting cell and a population increment that produces the desired number of PSUs within the stratum, thus facilitating a randomized population-weighted sample. The user may halt the algorithm at this point leaving just one cell per PSU by setting the PSU growth parameter to false (cfg_psu_growth = FALSE).
If the PSU growth parameter is set to true (cfg_psu_growth = TRUE), gs_sample grows PSUs using a dilation filter routine to enlarge the area around each PSU seed cell by adding neighboring cells one cell at a time until the specified population per PSU parameter is met. From the seed cell, the dilation routine randomly chooses one of the nearest north, east, south, or west cells, and adds that population to the PSU. The routine loops over each PSU adding more population cells each time until each PSU achieves the maximum PSU area in square kilometers (cfg_max_psu_size) or total population per PSU value (cfg_pop_per_psu). A valid sample frame has contiguous, non-overlapping potential PSUs. Thus, GridSample restricts PSUs to being contiguous and non-overlapping by drawing voronoi polygons around each seed cell, defining unique areas in which each PSU can grow; the PSU growth routine will not add cells beyond a strata or voronoi polygon boundary.
After all PSUs have been selected, the algorithm generates a polygon shapefile of the PSU boundaries and assigns the following attributes to each PSU: PSU identifier, stratum identifier, urban/rural class of the seed cell, PSU centroid coordinate, total/urban/rural population in PSU, total/urban/rural population in stratum, number of cells in PSU, and number of PSUs in stratum (Table
1
). The algorithm prints to screen the value of the random number used to start the sampling process; this value can be recorded and manually entered in
GridSample
to reproduce an existing sample. The following attributes are needed to calculate sample weights (presented later): number of selected PSUs in stratum (psus_in_stratum), estimated population in stratum (str_pop), and estimated population in PSU (psu_pop).
Table 1
Summary of attributes in the output shapefile
| Label | Type | Description |
| --- | --- | --- |
| PSUid | Integer | PSU identifier |
| stratum | Integer | Stratum identifier |
| psu_pop | Decimal | Estimated population in PSU derived by summing the seed cell and any growth cells selected for PSU |
| psu_r_pop | Decimal | Estimated rural population in PSU derived by summing all rural cells selected for PSU |
| psu_u_pop | Decimal | Estimated urban population in PSU derived by summing all urban cells selected for PSU |
| psus_in_stratum | Integer | Number of PSUs in the stratum |
| str_pop | Decimal | Estimated population in stratum derived by summing all grid cells |
| str_r_pop | Decimal | Estimated rural population in stratum derived by summing all grid cells classified as rural |
| str_u_pop | Decimal | Estimated urban population in stratum derived by summing all grid cells classified as urban |
| str_cells | Integer | Number of total cells in the stratum |
| xCent | Decimal | Longitude of PSU seed cell centroid in decimal degrees |
| yCent | Decimal | Latitude of PSU seed cell centroid in decimal degrees |
| U_R | Character | Urban or rural label based on whether the seed cell was classified as urban or rural |
GridSample: clustered sampling
GridSample supports the first-stage of the typical two-stage cluster design used by DHS, MICS, and LSMS, as well as several other common survey designs. The user defines the desired total population in each PSU (cfg_pop_per_psu), ranging from 400 to 600 people in typical household surveys. Alternatively, GridSample can be used to select one-stage cluster samples by setting the total population per PSU (cfg_pop_per_psu) equal to the number of households to be sampled per PSU (cfg_hh_per_urban and cfg_hh_per_rural) multiplied by the average household size (available from previous surveys). Likewise, GridSample might be used to select a random sample of households by setting total population per PSU (cfg_pop_per_psu) equal to the average household size, and setting the number of households to be sampled per PSU (cfg_hh_per_urban and cfg_hh_per_rural) equal to 1. To implement a random sample of households, the user would additionally need to use a method to identify a random dwelling within each PSU [8].
GridSample: stratification
Strata should be mutually exclusive geographic areas that cover the entire population. In typical household surveys, sub-national administrative areas such as provinces or districts serve as strata, and sometimes these areas are further stratified into rural and urban areas. Independent samples will be selected from each stratum allowing strata-level estimates to be compared after the survey. While some gridded population datasets provide estimates of population by age-group and sex [25, 52, 53] or household poverty level [54, 55], GridSample does not currently include a mechanism for non-geographic stratification, though the user could, in principal, sample from gridded population datasets of social-demographic groups.
To generate a geographically stratified sample in GridSample, the user defines strata boundaries with strata_raster, and specifies the sample size per stratum with cfg_hh_per_stratum. This means that if the national sample size is 10,000 households from 5 provinces, then cfg_hh_per_stratum == 2000. If the survey were additionally stratified by urban/rural such that there are 10,000 households sampled from 10 strata, then strata_raster should include the boundaries of both urban/rural areas and provinces, and cfg_hh_per_stratum == 1000.
GridSample: urban/rural oversampling
If urban/rural populations are not stratified, they may instead be treated as sub-domains. Sub-domains represent important sub-populations for which representative statistics are generated from the survey data, and thus each sub-domain should meet the minimum stratum sample size requirement (cfg_hh_per_stratum). If either the urban or rural sub-domain does not include enough households, then the algorithm uses the ordered data frame to choose the next cell from the under-represented sub-domain (from any strata) and swaps out an already selected seed cell of the opposite sub-domain within that stratum. This process repeats until the sample size requirement is met in each sub-domain (cfg_hh_per_stratum). To implement sub-domain representation in gs_sample, set cfg_sample_rururb == 1 and define urban/rural boundaries (urban_raster).
In practice, rural areas may be more difficult and expensive to visit, and thus a greater number of households might be sampled from rural PSUs than urban PSUs. This is why the user may specify different numbers of households to be sampled from urban PSUs (cfg_hh_per_urban) and rural PSUs (cfg_hh_per_rural). If the same number of households will be sampled from all PSUs, then the user only needs to specify households to be sampled from urban PSUs (cfg_hh_per_urban).
GridSample: spatial oversampling and other features
Oversampling in space is analogous to oversampling urban/rural sub-domains. To select a sample that is both representative of the population and of space in GridSample, set cfg_sample_spatial == 1 and specify the spatial scale (in square kilometers) at which the sample should be representative (cfg_sample_spatial_scale). For example, cfg_sample_spatial_scale == 20 means that a coarse grid system with cells 20 km × 20 km will be overlaid on the study area. If a coarse grid cell does not contain a PSU seed cell, then the first cell within the serpentine ordered data frame located inside the course cell will be selected, and another seed cell from the same stratum and sub-domain will be randomly dropped. To overcome the issue of slightly smaller grid cells toward the poles, GridSample calculates the area of the centroid (geographic center) grid cell in the study area, and uses that average grid cell size to generate the coarse grid with the correct dimensions.
The spatial scale of the survey is ideally linked to the scale of planned small area estimates. For example, if the sample is stratified by province (level 1 administrate units), and small area estimates will later be generated for districts (level 2 administrative units), then the median size of districts could be used. Determining an appropriate spatial scale may take trial and error. If the country has large areas of sparse population, the user might need to (a) increase the size of the spatial scale (cfg_sample_spatial_scale), or (b) force the algorithm to generate more PSUs in each stratum by increasing the sample size per stratum (cfg_hh_per_stratum) and/or reduce the number of households sampled in each PSU (cfg_hh_per_urban and cfg_hh_per_rural).
GridSample offers several additional parameters. (1) The user can input a 100 m × 100 m gridded population dataset, and then aggregate cells for the sample frame (e.g. 300 m × 300 m sample frame cells would be generated by setting cfg_desired_cell_size = 3). Aggregating gridded population estimates usually increases the accuracy of each grid cell. Note that guidance regarding the ideal cell size of gridded population sample frames is not yet available. Other parameters include: (2) minimum population per cell (cfg_min_pop_per_cell) which will exclude grid cells from the sample frame with less than the specified minimum population, (3) maximum area of the PSU in squared kilometers (cfg_max_psu_size) to ensure that PSUs can be feasibly enumerated during fieldwork, (4) random number value (cfg_random_number) to reproduce a previous gridded population sample, and (5) halt the PSU growth process (cfg_psu_growth = FALSE) discussed in detail below.
Discussion
Gridded population sampling methods are in their infancy. Several approaches to first-stage sample selection and to fieldwork have been tried. These approaches are promising but have limitations and require further research. The GridSample R algorithm provides a tool to develop and evaluate emerging gridded population sampling methods.
Conclusions
The GridSample R package facilitates further research into the promising field of gridded population sampling. Gridded population sampling is an attractive alternative to typical sampling methods when census data are outdated or inaccurate. GridSample supports standard complex survey designs including clustered sampling, stratification, and oversampling in urban or rural areas. GridSample additionally allows users to oversample in space, and to specify a desired population size of sampling units. We show that GridSample can be used to replicate a DHS in Rwanda, providing evidence of a similar number of primary sampling units with similar population sizes in urban and rural areas. We also summarize four ways in which gridded population samples have been implemented in the field, and provide sample weight calculations for GridSample output. Finally, we discuss several areas of current and future research into gridded population sampling which can benefit from this tool.
Abbreviations
CRAN:

Comprehensive R Archive Network
DHS:

Demographic and Health Survey
EA:

Enumeration area
GHSL:

Global Human Settlement Layer
GPW:

Gridded Population of the World
GRUMP:

Global Rural–Urban Mapping Project
GUF:

Global Urban Footprint
LSMS:

Living Standards Measurement Survey
MAUP:

modifiable areal unit problem
MICS:

Multiple Indicator Cluster Survey
PPES:

probability proportionate to estimated size
PSU:

primary sampling unit
SDG:

sustainable development goals
SSU:

secondary sampling unit
UNEP:

United Nations Environment Programme
Declarations
Authors' contributions
DRT drafted the user requirements, conceptualized the first part of the GridSample algorithm related to PSU selection, tested the software, and wrote the first draft of the manuscript. FRS conceptualized the second part of the GridSample algorithm related to PSU growth and wrote the first draft of the R code. NWR refined the code and added to it conceptually, for example, by introducing voronoi polygons to ensure contiguous, non-overlapping PSUs. AJT facilitated team introductions, provided key technical guidance during the algorithm development, and contributed extensive revisions to the manuscript. MCC provided key practitioner guidance during the algorithm development, and contributed extensive revisions to the manuscript. All authors read and approved the final manuscript.
Acknowledgements
Special thanks to Tomas Bird, Nikos Tzavidis, Shoaib Ali, Alesandro Sorichetta, Dale Rhoda, and Kristen Himelein who all provided helpful insights about sample weight calculations and spatial sampling. We also thank the two anonymous reviewers who asked questions and gave input that improved this manuscript.
Competing interests
The authors declare that they have no competing interests.
Availability of data and materials
The input data used in this analysis is available with the GridSample R package: Thomson DR, Ruktanonchai NW, Stevens FR, Castro M, Tatem AJ. 2017. gridsample: Tools for Grid-Based Survey Sampling Design. R package version 0.1.2. https://CRAN.R-project.org/package=gridsample. The output dataset from the GridSample R package is available online: Thomson DR. 2017. GridSample output: 2010 Rwanda DHS. Harvard Dataverse. http://dx.doi.org/10.7910/DVN/MSCJOD.
Funding
This work is supported by funding from the Bill & Melinda Gates Foundation (OPP1106427). DRT is supported by funding from the UK Economic and Social Research Council (Grant Number ES/J500161/1). FRS is supported by funding from the Bill and Melinda Gates Foundation (OPP1134076) with initial development supported by the National Science Foundation (0801544). NWR is supported by funding from Clinton Health Access Initiative. AJT is supported by funding from NIH/NIAID (U19AI089674), the Bill and Melinda Gates Foundation (OPP1106427, 1032350, OPP1134076, OPP1094793), the Clinton Health Access Initiative (which supports NR), National Institutes of Health, and a Wellcome Trust Sustaining Health Grant (106866/Z/15/Z). MCC thanks the support from the Department of Global Health and Population. The funders had no role in study design, data collection and analysis, decision to publish, and preparation of the manuscript.
Publisher's Note
Springer Nature remains neutral with regard to jurisdictional claims in published maps and institutional affiliations.
Open AccessThis article is distributed under the terms of the Creative Commons Attribution 4.0 International License (http://creativecommons.org/licenses/by/4.0/), which permits unrestricted use, distribution, and reproduction in any medium, provided you give appropriate credit to the original author(s) and the source, provide a link to the Creative Commons license, and indicate if changes were made. The Creative Commons Public Domain Dedication waiver (http://creativecommons.org/publicdomain/zero/1.0/) applies to the data made available in this article, unless otherwise stated.
Authors' Affiliations
(1)
Department of Social Statistics and Demography, University of Southampton, Southampton, UK
(2)
WorldPop, Department of Geography and Environment, University of Southampton, Southampton, UK
(3)
Flowminder Foundation, Stockholm, Sweden
(4)
Department of Geography and Geosciences, University of Louisville, Louisville, USA
(5)
Department of Global Health and Population, Harvard T.H. Chan School of Public Health, Boston, USA