Including the urban heat island in spatial heat health risk assessment strategies: a case study for Birmingham, UK
International Journal of Health Geographics
2011
10:42
Received: 17 March 2011
Accepted: 17 June 2011
Published: 17 June 2011
Abstract
Background
Heatwaves present a significant health risk and the hazard is likely to escalate with the increased future temperatures presently predicted by climate change models. The impact of heatwaves is often felt strongest in towns and cities where populations are concentrated and where the climate is often unintentionally modified to produce an urban heat island effect; where urban areas can be significantly warmer than surrounding rural areas. The purpose of this interdisciplinary study is to integrate remotely sensed urban heat island data alongside commercial social segmentation data via a spatial risk assessment methodology in order to highlight potential heat health risk areas and build the foundations for a climate change risk assessment. This paper uses the city of Birmingham, UK as a case study area.
Results
When looking at vulnerable sections of the population, the analysis identifies a concentration of "very high" risk areas within the city centre, and a number of pockets of "high risk" areas scattered throughout the conurbation. Further analysis looks at household level data which yields a complicated picture with a considerable range of vulnerabilities at a neighbourhood scale.
Conclusions
The results illustrate that a concentration of "very high" risk people live within the urban heat island, and this should be taken into account by urban planners and city centre environmental managers when considering climate change adaptation strategies or heatwave alert schemes. The methodology has been designed to be transparent and to make use of powerful and readily available datasets so that it can be easily replicated in other urban areas.
Keywords
Urban Heat Island
UHI
Birmingham
Experian
Heat Risk
Spatial Risk Assessment
GIS
Remote Sensing
MODIS
Background
The aim of this paper is to integrate remotely sensed urban heat island data alongside commercial social segmentation data through a spatial risk assessment methodology in order to highlight potential heat health risk areas. This will build the foundations for a climate change risk assessment using the city of Birmingham, UK as a case study area.
Heat Risk and Urban Areas
There is a growing recognition in the fields of bio-meteorology, epidemiology, climatology and environmental health that heat risk in urban areas is a problem, with literature considering cities in Europe [1], the USA [2, 3], Australia [4] and Asia [5, 6]. Elevated temperatures cause increased human mortality [7] which is exacerbated in heatwaves resulting in excess deaths. A number of examples are available in the literature such as in the 1995 UK heatwave [8], the 1995 Chicago heatwave [9] or the 2003 European heatwave [10] which affected France [11–14], England [15, 16], the Netherlands [17], Portugal [18] and Spain [19]. There is growing evidence that the intensity, frequency and duration of heatwaves is likely to increase in the future [20]. This is prompting increased research into heat health risk projections [21, 22], often as part of the broader remit concerning climate change and health [23–26].
The urban heat island (UHI) is a well documented phenomenon [27, 28] that results in a conurbation being warmer than the surrounding rural areas. It is an example of an unintentional modification of the local climate and is principally caused by alterations to the energy balance influenced by variations of landuse, surface properties (e.g. surface roughness, albedo, emissivity) and geometry of the of the urban area [29, 30]. Increased population in the city also promotes warming from anthropogenic heat release [31]. Hence, those that live in inner city areas are subsequently exposed to the UHI effect and can therefore be under increased heat health risk [2, 8, 32]. However, previous spatial risk assessment studies generally don't include the UHI [33]. With rates of urbanisation continuing to increase (the United Nations [34] predicting that population growth to 2050 will be absorbed exclusively in urban areas), the need for detailed heat risk assessments is paramount. Although this is an emerging research area [35, 36], existing climate change work does not include a UHI component [37, 38], despite it having a considerable influence on the mesoscale climate. Some work has been done to integrate the UHI within the United Kingdom Climate Projections 2009 (UKCP09) [39], but this is at a much larger scale than this paper considers. The result is a present need to integrate climate change projections with UHI data via a piecemeal methodology. Recent work utilising remote sensing techniques [40, 41] has allowed the spatial extent of the UHI to be measured at a higher resolution than previously, and this paper focuses on using this data for heat health risk studies.
Vulnerable Sections of the Population
There is evidence to suggest there are upper limits to human adaptation to temperature [
42
], which makes the consequences of increased temperatures important to understand. Although defining human thresholds for heat risk has many problems [
43
], it is possible to identify vulnerable groups (Table
1
). High population density has been shown to correlate with areas of higher temperatures [
44
], and is to be expected given that high population density is often within inner city areas that are also impacted by the UHI. With specific reference to heat health risk, multiple studies have shown that increased population density results in increased risk [
45
–
47
]. Therefore it is reasonable to include people living in areas of high population density as vulnerable to heat risk.
The elderly population has a relatively high percentage of illness and disability which increases their vulnerability [48]. Older, frail individuals are thought to have a lower tolerance to extremes of heat [49], and compounding factors, such as lack of mobility, further increase vulnerability [50]. This has been illustrated in the literature by studies in Switzerland [51], Italy [52], the Netherlands [53], Spain [54], Italy [55] and Latin America [56]. Within the UK, academic research [57] and the national Department of Health [32] recognise that the elderly are vulnerable to heat.
Another vulnerable group can be defined as those in "ill health". This includes those with pre-existing illness or impaired health, which could be physical or mental [58, 59]. Known medical problems and those unable to care for themselves or with limited mobility are at increased risk [3, 9, 55], and diseases mentioned specifically include respiratory, cardiovascular and the nervous system [11].
People living on the top floor of flats or high rise buildings have also been found to have increased heat risk, with studies in Chicago in both 1995 [9] and 1999 [59] having similar results, finding that those living on higher floors were subject to increased risk. Within the UK, those in south facing top floor flats are classed as "high risk" by the Department of Health [32]. The reasons for this increased risk include the build up of temperatures in larger and taller buildings, and the increased exposure to incoming solar radiation resulting in higher temperatures.
Finally, young children are another group that could be at risk, with studies in Australia [60], America [61] and the UK [62] outlining the vulnerability of the very young. However, in this paper children have not been included because of the difficulties in locating detailed data (a consequence of the requirement to target parents or guardians in order to communicate). An effective way to reduce this research gap could be to target schools and embed heat risk education where appropriate.
Spatial Risk Assessment Methodologies
The use of Geographical Information Systems (GIS) for spatial risk assessment work is a growing field, and covers a diverse range of hazards. These include various environmental hazards [63, 64], flooding and geological hazards [65], technological hazard [66], hurricanes [67], fuel poverty [68] and many more. Work exploring spatial heat risk has so far been limited, but includes work in Australia [69], Canada [70] and the United States [71]. However the work that is most closely related to this paper is that of the field of climate change adaptation in the UK [33, 72, 73].
A critique of risk assessment methods in relation to climate change [74] details how problematic the process can be. However, given the increasing demand for "evidence based decisions" within governance, a form of risk assessment framework is required. The Adaptation Strategies for Climate Change in the Urban Environment (ASCCUE) project (more details available at http://www.sed.manchester.ac.uk/research/cure/research/asccue/) developed a risk assessment methodology based on "Crichton's Risk Triangle" [75]. This has been utilised in the UK as part of a broader methodology to assess flood hazard at both a neighbourhood and conurbation scale [65, 73] and to assess heat risk in relation to climate change [33, 72]. This paper builds on the methodologies developed in these papers and adds some important developments. In particular, this paper focuses on the impact of the UHI as well as developing objective methods that can easily be replicated nationally.
Results and Discussion
When interpreting the results it is important to note that when generalising at the LSOA scale, some data will be masked in a small number of cases. For example, the Sutton Park area in the north of the city that contains the actual park has to be extended to include an area with approximately 1,500 people in order to match the LSOA geography. As this LSOA is physically one of the biggest by area within Birmingham, maps can look skewed.
Spatial Trend between the UHI and Exposed and Vulnerable
Conversely when looking at flats, there is a significant concentration in the city centre, a result of high land costs forcing the development of high rise flats. This property type is unappealing for the majority of elderly people, given the difficulties of access (e.g. stairs/lifts) and greater noise levels. Away from the centre, there are other LSOA's with high levels of flats, including small numbers in the north, and even less in the south. For example, clusters can be found in student areas, such as the high rise student housing located on Birmingham City University campus (Area Z, Figure 5).
There is less of a visible range when looking at density (detailed in HH per km2). Again, the highest density LSOA's are located in the city centre, extending north westwards into areas renowned for having a high immigrant population. Conversely, density reduces heading south from the city. For example, Edgbaston (Area Y, Figure 5) is an affluent area that also includes the University of Birmingham, Edgbaston golf course and other land uses not associated with households. The north east quarter of the city centre (Area N, Figure 5) is also low density, and is an area traditionally associated with industry. However, the overall density levels across the city are generally similar, with local variations between LSOA's dependent on the presence of greenspace (which increase the size of the LSOA area but not numbers of HH).
Finally, significant concentrations in the spatial pattern of people with ill health exist. This is particularly evident across the city centre and in a belt north east of the city centre and towards the cities eastern edge. Pockets are also visible in the south, after noticeable lows in the affluent area of Edgbaston and the transient student population of Selly Oak (Area S, Figure 5), who are unlikely to stay in the same place long enough for reliable health statistics to be compiled.
The Final Risk Layer
Figure
7
shows that the majority of the "very high" risk LSOA's are grouped together in the city centre. It is here where the highest temperatures are experienced as well as the highest number of ill people, number of flats and density. However, additional pockets of "very high" risk also exist and these require additional explanation. As already discussed, a high concentration of flats increases the density of a LSOA. Outside of the city centre, these flats are frequently high rise social housing that is often associated with increased illness in the poorer sections of communities. A typical "high risk" pocket has significant high rise social housing which increases the density, scores highly for flat and often for illness as well.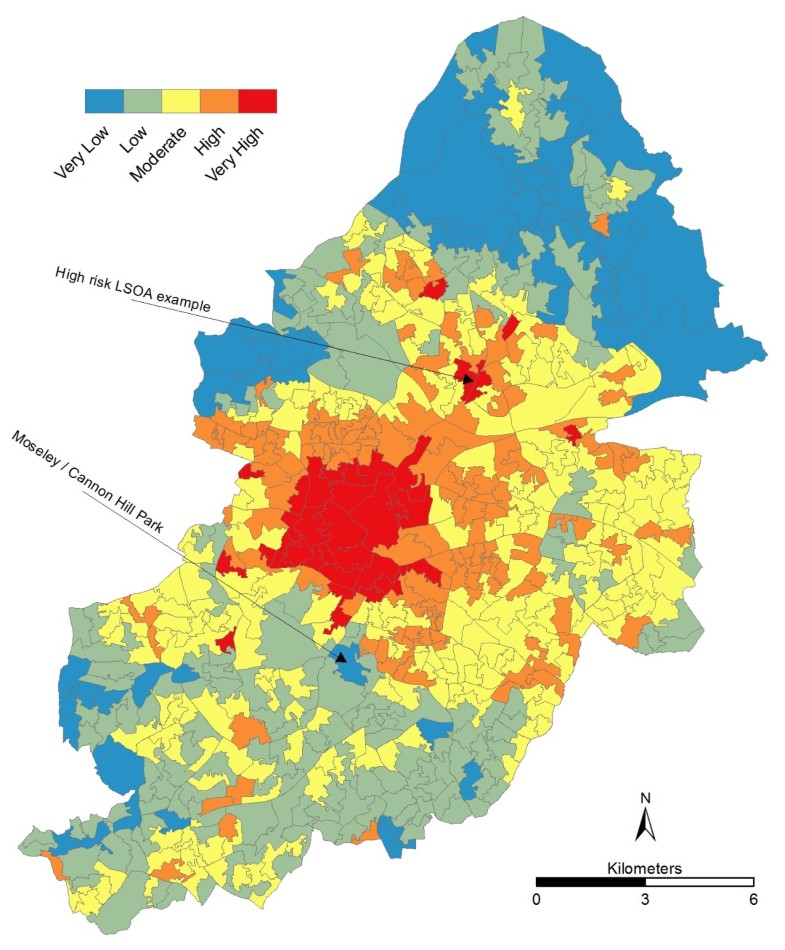 The lowest risk areas are found in the north west (Sutton Park area) and north east of the city. This is explained by the low and very low UHI risk coupled with very low "exposed and vulnerable" populations. An anomaly of this area is that it actually has the highest concentration of elderly people, but they are less vulnerable to heat due to their distance from the city centre. Other very low risk areas are evident west of the city centre and scattered south of the city centre. In general these are heavily linked to greenspace; which has the dual effect of ameliorating the UHI and reducing the number of people living in an area. Indeed, a more explicit look at the distribution of greenspace within the conurbation could be useful (e.g. using surface cover analysis [92] or energy exchange models [93]), given the benefits of reducing the UHI [94] and improving health inequalities [95].
Household Level
A strength of the methodology detailed in this paper is that once the risk areas have been identified, a subsequent detailed analysis down to HH level can be conducted. Such high resolution work within urban areas is a logical development of previous broader scale work, such as the province wide analysis carried out in Quebec, Canada [
70
]. A GIS was used to identify 37,477 HH's (or ~8.76% of 427,914) that fall within the "very high" risk LSOA's (33 out of 641). These HH's can then be profiled using Mosaic type (Figure
8
), which illustrates the vast majority are either 47 (Deprived view) or 64 (Bright young things), accounting for ~7,000 HH each. This illustrates a clear divide within the "very high" risk area which is only able to be explored by having access to high resolution underlying datasets such as Mosaic. Type 47 are "poor people who live in high rise blocks of socially owned housing...many have disabilities...characterised by extreme poverty". Type 64 are "well educated young high flyers...live in smart inner city areas...mostly modern, purpose built or converted apartments". Despite living in broadly the same area, the populations are generally separated (Figure
9
) and are at polarised levels of heat risk. Type 64 typically live in new apartments located within the inner city. These dwellings may have good insulation, air conditioning or even passive cooling. This is a contrast to type 47, who live in older, social apartments located in less desirable areas surrounding the urban core. Unlike type 64, this group is unlikely to have the finances available to make themselves comfortable or safe.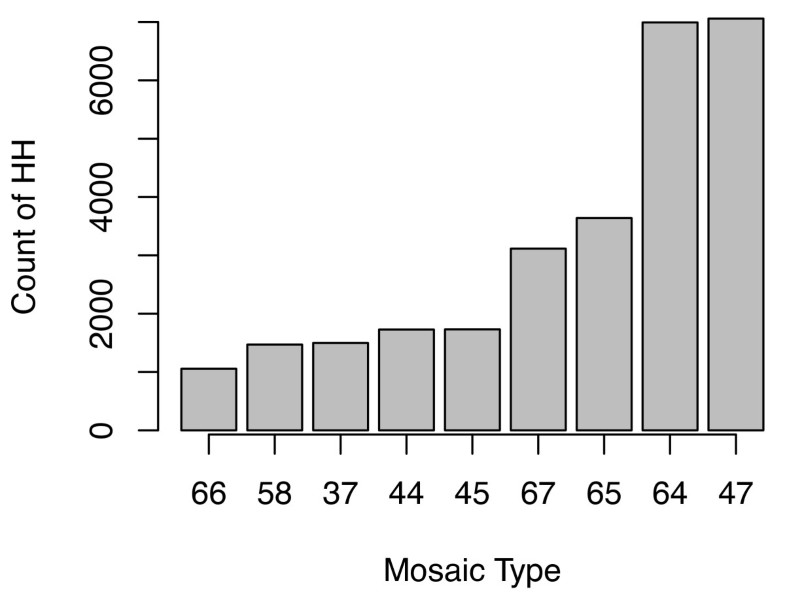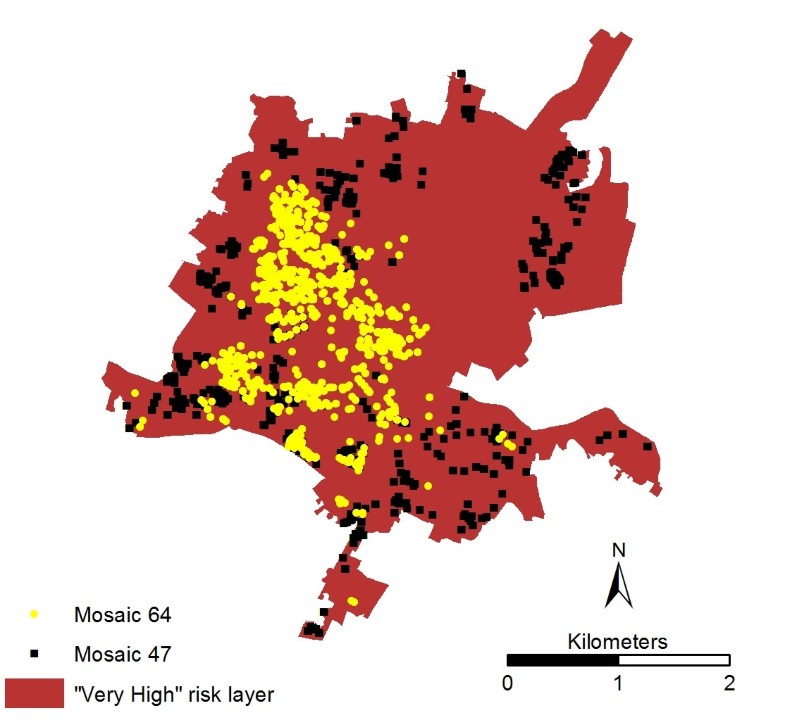 Conclusions
This study has illustrated a simple methodology for quantifying risk, through a process where each stage can clearly be explained and understood. It offers suggestions for the output to be customised, for example with different weightings or replacement with different hazards or risk groups as appropriate. This work offers the foundations for a spatial decision support tool that could be linked to climate change and projection models in order to consider climate change adaptation with a focus on heat health risks. Indeed, such data is potentially of great use to local authorities and health agencies when deciding on targeted campaigns.
The highest vulnerability is shown to exist in the inner city areas. This result agrees with similar work done in the USA [45, 71] and is a direct consequence of the increased temperatures associated with the UHI in this area. Furthermore, many of the root causes of the UHI (for example lack of greenspace, high anthropogenic heat output, significant built form) can be linked to vulnerable groups and therefore a feedback loop is created.
The simplicity of the methodology could be significantly refined through further research. For example, throughout this paper no explicit temperature values have been mentioned. This is deliberate as the focus has been the spatial identification of risk groups. This paper assumes that a single day "snapshot" of UHI data is representative of varying conditions, but an alternative heat hazard layer could be developed using outputs from UHI models, which would allow for flexibility when considering varying conditions.
A significant research gap in this paper is the verification of the results, for example against health and mortality records in association with previous heat events (e.g. heatwave events in 2003 or 2006). This is the focus of ongoing work, but the data is presently not available at both a high temporal and spatial scale, which would be required in order to test for links at LSOA level. The data that is available is of limited utility as it is hard to quantify heat related health issues or mortality with any degree of certainty, and records have unreliable spatial attributes; in that they may relate to a patients home or to the hospital, and significant distances may be present between these. Hospital discharge data could potentially help quantify heat-related health admissions, although again the utility may be restricted due to small datasets and restricted availability.
In summary, the methods shown offer a repeatable methodology that can be utilised in many countries. This is made possible by the flexibility of a GIS based approach, the worldwide availability of the MODIS satellite data and the significant coverage of Experian's segmentation data throughout the developed world.
List of Abbreviations
ASCCUE:

Adaptation Strategies for Climate Change in the Urban Environment
GIS:

Geographical Information System
HDI:

Hazard Density Index
HH:

Household
LSOA:

Lower layer Super Output Area
MODIS:

MODerate resolution Imaging Spectroradiometer
MSOA:

Middle layer Super Output Area
UHI:

Urban Heat Island
UKCP09:

United Kingdom Climate Projections 2009
UMT:

Urban Morphology Type.
Declarations
Acknowledgements
This research has been funded by a Doctoral Training Award issued by the Engineering and Physical Sciences Research Council and supported by Birmingham City Council. It would not have been possible without demographic data from Experian and satellite data from NASA. Experian data is available direct from Experian (http://www.experian.co.uk/). The satellite data is distributed by the Land Processes Distributed Active Archive Center (LP DAAC), located at the U.S. Geological Survey (USGS) Earth Resources Observation and Science (EROS) Center (lpdaac.usgs.gov).
Authors' Affiliations
(1)
School of Civil Engineering, University of Birmingham, Edgbaston, Birmingham, UK
(2)
School of Geography, Earth and Environmental Sciences, University of Birmingham, Edgbaston, Birmingham, UK
Copyright
© Tomlinson et al; licensee BioMed Central Ltd. 2011
This article is published under license to BioMed Central Ltd. This is an Open Access article distributed under the terms of the Creative Commons Attribution License (http://creativecommons.org/licenses/by/2.0), which permits unrestricted use, distribution, and reproduction in any medium, provided the original work is properly cited.