Identifying candidate sites for crop biofortification in Latin America: case studies in Colombia, Nicaragua and Bolivia
International Journal of Health Geographics
2009
8:29
Received: 02 March 2009
Accepted: 19 May 2009
Published: 19 May 2009
Abstract
Background
Agricultural science can address a population's vitamin, amino acid and mineral malnutrition through biofortification - agronomy, plant breeding and biotechnology to develop crops with high nutrient contents. Biofortified crop varieties should be grown in areas with populations at risk of nutrient deficiency and in areas where the same crop is already grown and consumed. Information on the population at risk of nutrient deficiency is rarely available for sub-national administrative units, such as provinces, districts, and municipalities. Nor is this type of information commonly analyzed with data on agricultural production. This project developed a method to identify populations at risk of nutrient deficiency in zones with high crop production, places where biofortification interventions could be targeted.
Results
Nutrient deficiency risk data were combined with crop production and socioeconomic data to assess the suitability of establishing an intervention. Our analysis developed maps of candidate sites for biofortification interventions for nine countries in Latin America and the Caribbean. Results for Colombia, Nicaragua, and Bolivia are presented in this paper. Interventions in northern Colombia appear promising for all crops, while sites for bean biofortification are widely scattered throughout the country. The most promising sites in Nicaragua are found in the center-north region. Candidate sites for biofortification in Bolivia are found in the central part of the country, in the Andes Mountains. The availability and resolution of data limits the analysis. Some areas show opportunities for biofortification of several crops, taking advantage of their spatial coincidence. Results from this analysis should be confirmed by experts or through field visits.
Conclusion
This study demonstrates a method for identifying candidate sites for biofortification interventions. The method evaluates populations at risk of nutrient deficiencies for sub-national administrative regions, and provides a reasonable alternative to more costly, information-intensive approaches.
Keywords
Sweet Potato
Nutrient Deficiency
Candidate Site
Cassava Production
Weighted Overlay
Background
The most common strategies to address vitamin, amino acid and mineral deficiencies are diet diversification, supplementation and fortification. A relatively new strategy – biofortification – is the improvement of agronomic characteristics and the nutritional content of crops through agronomy, plant breeding and biotechnology [1]. Biofortification can be achieved through agronomic or genetic approaches [2].
Agronomic strategies to biofortify crops include fertilizer and soil management to increase the amount of nutrients available for absorption by the plant. While these soil management strategies have proved successful in many cases [2], the present study seeks to identify locations where new crop varieties, developed through plant breeding or biotechnology, can be grown in areas with populations at risk of micronutrient deficiency. Global or regional initiatives to develop soil management strategies for biofortification have not yet been widely implemented. Moreover, populations suffering from micronutrient deficiencies are less likely to be able to afford fertilizers needed to implement soil management strategies for biofortification. For these reasons, this paper and our use of the term "biofortification" refer to plant breeding or biotechnology, to improve the nutrient content of crop varieties.
Biofortification through plant breeding takes advantage of the natural genetic diversity of crops, genetically crossing different varieties of a crop to develop new cultivars with higher levels of desired nutrients. These new varieties can be disseminated to farmers in areas where nutrient-dense crops could address problems of nutrient deficiency and malnutrition. Several studies have shown that biofortification can improve nutritional status and that it is economically viable [3–6]. Major international programs [7, 8] have been initiated to breed crops with higher levels of iron, zinc, Vitamin A, and the precursors to protein tryptophan and lysine (hereafter referred to as "amino acid"). These nutrients are also the focus of this paper.
Biofortified crop varieties should be disseminated and used in places where nutrient deficiency is a problem and where the crops of interest are being produced and consumed in sufficient quantity to achieve impact. If these conditions are not met, then investments in biofortified crops will fail to reach the intended beneficiaries. A growing body of research has demonstrated the benefits of geographic targeting for poverty reduction and improving nutrition [9–11]. Thus, the targeting of interventions is an important problem that any nutritional initiative must address.
Our analysis combines agricultural, nutritional, and socioeconomic information to assess candidate sites for iron, zinc, vitamin A and amino acid biofortification in nine countries of Latin America and the Caribbean. Results for three of the countries are presented here. Results for the remaining countries can be accessed on the Web Site:Identificación de Sitios Candidatos para la Biofortificación de Cultivos en Latinoamérica y El Caribe [12]. Candidate sites for biofortification interventions are found in areas where high prevalence of nutritional risks, high production and consumption of target staple crops, and high risk of poverty converge. This analysis is a preliminary step, before more detailed research on the candidate sites can determine their potential for impact.
Methods
The analysis first employed a procedure to prioritize indicators of nutrient deficiency risk. Next, weighted overlay was used to generate scores indicating the degree of confluence of factors important for biofortification. Data were collected to reflect the demand for nutrition interventions and the presence of the staple crops that are the current focus of biofortification research to improve nutrient content. The method assigned scores to the collected variables that are relevant to targeting biofortification interventions. The variables were weighted according to their importance to the result. The scores were then summed at the pixel level to provide the final result map. The following sections describe the data collected and the weighted overlay procedure.
Results
Colombia
All departments in Colombia have either moderate or high risks of iron deficiency as indicated by hemoglobin levels surveyed in the Demographic and Health Survey [21] (Figure 3a). A group of departments in the north has high risks of iron deficiency. The map of stunted children shows a group of four departments with moderate levels of nutrient deficiency risk (Figure 3b). The federal district has high risk of nutrient deficiency as indicated by stunted children.
Nicaragua
Nicaraguans consume large quantities of maize and beans, moderate quantities of rice, and modest amounts of cassava or sweet potato. Nicaragua neither imports nor exports large volumes of maize, beans, rice, and cassava [19]. Thus, consumption of biofortified varieties of these crops – mostly grown within the country – would be likely to reach the intended beneficiaries.
Bolivia
Maize is the most important crop of those that are the target of biofortification initiatives in Bolivia (Figure
11
). Rice and cassava production are important in Santa Cruz department. Bean production is overwhelmingly concentrated in Santa Cruz, with much of it for export [
22
]. Santa Cruz department is Bolivia's most important in the context of agricultural production.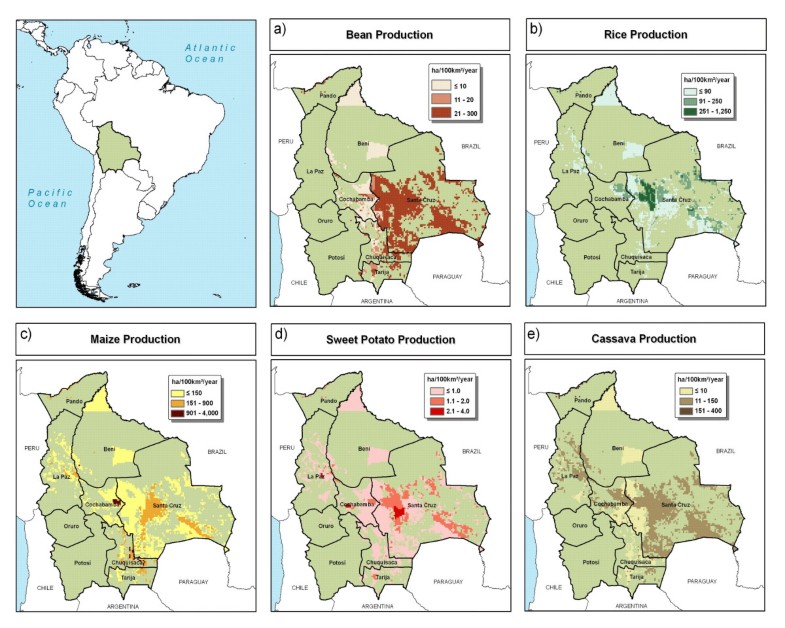 Indicators of risk of nutrient deficiency are moderate, high, or very high throughout Bolivia (Figure
12
). Both anemia and stunting indicators suggest the poorest conditions in the western, Andean part of the country. Poverty intensity is higher in the west as well. Crop production and risk of deficiencies do not neatly coincide. While Santa Cruz has comparatively lower risk factors for nutrient deficiencies, its high crop production could make it a focus of biofortification to address nutrient deficiencies, even though they are less severe compared to other countries. The Santa Cruz department could also be the source of biofortified foods for the rest of the country, to the extent that it serves as a breadbasket region.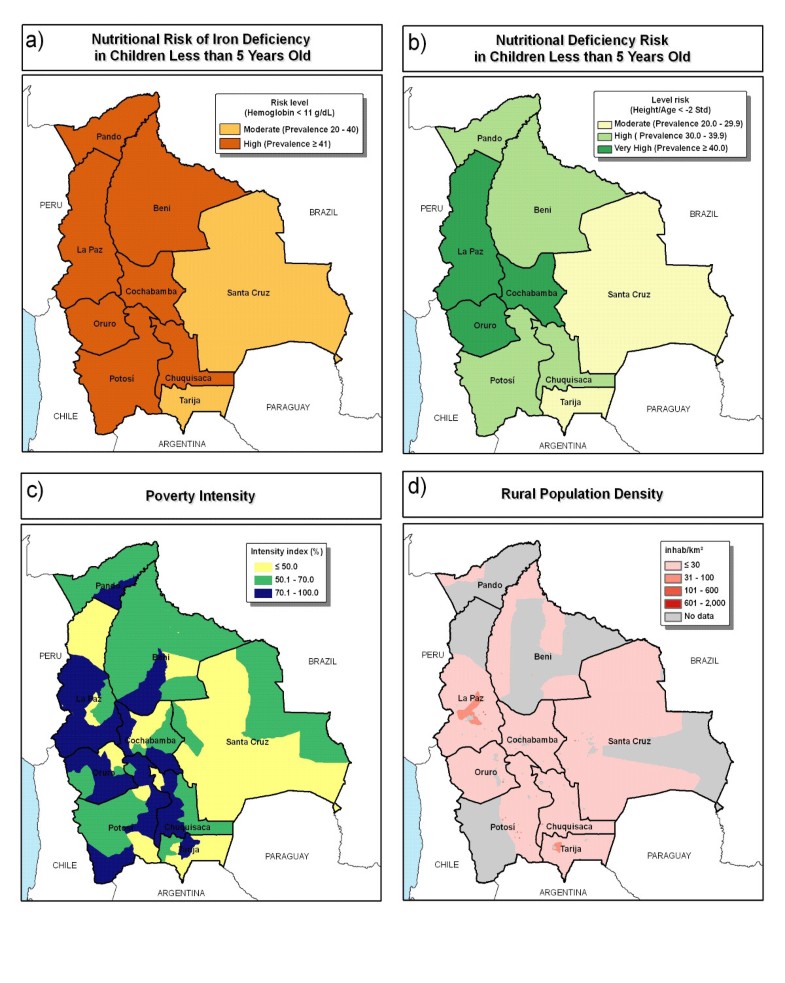 Four departments could be strong foci for biofortification in Bolivia – La Paz, Cochabamba, Chuquisaca, and Santa Cruz (Figures
13
and
14
). The focus area could extend from the central part of La Paz department towards the southeast near the border with Paraguay. The result maps showed Santa Cruz to be of less interest, mostly due to the relatively lower levels of nutrient deficiency risk. However, Santa Cruz is the most important agricultural region of Bolivia, with good potential for the adoption of biofortified crops.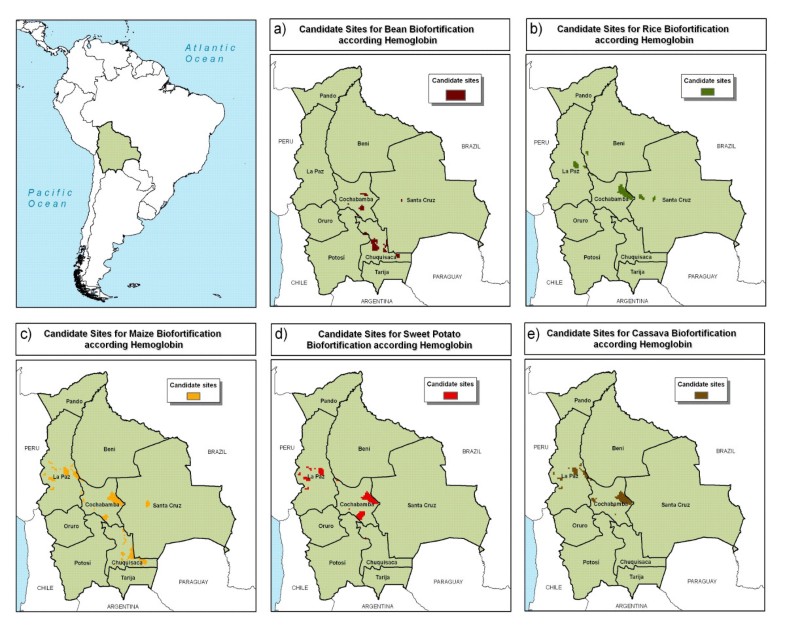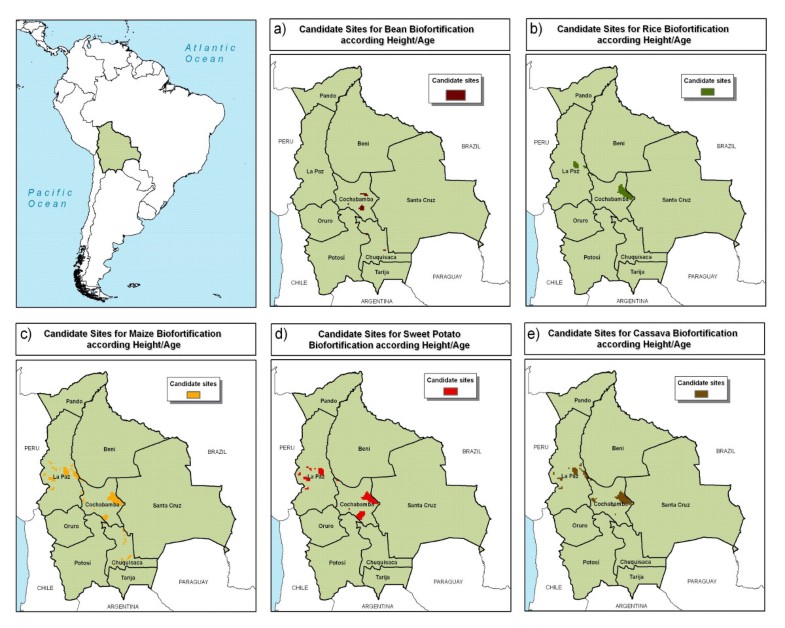 Discussion
This study revealed candidate sites for biofortification interventions in Latin America. Data availability, scale problems, and issues specifically related to biofortification need to be addressed to improve the capacity to identify the best sites for disseminating nutrient-dense crop varieties in the region. The following discussion addresses some of these issues.
This research demonstrated that data limitations for geographic targeting of nutrition interventions can be overcome. However, our data collection effort has shown that simply better information could improve geographic targeting of interventions. Very few surveys provide biochemical data on nutrient status. In the three examples described above, two of the countries had hemoglobin data, and none of them had biochemical information indicating risk of zinc, amino acids, or vitamin A deficiency. Anthropometric measures of childhood nutrition are more widely available, but even these can be outdated, depending on the frequency of surveys carried out.
The varying resolution of input data for this geographic targeting exercise reduces its usefulness to some degree. Users of the analysis should be aware of these scale-related problems. The "ecological fallacy" especially limits the analysis when department level data is used [23, 24]. The level of nutritional deficiency risk reported for a department may be very high in some parts of the administrative unit and very low in others. For this reason, the results reported here should only be used after consultation with experts who know the situation in a country, or after on-the-ground verification of conditions.
Geographic targeting based on identification of the most severe problem areas is sometimes inappropriate because nutrient deficiency risks may be uniformly severe throughout a country. For example, the level of stunting among children less than 5 years of age is very high in every department of Guatemala [25]. Several other countries only have two categories of deficiency risk. Where nutrition problems are severe everywhere, agricultural considerations such as potential for adoption and level of production should take precedence. In other cases, areas with severe nutritional problems could be served by other interventions aimed at reducing nutrient deficiency, such as supplementation or diet diversification programs. Again, Bolivia provides an example. The department with comparatively less deficiencies – Santa Cruz – may have the greatest potential for biofortification interventions. Even though this department is relatively less poor, moderate nutrient deficiencies are present.
An additional benefit of geographic targeting can be realized by looking for opportunities where more than one crop can be biofortified in a particular region. Programs promoting biofortified crops can realize marginal returns from setting up initiatives for several crops in the same region. These benefits can improve the efficiency of testing biofortified varieties and disseminating them. Ideally, the population of a given place would consume more than one biofortified food. For example, Córdoba department in Colombia could benefit from improved rice, beans, maize, cassava, and sweet potato for supplying diets with higher levels of iron, zinc, tryptophan and lysine (precursors to protein) and vitamin A.
Expert opinion should be used to guide any targeting exercise, thus addressing the data and analysis limitations discussed above. We solicited comments on the results of the weighted overlays from our network of collaborators. There was general agreement about the location of candidate sites for biofortification. Comments tended to focus on contextual conditions for which the analysis could not account. For example, some regions produce crops for export or for animal feed. Others produce crops for urban markets where nutrient deficiency problems may be insubstantial. In other cases, cultural conditions may hinder implementation of biofortification interventions. For example, the people of a region may be accustomed to consuming white-fleshed sweet potatoes – not the high Vitamin A orange-fleshed varieties. Reviews and comments from experts are essential for targeting biofortification interventions.
The data sets and methods described in this paper are oriented towards the current status of information available to conduct a multi-country assessment. Recently, new methods have been applied to create high-resolution nutrition deficiency maps [26]. One such method – called small area estimation – relies on both national censuses and representative household surveys. Using sophisticated statistical analysis, a nutrition risk variable in a household survey, such as height for age, is mapped onto the census geography to create maps at the 2nd administrative level. We are aware of five implementations of this method for mapping malnutrition – in Panama, Dominican Republic, Ecuador, Cambodia, and Bangladesh [27–31]. Until this method is validated and more widely applied, the approach described in this paper provides a low cost alternative for identifying sites for crop biofortification.
Conclusion
This study demonstrates a method for identifying candidate sites for biofortification interventions. The method uses available secondary data at the finest common spatial resolution currently possible. The study and accompanying data can be used for identifying populations at risk of nutrient deficiencies. It allows designers of large regional nutrition interventions to recognize localities that merit further consideration for inclusion in programs to reduce nutrient deficiency. The research combines agricultural production and health information to support decision-making and program implementation, addressing the need to efficiently target interventions to the populations that need them most.
Declarations
Acknowledgements
This research was supported by grants from the Canadian International Development Agency (CIDA) and the Bill and Melinda Gates Foundation. Elizabeth Barona and Claudia Perea at the International Center for Tropical Agriculture (CIAT) assisted in the development of data and metadata used in this project. The research was carried out under the AgroSalud and HarvestPlus biofortification initiatives.
Authors' Affiliations
(1)
Department of Geography, Universidad del Valle, Cali, Colombia
(2)
International Center for Tropical Agriculture (CIAT), Cali, Colombia
(3)
Universidad Industrial de Santander, Bucaramanga, Colombia
Copyright
© Zapata-Caldas et al; licensee BioMed Central Ltd. 2009
This article is published under license to BioMed Central Ltd. This is an Open Access article distributed under the terms of the Creative Commons Attribution License (http://creativecommons.org/licenses/by/2.0), which permits unrestricted use, distribution, and reproduction in any medium, provided the original work is properly cited.