Predicting outbreaks: a spatial risk assessment of West Nile virus in British Columbia
International Journal of Health Geographics
2006
5:21
Received: 03 February 2006
Accepted: 16 May 2006
Published: 16 May 2006
Abstract
Background
West Nile virus (WNv) has recently emerged as a health threat to the North American population. After the initial disease outbreak in New York City in 1999, WNv has spread widely and quickly across North America to every contiguous American state and Canadian province, with the exceptions of British Columbia (BC), Prince Edward Island and Newfoundland. In this study we develop models of mosquito population dynamics for Culex tarsalis and C. pipiens, and create a spatial risk assessment of WNv prior to its arrival in BC by creating a raster-based mosquito abundance model using basic geographic and temperature data. Among the parameters included in the model are spatial factors determined from the locations of BC Centre for Disease Control mosquito traps (e.g., distance of the trap from the closest wetland or lake), while other parameters were obtained from the literature. Factors not considered in the current assessment but which could influence the results are also discussed.
Results
Since the model performs much better for C. tarsalis than for C. pipiens, the risk assessment is carried out using the output of C. tarsalis model. The result of the spatially-explicit mosquito abundance model indicates that the Okanagan Valley, the Thompson Region, Greater Vancouver, the Fraser Valley and southeastern Vancouver Island have the highest potential abundance of the mosquitoes. After including human population data, Greater Vancouver, due to its high population density, increases in significance relative to the other areas.
Conclusion
Creating a raster-based mosquito abundance map enabled us to quantitatively evaluate WNv risk throughout BC and to identify the areas of greatest potential risk, prior to WNv introduction. In producing the map important gaps in our knowledge related to mosquito ecology in BC were identified, as well, it became evident that increased efforts in bird and mosquito surveillance are required if more accurate models and maps are to be produced. Access to real time climatic data is the key for developing a real time early warning system for forecasting vector borne disease outbreaks, while including social factors is important when producing a detailed assessment in urban areas.
Keywords
West Nile VirusBritish ColumbiaHigh Risk AreaMosquito AbundanceGonotrophic Cycle
Background
West Nile virus (WNv), a potentially debilitating and fatal mosquito-borne disease first discovered in Uganda in 1937, has recently emerged as a health threat to the North American population. After the initial disease outbreak in New York City in 1999, WNv has spread widely and quickly across North America to every contiguous American state and Canadian province, with the exceptions of British Columbia (BC), Prince Edward Island and Newfoundland (Figure
1
). To date, BC has not detected any endemic WNv activity despite operating a comprehensive surveillance program for dead corvids, mosquitoes and human infections. Twenty human cases were identified in BC in 2003, but all were attributed to out-of-province travel [
1
]. BC is now, however, at the frontier of this disease since WNv has emerged in surrounding regions (Figure
1
), including Alberta to the east and Washington, Idaho and Montana to the south. The introduction of WNv into BC appears to be inevitable, since migrating birds from Central America and the southwestern United States, which are now endemic areas for WNv, follow the Pacific Flyway into and through central and coastal BC. Once the virus is introduced, it has the potential to establish itself and spread rapidly, since mosquito species with known competency for hosting and transmitting WNv are present in the province.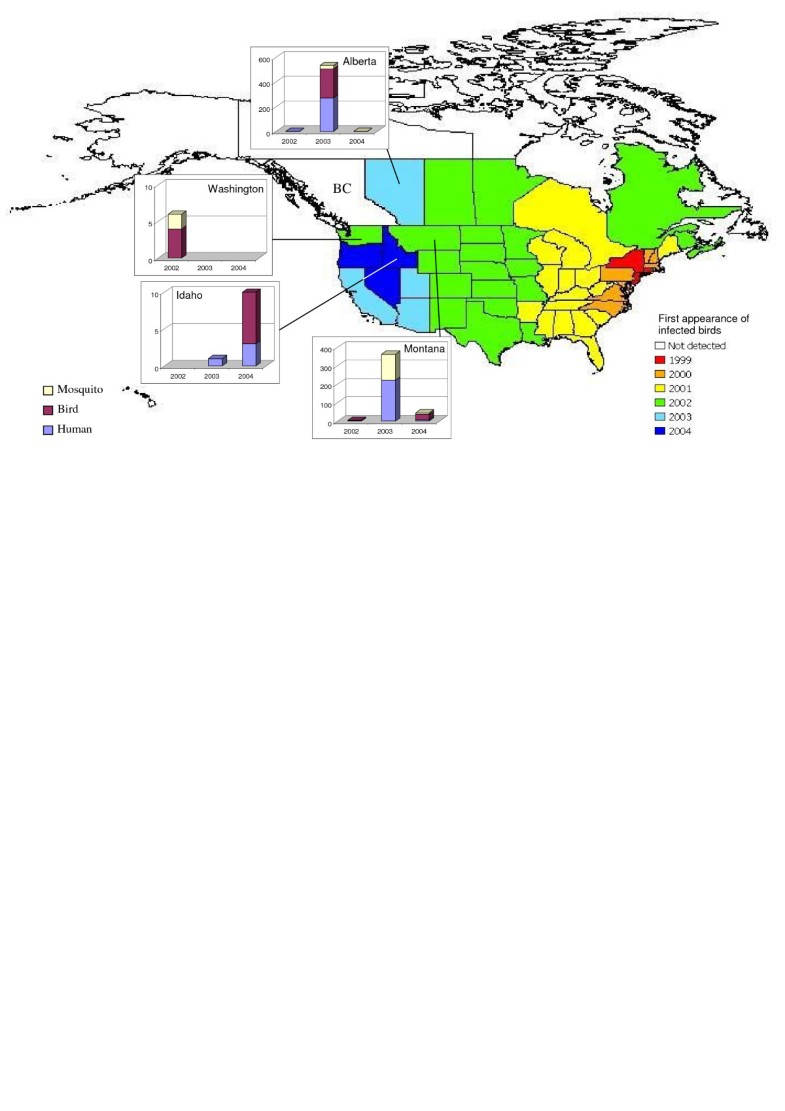 The cycle of transmission for WNv consists of the vector (mosquitoes), reservoir (birds) and incidental dead-end hosts (humans and horses) [2]. Infected mosquitoes bite birds and infect them with WNv. Or, alternatively, viremic birds are bitten by naïve mosquitoes and these mosquitoes in turn are infected and pass the virus onto their offspring or other birds that they feed upon. This vector-reservoir cycle can repeat itself several times during the WNv season, resulting in amplified levels of virus in the mosquito and bird populations. Mammals appear to be less important in the transmission cycle [2] as horses, humans and other vertebrates are considered incidental dead-end hosts because viremia in these organisms are not high enough to maintain transmission. Based on the experiences of WNv outbreaks in other North American jurisdictions, Culex mosquitoes pose a very high risk for transmitting the virus to birds and humans [3].
In most jurisdictions in North America, dead corvids and mosquito populations are monitored during the WNv season, and act as an early warning system for human infections. In BC, the monitoring program operates between the months of May and October and is coordinated by the BC Centre for Disease Control (BCCDC). Dead corvids and adult mosquitoes from across the province are collected and tested for WNv. The geographic location from where the specimens were submitted is mapped in a Geographic Information System (GIS). Surveillance data in the form of tables, maps and reports are available on the BCCDC website [4].
Spatial risk assessment of WNv, based on mosquito and bird distributions, can help identify areas in the province that are at greatest risk for humans. These high risk areas could, for example, receive higher allocation of government funding to prepare for and respond to the arrival of WNv and associated human illness. This collection of surveillance data, however, only provides point location data that is usually clustered around highly populated human settlements and does not provide risk assessment for areas that lack observations. Fortunately, GIS and geostatistical analysis provide an effective solution to this problem by enabling interpolation of mosquito and bird populations in areas with no observations, based on measured data from existing studies. In particular, spatially and temporally continuous datasets such as vegetation cover, temperature and rainfall, all of which are important elements of mosquito population dynamics, are commonly modelled in this matter [5, 6].
In order to assess the seasonal risk of the disease, health agencies in some provinces in Canada are now producing temporal or seasonal maps using temperature data [7, 8] to predict mosquito abundance. The current models only consider a simple degree-day model having a single base temperature value (over which a mosquito growth progresses) and a simple degree-day accumulation algorithm (using the condition under which one generation of adult mosquitoes emerge, defined as the product of excess temperature above the base and the number of such days, or heat units) for the entire life of the mosquito. However, it is obvious that such simple model is insufficient to replicate the complex biology of mosquitoes [9], in particular in areas such as BC that have a complex topography. Thus, development of a more sophisticated model, with finer spatial resolution, is necessary if we hope to establish an effective, spatially extensive, early warning system of potential WNv outbreak.
In this article we develop a model of mosquito population dynamics and use this model to produce spatial risk assessment maps of WNv prior to its arrival in BC. This is achieved by combining our mosquito population dynamics model with ancillary data within a GIS. In the maps, forecasted high risk areas for WNv in BC are identified by combining mosquito abundance data with high risk bird abundance data and human population data, which will provide information that can be used to improve the current WNv early warning system. Factors not considered in the current assessment but which can influence the results are also discussed.
Our model is one component of an integrated approach that aims to develop an understanding of the distribution and spread of WNv. Shuai et al.'s recent work [10] on the development of a real-time WNv monitoring system for dead corvids in Canada represents another important element of this integrated approach. It is obvious that both technical (e.g., web GIS technology) and scientific (virological and ecological) advances are necessary in order to develop a more reliable monitoring system for emerging infectious diseases.
Results
Since our model significantly overestimates the population abundances for C. pipiens in the Okanagan Valley, the following analysis is restricted to considering C. tarsalis population dynamics only.
Discussion
The greatest limitation encountered with respect to improving our model's performance is a lack of basic biological information on mosquitoes, particularly for C. pipiens, within BC. In this study almost all of the model parameters are obtained from studies on mosquitoes outside of BC (e.g., California, Ontario). Detailed information on the biology of BC's mosquitoes, and the specific environmental conditions within which they occur (e.g., monitoring temperatures within catch basins), would improve model accuracy.
Additionally, the effect of rainfall, which was not included in our study due to the complex findings of other studies, should be examined and considered in future models if clear relations between rainfall and mosquito population dynamics can be identified. The complex findings of previous studies include the observation that there is a decrease of predators – such as dragonflies – with a subsequent increase in mosquito populations in the year following a significant drought [14], the observation that local concentrations of birds and mosquitoes in limited refuges during droughts can significantly increase the number of birds that are viremic [15], and the complex effects of the drying frequency of wetland ecosystems on mosquito populations, their predators and competitors [16]. Furthermore, since C. pipiens is an urban species that often breeds underground in catch basins, better understanding of this species' population dynamics is the key for monitoring WNv illness in urban settings.
Moreover, mosquito ecology and behavioural attributes not considered in our model could be added if more reliable experimental data becomes available. This would include factors such as autogeny (egg development without blood breeding) and mortality during overwintering behaviour. The initial conditions of the current model could be modified and refined with additional knowledge.
Greater numbers of mosquito observations, obtained through more trapping within British Columbia – particularly in the high risk areas identified in this study – could contribute to improved model performance because observational data is important for validating the model's performance and for modifying parameters, as we did in this study. It also should be noted that there are several types of mosquito traps and the differences associated with each trap type may influence the observation results. Vegetation cover close to a trap [17] and the moon phase [18] also influence the trapping results. Therefore, the type, density and detailed location of the mosquito traps should be carefully considered when developing a monitoring program in order to obtain comparable results throughout the province.
A real time monitoring system for WNv is needed in order to quantify the temporal potential risk of WNv in BC. The specific hurdles for developing real time monitoring are related to the availability of climatic and bird data. Daily temperature data is required in developing a mosquito risk map on a real-time basis. At the time of our model development, Environment Canada only provided data for 184 weather stations for 2005, while data from 387 and 363 stations – which can be considered as the potential total active stations – are available for 2003 and 2004. More than half of the stations are not updated on a real time basis, and some immediately updated station data are not quality-controlled (i.e., the values are revised later). The root mean-square error (RMSE) of using a limited number of real time stations' data versus using all of the stations' data is evaluated to be 0.80°C for the year, while it is 0.73°C when the temperature is ≥ 5°C, which is the effective temperature for mosquitoes. This error may induce some minor inaccuracy in predicting mosquito abundance. A large uncertainty is associated with the lack of temperature data for the typical habitat of C. pipiens (e.g., catch basins).
Limitations caused by bird and human population data are also problems one should not ignore. Observational data on migratory birds may enable us to predict the timing of bird migration more accurately, which would be helpful for monitoring the risk of WNv. The nature of Census Canada's population data creates some uncertainty, particularly in sparely populated rural areas covered with large spatial units, however, this is not a serious problem in this study because the high risk areas in BC are consistent with highly populated areas that are covered with fine population survey units.
Social factors, not considered in the current assessment, could be very important for more detailed assessments in urban areas. Ruiz et al. [19] report that in addition to the natural factors such as vegetation or geology, the age of housing, the percentage of population that is Caucasian, and the median household income per unit area have a positive relation with WNv cases, while housing density has a negative relation. Ruiz et al. [19] also observed that an older person working in the garden during the evening is a good example of a high risk person. An effective public education strategy can decrease their risk of acquiring WNv [20]. Peak mosquito biting activity commences shortly after sunset, and usually peaks during the succeeding 1–3 hours, and lasts until shortly after sunrise [21]. Therefore, people should reduce their activities near wet or heavily vegetated areas around this period, and take personal protective measures such as wearing light coloured long sleeve clothing and applying DEET (mosquito repellent) to avoid mosquito bites. The distribution of road networks can also influence the incidence of WNv. Reisen et al. [22] consider this factor as one of the possible infection routes to California in 2003. Importation of mosquitoes on container trucks or private vehicles from Alberta and the United States into BC could potentially occur. Social factors could be easily included in a more detailed GIS-based model.
Finally, the implementation of an integrated pest management plan, which should be targeted to high risk areas, can greatly reduce mosquito numbers and reduce the risk of WNv. While some studies (e.g., [23]) attempt to estimate the effect of these activities, developing a sophisticated model enables us to estimate the potential effectiveness of those activities before they are carried out.
The broad areas identified in our study as the highest risk areas are not obviously different from the results produced using simpler models (e.g., combination of the presence of the mosquito species capable of WNV transmission, habitat and population). However, population-dynamics based models can provide not only biological rationale to the spatio-temporal change in mosquito abundance, but can also provide more substantive benefits. For example, such a model can present relative risk, with fine spatial resolution, in areas with no mosquito traps or with no dead corvid observations, where simpler models do not work as well. Identifying areas of greatest risk using biologically-relevant methods will assist the concerned agencies in establishing new observation points. Moreover, we can predict changes in WNv risk under different conditions, such as an abnormally hot or cool year, the effect of global warming, the effect of dam construction or reclamation of wetlands, and the differing effects of insecticides (e.g., larvacides versus adulticides) on potential outbreaks. While all models start with uncertainty in many parameters, as we collect more data we can validate and reduce the uncertainty associated with the model's parameters. Such improvements will be carried out in the future.
Conclusion
Spatial risk assessment of the potential for WNv in BC was carried out by developing a sophisticated mosquito abundance model and by combining its output with ancillary data through the use of GIS and geostatistics. First we modeled C. tarsalis and C. pipiens, but due to the large discrepancy between our model's results and the observed C. pipiens numbers, C. pipiens was removed from risk assessment. The results show that in terms of mosquito, bird and human populations, the geographic areas at highest risk for WNv in BC are the Okanagan Valley and the Thompson Region (Kamloops), Greater Vancouver, the Fraser Valley, and southeastern Vancouver Island. The resources associated with a WNv early warning system such as mosquito traps and specialist in detecting the virus and in collecting dead corvids, should be concentrated in these areas. Collecting additional information such as that obtained through basic studies on mosquito ecology in BC, as well as continuing efforts in bird and mosquito surveillance, are required for the early detection of WNv and for improving the model, particularly for C. pipiens. Access to real time climatic data is also the key for developing a real time early warning system for vector borne diseases, while social factors are important when developing a detailed assessment in urban areas.
Declarations
Acknowledgements
The authors wish to thank Environment Canada (Pacific and Yukon Region) for providing the climatic data used in this study. The comments of the anonymous reviewers are gratefully appreciated. While SM works for the BCCDC, the publication does not represent on affect an official BCCDC publication.
Authors' Affiliations
(1)
Department of Geography,, University of British Columbia,, Vancouver, Canada
(2)
Epidemiology Services,, British Columbia Centre for Disease Control,, Vancouver, Canada
(3)
Madrone Environmental Services Ltd.,, Duncan, Canada
Copyright
© Tachiiri et al; licensee BioMed Central Ltd. 2006
This article is published under license to BioMed Central Ltd. This is an Open Access article distributed under the terms of the Creative Commons Attribution License (http://creativecommons.org/licenses/by/2.0), which permits unrestricted use, distribution, and reproduction in any medium, provided the original work is properly cited.