Beyond greenspace: an ecological study of population general health and indicators of natural environment type and quality
International Journal of Health Geographics
2015
14:17
Received: 28 January 2015
Accepted: 30 March 2015
Published: 30 April 2015
Abstract
Background
Many studies suggest that exposure to natural environments ('greenspace') enhances human health and wellbeing. Benefits potentially arise via several mechanisms including stress reduction, opportunity and motivation for physical activity, and reduced air pollution exposure. However, the evidence is mixed and sometimes inconclusive. One explanation may be that "greenspace" is typically treated as a homogenous environment type. However, recent research has revealed that different types and qualities of natural environments may influence health and wellbeing to different extents.
Methods
This ecological study explores this issue further using data on land cover type, bird species richness, water quality and protected or designated status to create small-area environmental indicators across Great Britain. Associations between these indicators and age/sex standardised prevalence of both good and bad health from the 2011 Census were assessed using linear regression models. Models were adjusted for indicators of socio-economic deprivation and rurality, and also investigated effect modification by these contextual characteristics.
Results
Positive associations were observed between good health prevalence and the density of the greenspace types, "broadleaf woodland", "arable and horticulture", "improved grassland", "saltwater" and "coastal", after adjusting for potential confounders. Inverse associations with bad health prevalence were observed for the same greenspace types, with the exception of "saltwater". Land cover diversity and density of protected/designated areas were also associated with good and bad health in the predicted manner. Bird species richness (an indicator of local biodiversity) was only associated with good health prevalence. Surface water quality, an indicator of general local environmental condition, was associated with good and bad health prevalence contrary to the manner expected, with poorer water quality associated with better population health. Effect modification by income deprivation and urban/rural status was observed for several of the indicators.
Conclusions
The findings indicate that the type, quality and context of 'greenspace' should be considered in the assessment of relationships between greenspace and human health and wellbeing. Opportunities exist to further integrate approaches from ecosystem services and public health perspectives to maximise opportunities to inform policies for health and environmental improvement and protection.
Keywords
Greenspace
Blue space
Nature
General health
Census
UK
Salutogenesis
Background
Natural environments and health and wellbeing
Whilst the relationships between natural environments (from urban greenspace to wilderness), human health and wellbeing have been explored over several decades, there has been a rapid growth in research in this field, and associated policy interest, in recent years. The potential salutogenic ('health creating' [1]) effects of natural environments are of interest in terms of tackling a wide variety of issues, such as obesity [2], mental health [3-5], mortality [6], perceived general health [7,8], specific morbidities including cardiovascular disease and musculoskeletal complaints [3], birthweight [9], and recovery from surgery [10]. Natural environments have also been proposed as a tool to help reduce socio-economic health inequalities [6,11]. Mechanisms proposed for these relationships include psychological processes of attention restoration [12] and stress reduction [13], opportunity/motivation for increased physical activity [14], reduced exposure to air pollution [15], immunological function associated with exposure to 'healthy' ecosystems [16] and opportunity for social contact [17]. Reviews indicate that the evidence base is diverse, of mixed (often low) quality, and is by no means conclusive [2,18-22]. The research exploring the various individual mechanisms for these relationships has also produced mixed findings and it is likely that any mechanisms "intertwine" [18] as opposed to each operating in isolation.
Type and quality of natural environment
It is possible that the relatively simplistic consideration of natural environments in much of the earlier research may, to some extent, explain part of the inconsistency within the evidence base. This is plausible as different types and qualities of environment might afford different activities and promote variable psychological responses in a multitude of contexts. Typically, all natural environments have been considered generically and aggregated into a measure of so-called 'greenspace' without further qualification as to type or quality. Measures of the density of, or proximity to, these generic 'green spaces' are classified as such based on cartographical databases of land use (such as the English Generalised Land Use Database (GLUD) [4,6]) or classifications of remotely sensed land cover data, such as the European CORINE data [23]. Normalised Difference Vegetation Index (NDVI), derived from satellite imagery, has also been used as a single measure of neighbourhood greenness [9]. This homogenisation of 'greenspace' fails to consider the variation in its type and quality, and has been highlighted as a significant weakness in the evidence in reviews of the literature [18,20,24,25].
Studies that have considered type or quality indicate that more comprehensive consideration of natural environments is warranted. For instance, research from the UK suggests that different types of urban greenspace (using a broad typology e.g. 'sports'/'natural') may promote physical activity to different extents [26]. Research in the Netherlands considered self-reported general health, symptom scores and mental health in relation to, proximal greenspace, divided into 'urban green', 'agriculture' and 'forest and nature' areas [27]. This supported positive health effects of 'greenspace' proximity overall and found some variation across the three types of 'greenspace'. Evidence of the health and wellbeing effects of exposure to 'blue space' (coastal and inland water features/environments) is growing, and is suggestive of positive associations [5,11,28]. Swedish research found an association between women's mental health, through physical activity mechanisms, and environment types classified as 'serene' and 'spacious', following a factor analysis of perceived environmental characteristics [29]. Analysis of data on visits to natural environments has made use of self-reported classification of environment type, and indicated different strengths of association with psychological wellbeing outcomes [30].
Additional research exists regarding preference for characteristics of natural spaces, and while extensive in its consideration of both type and quality, evidence is limited in terms of relationships with specific health outcomes [23,31-33]. However, some types of landscapes do appear to be appreciated to a greater degree than others. The most consistent differentiation in perception and preference is found between 'wild' and more ordered and managed landscape types [34]. Expressed preferences vary according to factors such as prior experience, living context, culture and demographics [12,32].
Various aspects of environmental quality have been considered in relation to greenspace usage, primarily focussed around social amenity and environmental incivility (such as litter). Generally these studies rely on primary audits of local environments, using a variety of tools, and have largely been focussed on supportiveness for physical activity [35,36]. A study of four Dutch cities considered perceived naturalness amongst other quality characteristics such as accessibility, maintenance, absence of litter and safety using streetscape/greenspace audits. In analyses with cross-sectional questionnaire data on self-reported general health, these quality measures demonstrated additional explanatory power beyond simpler greenspace quantity measures [37].
Finally, linkages between biodiversity (ecological quality or state) and human health and wellbeing have been explored, though efforts have largely focussed on potential sources of new medicines, food provision and infectious diseases [38]. A recent systematic review of the health promoting effects of biodiverse environments identified only 17 studies, and while the evidence was suggestive of a positive relationship, the findings were mixed and firm conclusions could not be drawn [22]. Biodiversity measures used in the research were broad ranging, including participant-perceived biodiversity, researcher visual assessment of complexity, objectively measured bird, butterfly and plant species richness, NDVI (as a presumed correlate of biodiversity), and protected area density. The few studies that objectively measured aspects of biodiversity suggest associations with psychological wellbeing outcomes, but inconsistently. For example, in two detailed investigations in a UK city, one found an association between measured bird and plant species richness and some measures of psychological wellbeing [39], whilst another found associations with lay perception of species richness, but not objectively measured richness [40].
Aims & research questions
The Beyond Greenspace project aimed to develop small-area measures reflecting environmental greenspace type and quality, which could be combined with social survey datasets to investigate associations with health and wellbeing outcomes, in a manner comparable to previous greenspace research [4,7]. The key research question was: How are average levels of self-reported health in small geographical areas associated with the type and quality of different natural environments in those areas? A secondary question was: Do any observed associations between environmental measures and self-reported health differ according to urban/rural context and area socio-economic status?
Methods
This study adopted a cross-sectional ecological approach using routinely available secondary datasets. Several small-area indicators of environmental type and quality were constructed, and were analysed alongside data on self-reported health from the 2011 Census.
Results and discussion
Table
1
presents descriptive statistics for the environmental indicators across the included LSOAs. Restricting the analytical dataset to those areas with relevant census and deprivation index data resulted in comprehensive data for 31,672 of 32,844 English LSOAs, covering 96.4% of the English population. As an example, Figure
2
depicts the source data for one of the environmental quality indicators, freshwater ecological quality, highlighting how the quality measure at each water sampling point was interpolated, with the resulting raster surface subsequently allocated to LSOA boundaries.
Table 1
Descriptive statistics for environmental indicators, general health and area characteristics, for English Lower-layer Super Output Areas included in analyses (2011, n = 31,672)
Variable

Mean

SD e

IQR e

Min

Max

Landcover types (% LSOA area coverage) a

Broadleaf woodland

4.37

-

5.81

0.00

88.94

Coniferous woodland

0.56

-

0.00

0.00

63.97

Arable/horticultural

13.59

-

19.93

0.00

95.53

Improved grassland

15.98

-

22.28

0.00

85.79

Semi-natural grassland

2.41

-

3.02

0.00

69.02

Mountain, heath & bog

0.67

-

0.00

0.00

72.65

Saltwater

0.03

-

0.00

0.00

38.49

Freshwater

0.49

-

0.00

0.00

77.65

Coastal

0.31

-

0.00

0.00

91.59

Urban/suburban

61.59

-

61.68

0.11

100.00

Environmental quality indicators

Landcover Shannon Diversity Index (2007)b

0.93

0.44

0.65

0.00

2.37

Bird species richness 2008 (number of species)

87.77

10.79

14

36

141

Freshwater ecological quality indicator (2011)c

-0.10

0.39

0.43

-1.97

0.99

Protected/designated areas kernel density indicator (10 km search radius)d

81.40

-

63.42

0.00

1220.50

Protected/designated areas kernel density indicator (20 km search radius)d

97.50

-

78.09

1.00

1007.71

General health (census 2011)

Prevalence good/very good health (Directly age/sex standardised %)

80.84

5.72

8.29

59.42

94.61

Prevalence bad/very bad health (Directly age/sex standardised %)

5.79

2.81

3.80

0.74

18.75

Area characteristics

LSOA area (km2)

4.04

-

1.03

0.02

683.78

Urban

n = 26,186

Town/fringe

n = 2,986

Rural

n = 2,500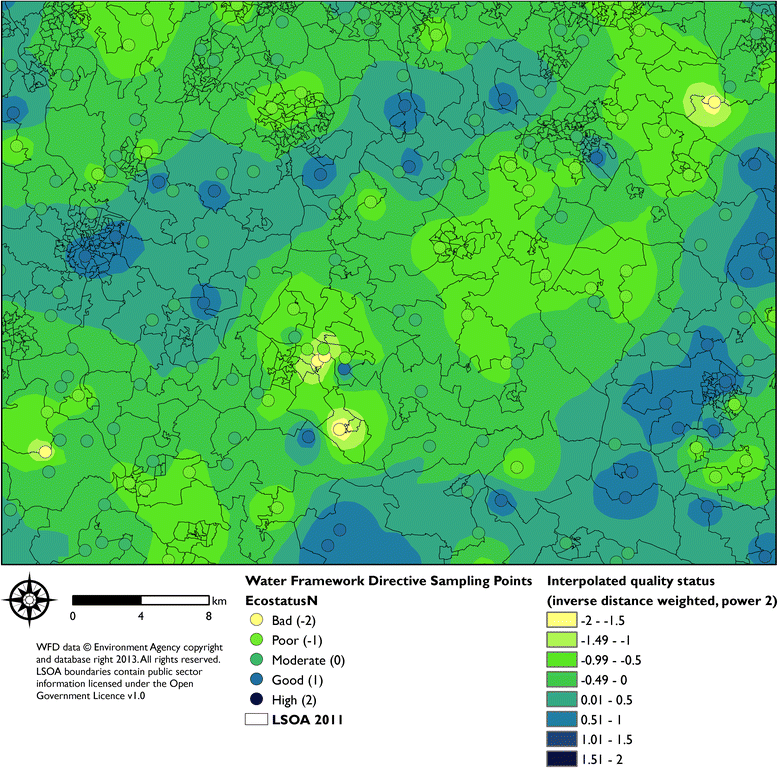 Conclusions
The findings presented here suggest that different natural environment types, and their quality-related characteristics, could well be differentially important for salutogenesis. Several key environment types and some of the quality indicators appear to be associated with good and bad population health as hypothesised. However, some of the indicators demonstrate inconsistent or inverse associations with general population health. Whilst subject to the limitations of the ecological design, the study contributes to the early stage evidence on this topic, and indicates that follow-up research is warranted. Studying 'greenspace' in its broad sense is still valuable, but these findings do indicate, in concordance with other recent research, that consideration of the complexities of natural environments is an important aspect of improving our understanding of how they relate to population health.
It is clear that there should be opportunities for simultaneously improving and protecting both natural environments and population health and wellbeing. The more that the complexities and inconsistencies of these interactions are properly understood, the more likely are policies and programmes to genuinely benefit people and our environments.
Endnote
aLCM2007 Classes: Broadleaved woodland, coniferous woodland, arable and horticulture, improved grassland, rough grassland, neutral grassland, calcareous grassland, acid grassland, fen marsh and swamp, heather, heather grassland, bog, montane habitats, inland rock, saltwater, freshwater, supra-littoral rock, supra-littoral sediment, littoral rock, littoral sediment, saltmarsh, suburban, urban.
Abbreviations
DZ:

Data Zones
GLUD:

Generalised Land Use Database
Km:

Kilometre
LCM:

Land Cover Map
LSOA:

Lower-layer Super Output Areas
MENE:

Monitor of Engagement with Natural Environment
NDVI:

Normalised Difference Vegetation Index
NICE:

National Institute for Health and Clinical Care Excellence
PDAs:

Protected/designated areas
UK:

United Kingdom
Declarations
Acknowledgements
This work was supported by the Economic and Social Research Council [ES/K002872/1]. The European Centre for Environment and Human Health (part of the University of Exeter Medical School) is in part financed by the European Regional Development Fund Programme 2007 to 2013 and European Social Fund Convergence Programme for Cornwall and the Isles of Scilly. The funders did not influence the collection, analysis or interpretation of data, the writing of the manuscript or the decision to submit the manuscript for publication. BW thanks Dr Jan Rigby and Maynooth University for hosting a research visit during which work on the paper was carried out. We acknowledge the sources of the environmental data used for this work: Dr Simon Gillings at the British Trust for Ornithology, the Centre for Ecology and Hydrology, the Environment Agency for England and Wales, the Scottish Environmental Protection Agency, Natural England, Natural Resources Wales and Scottish Natural Heritage. Census data were sourced from the Office for National Statistics and are © Crown Copyright 2013. Due to the nature of some of the research materials (secondary data under licence) supporting this publication, not all of the data can be made accessible to other researchers. Please contact Dr Ben Wheeler (b.w.wheeler@exeter.ac.uk) for more information.
The project benefited from the valuable guidance of an advisory board, detailed on the project blog (beyondgreenspace.wordpress.com). The work presented here remains the responsibility of the authors alone.
Authors' Affiliations
(1)
European Centre for Environment and Human Health, University of Exeter Medical School, Truro Campus, Knowledge Spa, Royal Cornwall Hospital, Truro, UK
(2)
Department of Paediatrics, University of Melbourne, Melbourne, Australia
(3)
NIHR CLAHRC South West Peninsula (PenCLAHRC), Plymouth University Peninsula Schools of Medicine and Dentistry, Plymouth, UK
(4)
School of Geographical Sciences, University of Bristol, University Road, Bristol, UK
Copyright
© Wheeler et al.; licensee BioMed Central. 2015
This is an Open Access article distributed under the terms of the Creative Commons Attribution License (http://creativecommons.org/licenses/by/4.0), which permits unrestricted use, distribution, and reproduction in any medium, provided the original work is properly credited. The Creative Commons Public Domain Dedication waiver (http://creativecommons.org/publicdomain/zero/1.0/) applies to the data made available in this article, unless otherwise stated.